Breakfast Power Bowls can include almost anything you want. This one is a combination of healthy super foods with some bacon and hollandaise sauce for a little weekend indulgence.
Power bowls can also be called a Buddha Bowl, Glory Bowl or Hippie Bowl or and lend themselves to be improvised. The most recent one I had in a restaurant was served on a plate so even the use of a bowl is up for interpretation.
This post contains affiliate links. When you purchase using these links your cost is the same, but I receive a few cents for every dollar spent. I appreciate your support for this website.
Buddha Bowls and Power Food
Surely a Power Bowl should include power foods like healthy greens, vegetables, beans, nuts, seeds and healthy grains? According to the author of Buddha's Diet , the original Buddha Bowl likely has a literal origin. As the story goes early each morning Buddha would walk the roads and paths wherever he was. Locals placed any food they had to share in his bowl and at the end of the day this is what the Buddha ate.
Modern interpretations of these bowls have no rules so I included our breakfast favourites and five superfoods from this list according to Healthline.com. I also used cooked quinoa which is a super food on my list.
Dark leafy greens
Berries
Green tea
Eggs
Legumes
Nuts and seeds
Kefir and yogurt
Garlic
Olive oil
Ginger
Turmeric
Salmon
Avocado
Sweet potato
Mushrooms
Seaweed
Hollandaise sauce is an optional garnish that interested my son. He learned how easy it was to make and it seems like a good addition to a leisurely breakfast bowl.
For our photo I made a second version with almost the same ingredients switching the sweet potatoes for regular potato wedges and serving it on a plate.
PIN for later...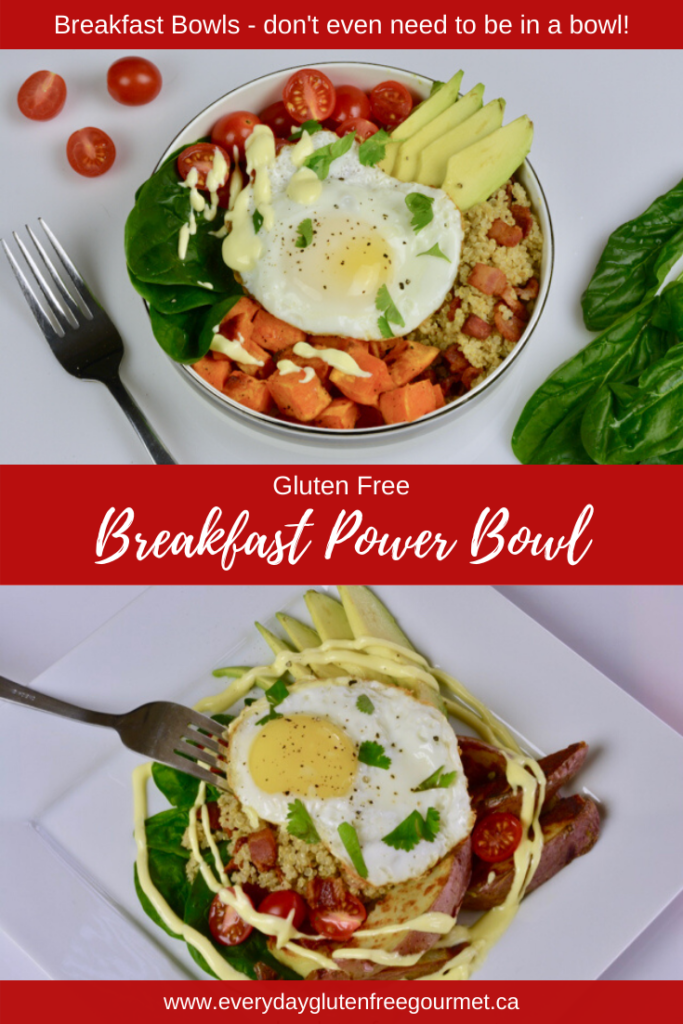 Weekend Breakfast Power Bowls
Some sources refer to power bowls as quick and easy. I call a piece of fruit and yogurt quick and easy. Grabbing a jar of overnight oats is quick and easy. My Breakfast Power Bowl is more of a leisurely weekend meal. Roasting potatoes for twenty-five minutes while I drink coffee and taking time to create a beautiful bowl, now that's my kind of breakfast.
In your kitchen you can make your Breakfast Power Bowls with your favourite ingredients. Let me know in the comments below how you made your breakfast.
---
__________________________________________________________________________________________
New here? Join our community and get your FREE resource, the tips I wish I knew when I started cooking gluten free.
Yes, I need 29 Tips For Cooking with Gluten Free Flour.
Still haven't mastered gluten free cooking? Check out our online Cooking Classes.
More Weekend Breakfast Recipes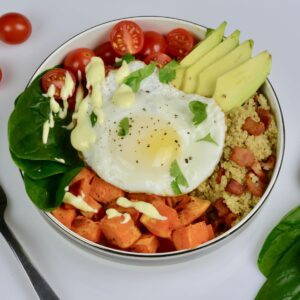 Breakfast Power Bowl
Breakfast Power Bowls can include almost anything you want. This one is a combination of healthy super foods with some bacon and hollandaise sauce for a little weekend indulgence.
Ingredients
COOK SWEET POTATOES
2

cups

cubed sweet potato

olive oil for roasting

salt and pepper
POWER BOWL
½

cup

quinoa, cooked

4

slices

cooked bacon, diced

½

bunch

spinach

(fresh, wilted or sautéed)

1

avocado, sliced

1

cup

cherry tomatoes, halved

4

eggs

¼

cup

chopped cilantro
BLENDER HOLLANDAISE SAUCE
3

egg yolks

1

tablespoon

lemon juice

pinch of salt

½

cup

butter, melted and warm
Instructions
Preheat oven to 400°F. Toss sweet potato cubes with oil and sprinkle with salt and pepper. Bake for 25 minutes.

Cook quinoa according to package directions. Stir bacon into quinoa and set aside.

Add raw spinach or briefly cook it until just wilted (steamed in a pan with water or sautéed in some of the bacon grease). Set aside.
BLENDER HOLLANDAISE SAUCE
Combine yolks, lemon juice and salt in blender.

Slowly drizzle in melted butter with blender running. Together the blender and the hot butter cook the egg making a silky, smooth hollandaise sauce. Use as soon as possible.
ASSEMBLE POWER BOWLS
Arrange all ingredients any way you like in a bowl or on a plate.

Cook eggs to your liking and place in center of each bowl.

Drizzle with hollandaise, sprinkle with cilantro and serve. Makes 4 large bowls.
Notes
PRE-BREAKFAST PREP: Potatoes, quinoa and bacon can be cooked the night before.
Hollandaise can be kept for about an hour. Keep covered in a warm spot near the stove.