Blender Hollandaise Sauce is an easy way to make that decadent, velvety smooth sauce that is known to intimidate cooks of all levels. Why, because there's a technique to be mastered and seriously, how often do you make hollandaise?
The traditional technique of creating an emulsion of egg yolks and melted butter is dependent on the temperature of the ingredients and the ability to whisk continuously. If you've never made hollandaise sauce I guarantee you can do it.
Tips To Avoid a Broken Hollandaise Sauce
Hollandaise sauce is a special treat for the occasional breakfast or brunch but that doesn't mean you can't make it. The easiest way to make it is to skip whisk by hand and use a blender.
A broken hollandaise sauce means that the two essential ingredients were not properly combined into an emulsion. The reasons are many but the result is a disappointing granular sauce. The high speed of a blender should be enough to create an emulsion but.
Blending the sauce too long can turn it into the thickness of mayonnaise rather than the pourable sauce you want. The real test is always how it turns out in your kitchen. Don't give up. Whether you have a Magic Bullet (that's what I used), a mid-range KitchenAid blender or a top-of-the-line professional Vitamix, you can make blender hollandaise sauce.
If your sauce breaks then make it again right away. (You can keep a broken hollandaise in the fridge and use it up on steamed vegetables over the next week.) The small cost or remaking your hollandaise will pay off. By doing this you will remember any error you made and be less likely to repeat it again.
PIN for later...
This post contains affiliate links. When you purchase using these links your cost is the same, but I receive a few cents for every dollar spent. I appreciate your support for this website.
Variations for Eggs Benedict
Hollandaise Sauce is most well known as the topping for Eggs Benedict. There are many variations of Eggs Benedict that go beyond the traditional recipe of ham and poached eggs on a toasted English muffin. Once you can make the hollandaise you can experiment to your hearts content.
West Coast Eggs Benedict made with smoked salmon
Eggs Neptune using crab instead of the bacon or ham
Eggs Sardou is made with spinach and cooked artichoke hearts
Any vegetarian version
Eggs Florentine is a variation I like that uses mornay sauce instead of hollandaise sauce
Eggs Benedict can be served on gluten free English muffin. Another option for serving poached eggs of any kind would be cornbread rounds or savoury buckwheat crepes. Or skip the bread altogether and serve it like a Breakfast Power Bowl.
They all sound like a great way to start the day!
I'd love to hear in the comments below if you tired this recipe and how it worked in your kitchen.
---
__________________________________________________________________________________________
New here? Join our community and get your FREE resource, the tips I wish I knew when I started cooking gluten free.
Yes, I need 29 Tips For Cooking with Gluten Free Flour.
Still haven't mastered gluten free cooking? Check out our online Cooking Classes.
More Breakfast and Brunch Recipes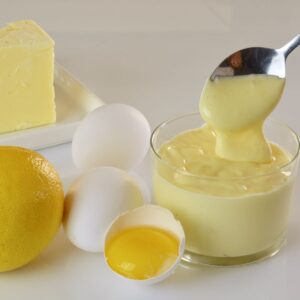 Blender Hollandaise Sauce
Using a blender is an easy way to make this decadent, velvety smooth sauce for perfect Eggs Benedict or to top steamed vegetables.
Ingredients
3

egg yolks

1

tablespoon

lemon juice

¼

teaspoon

salt

½

cup

butter, melted and warm
Instructions
Combine yolks, lemon juice and salt in blender. Blend for 10 seconds to combine.

Put melted butter in a measuring cup and slowly drizzle in with blender running. Together the blender and the hot butter cook the egg making a silky, smooth hollandaise sauce. Use sauce as soon as possible.

The hollandaise can be kept for about an hour. Keep covered in a warm spot near the stove or even in a Mason jar set in a small pot with some warm water in the bottom.
Notes
OPTIONAL – Many cooks like a pinch of cayenne in their hollandaise for a bit of heat.