Poached Eggs on Avocado Toast is so easy you could make it without a recipe. But if you're like me you appreciate a few tips to make the process easier. The ones your mom never told you, or maybe didn't even know. I don't recall my mom even making eggs.
My husband's favourite breakfast is poached eggs and our recent interest in avocado toast inspired this combination.
How To Know When Avocados are Ripe
Avocados can be tricky, too hard for days in a row and then suddenly over ripe. So the AVOCADO TIP is to ripen them on the counter then put them in the fridge so they don't over ripen too quickly.
Or do it the other way, keep them hard in the fridge to slow the ripening process and move them to the counter as you want them to soften. It takes a little practice and it doesn't always work but when I eat a perfectly ripe avocado it always seems worth it.
PIN for later...
This post contains affiliate links. When you purchase using these links your cost is the same, but I receive a few cents for every dollar spent. I appreciate your support for this website.
Get The Tools
Over the years we have tried every method to poach eggs including individually wrapping each egg in plastic wrap. I do not have a favourite method. Actually I prefer to let my husband poach the eggs so I can't get in trouble for over cooking them. I think you just need to figure out what works in your kitchen and go with that. For this recipe I used egg poaching rings in a frying pan.
TIPS for POACHING EGGS - Lightly brush egg poaching rings with oil so they come out easily. Use a slotted spoon to remove them from the water and rest them on a dry dishcloth to absorb some of the water before transferring them to the toast.
Everyday to Gourmet
For a casual weekend breakfast with friends pay attention to the presentation, we eat with our eyes first. Even simple Poached Eggs on Avocado Toast can look impressive. I garnished the first plate with colourful cherry tomatoes tossed with a tiny amount of olive oil and a little salt and pepper.
On my second plate I included radishes to complement the creamy avocado adding both a crisp crunch and a bitter contrast. A light sprinkling of salt is perfect. Then I added more sliced avocado because the colours looked beautiful.
What is your favourite breakfast? Let me know in the comments below.
---
__________________________________________________________________________________________
New here? Join our community and get your FREE resource, the tips I wish I knew when I started cooking gluten free.
Yes, I need 29 Tips For Cooking with Gluten Free Flour.
Still haven't mastered gluten free cooking? Check out our online Cooking Classes.
More Egg Recipes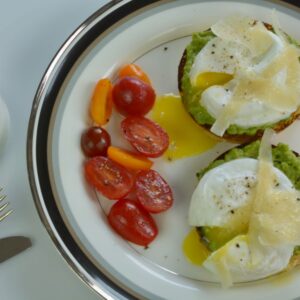 Poached Eggs on Avocado Toast
Poached Eggs on Avocado Toast is so easy you could make it without a recipe. A few tips makes it easy and helps it turn out every time.
Ingredients
AVOCADO TOAST
2

English muffins

(or 4 slices of bread, toasted)

1-2

ripe avocados

1

teaspoon

lemon juice
POACHING EGGS
4

eggs

1

teaspoon

vinegar

FINISHING – fresh cracked pepper, Parmesan cheese shavings and thinly sliced radishes.
Instructions
AVOCADO TOAST
Sprinkle avocado with lemon juice and a pinch of salt. Mash with a fork. Set aside.

Just before poaching the eggs, toast English muffins or bread and spread with mashed avocado.
POACHED EGGS
Place egg poaching rings in frying pan and add water just to come half way up the side of the rings.

Break each egg into a small cup so they can be efficiently poured into the rings.

Bring water to a boil, reduce heat to gently simmer and add vinegar.

Gently pour the eggs into the poaching rings.

Cover and cook 90 seconds-2 minutes, depending how soft you like them.

Using a slotted spoon remove the egg and ring from the water. Rest it on a dry dishcloth to absorb some water then slide onto avocado toast.

Top with fresh cracked pepper and Parmesan cheese shavings.

Serve hot with sliced tomatoes and radishes.