Step By Step Instructions For Rice Noodle Bowls
Make the nuoc cham dipping sauce.
Soften the rice noodles.
Cut the veggies and arrange in an airtight container with fresh herbs.
Chop some peanuts.
Pick the meat or tofu you want.
That's it, five easy steps to make a rice noodle bowl. Once you've done it three times you'll think this is easy. After ten times it might become a regular on your meal rotation.
Nuoc Cham Dipping Sauce for Rice Noodle Bowls
Nuoc cham is that thin, fishy sauce used in almost every Vietnamese and Thai recipe. It contains Asian fish sauce which is an essential ingredient for a gluten free pantry.
If you don't have fish sauce yet check out either of these posts where I try to convince you it's essential!
Once you've got fish sauce (it will last indefinitely) make the Nuoc Cham dipping sauce in advance. I measure right into a Mason jar, label it and get it in the fridge.
I've got other ways to use it so I always make the full recipe. You'll find links to them at the bottom of this post.
What Are Rice Vermicelli Noodles
The Vietnamese word for thin, rice vermicelli is bún and restaurants have whole sections on their menu for bún. Every name starts with the word bún followed by the name of the meat on top;
The Best Toppings For Rice Noodle Bowls
Everything goes on top but here I'm talking about the meat. For a simple version you can use plain cooked shrimp. Make a vegetarian version using tofu with the same lemongrass marinade (ideally give it thirty minutes to marinate).
When I order a Vietnamese Rice Noodle Bowl from a restaurant I like bún with lemongrass chicken. That's the marinade I use in this recipe.
My version of the bún combo with chicken, pork and shrimp. I skipped the gluten filled, deep fried spring roll that is often included on restaurant menus in Canada.
When I make this version of my noodle bowl with 'everything', I call it my special occasion rice noodle bowl. It's too much work for an everyday meal but I wanted you to see that you can easily do this.
How To Store and Soften Rice Noodles
I store my rice vermicelli noodles in a extra large ziplock bag and break off what I need from the bundle. This keeps the noodles in the bag and not flying all over an onto the kitchen floor.
In this video I show you how I soften rice noodles with boiling water (5 minutes, set a timer!) and the two sizes I have in my pantry. Thin rice vermicelli noodles are the size I like for this noodle bowl recipe.
Watch on YouTube
This post contains affiliate links. When you purchase using these links your cost is the same, but I receive a few cents for every dollar spent. I appreciate your support for this website.
Vegetables for Easy Rice Noodle Bowls
Keep it simple to start. I always have carrots, cucumber and some kind of lettuce and that's enough for an everyday version. I sometimes use a mandoline to cut perfect julienned carrot and cucumber but a good knife always works.
In the photo below I prepped veggies and noodles to make Salad Rolls. Since salad rolls and rice noodle bowls have similar ingredients this will give you an idea of what you might want.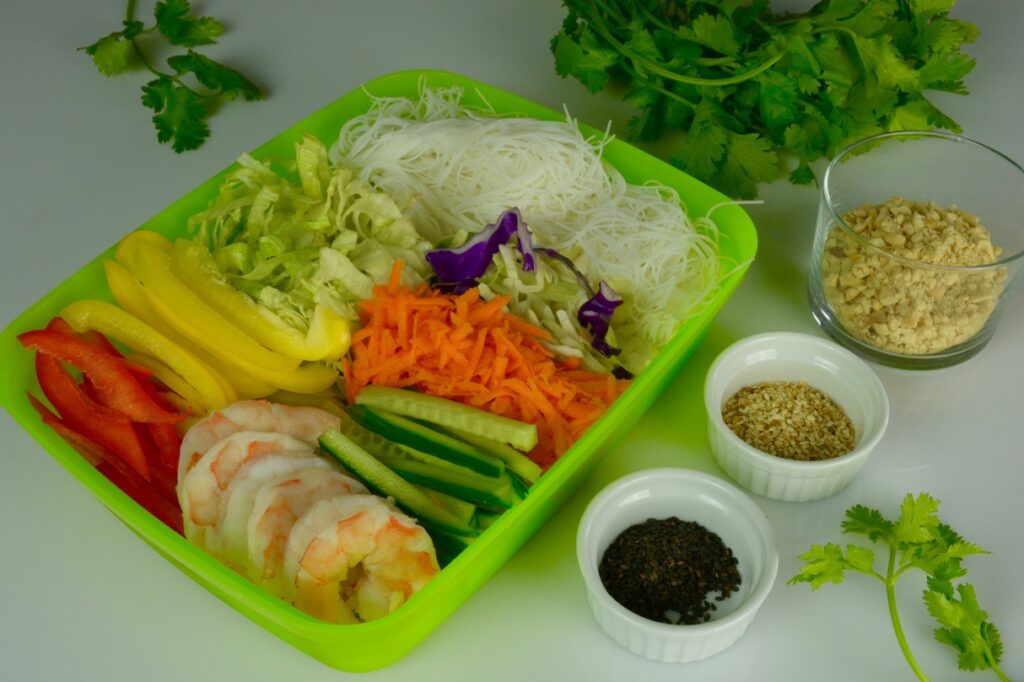 The Lemongrass Marinade
This marinade adds flavour to any meat or tofu. I buy and store frozen, chopped lemongrass and love the convenience of being able to make recipes that call for it anytime.
For more on fresh vs frozen lemongrass check out this post (and video), How To Use Lemongrass.
PIN for later...
That's all my tips to make your Vietnamese Rice Noodle Bowl the way you like. Easy somedays and fancy when the occasion calls for it. I'd love to hear about your bowls in the comments below.
---
What To Make with Leftover Nuoc Cham Dipping Sauce
Here are three other recipes that use slight variations of nuoc cham. Use any version on any of these recipes. If you can identify that you like one combination over another then you're a super taster. (I'm not.)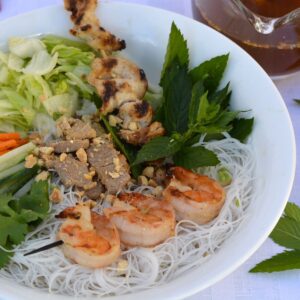 Vietnamese Rice Noodle Bowl
This recipe can be made simple for an everyday dinner or done up like the Bun Combo you get off a menu in a Vietnamese restaurant. For my 'special occasion' version I used lemongrass chicken, pork and shrimp along with all the herbs; cilantro, mint and Vietnamese basil. Mix and match with what you like and what you have.
Ingredients
LEMONGRASS MARINADE
6

tablespoon

lemon juice

(from 2 large lemons)

¼

cup

fish sauce

3

tablespoon

sugar

2

tablespoon

gluten free soy sauce

1

teaspoon

chile sauce

(I use Sambal oelek)

½

teaspoon

black pepper

3

garlic cloves, finely minced

3

tablespoon

chopped ginger

2

tablespoon

frozen, chopped lemongrass

(or 4 fresh stalks trimmed, cut and finely chopped)
THE MEAT (any or all of the following)
2

chicken breast halves

(or 8 oz chicken filets)

1

pork chop

(or 6 oz pork tenderloin, cubed or sliced thin)

12

large shrimp (16-20 count)
THE NOODLE BOWL
250

g

thin rice vermicelli noodles

(also called rice sticks)

1

cup

carrot, sliced thin or julienned

1

cup

cucumber, finely julienned

1

cup

lettuce, finely sliced

1

cup

cilantro, mint and/or Thai basil, chopped

(Thai basil is THE BEST. Look for it!)

½

cup

chopped, salted peanuts
NUOC CHAM DIPPING SAUCE
½

teaspoon

crushed red chile flakes

½

tablespoon

rice vinegar

(or regular vinegar if that's all you have)

½

cup

fish sauce

¼

cup

lime juice

¾

cup

warm water

2

garlic cloves, minced

½

cup

sugar
Instructions
LEMONGRASS MARINADE for CHICKEN, PORK or SHRIMP
Combine all ingredients stirring until sugar is dissolved.

CHICKEN/PORK - Pour over meat using separate bowls for each kind. Marinate at least 30 minutes or overnight. (Advance prep tip - Meat can be frozen in the marinade.)

SHRIMP - Pour over raw shrimp and let marinate 15-30 minutes, no more.*
NUOC CHAM DIPPING SAUCE
Combine all ingredients in a large measuring cup or Mason jar. Stir until the sugar is dissolved. Set aside. (Advance prep tip - Make the whole recipe, label the jar and get it in the fridge. Keeps indefinitely.)
NOODLE BOWL PREP
Place rice noodles in large bowl. Cover with boiling water and let sit for 5 minutes. Drain, rinse briefly and set aside. Can be prepared a day in advance.

Organize all toppings for quick assembly.

Preheat barbecue then cook as follows: Chicken breast and pork chop 6 minutes per side. Shrimp on skewers 2 minutes per side.

Alternately cook any meat according to the size of pieces using a broiler, sauté pan or barbecue.
SERVING
Divide ingredients into 4 bowls as follows: Noodles / carrot / cucumber / lettuce / fresh herbs.

Top with cooked meat. Sprinkle with peanuts and serve with individual dishes of nuoc cham on the side.

Pour sauce over the whole bowl and enjoy!
Notes
MARINATING SHRIMP - If fish is left in an acidic marinade for longer than 30 minutes it will start to cook.
VEGETARIAN OPTION - Lemongrass marinade works well on tofu. Marinade for 30 minutes and saute or grill tofu.
VEGAN OPTION or FISH ALLERGY - Use my Fish Sauce Substitute for all recipes calling for fish sauce.