This is my Gluten Free Flour Conversion Chart to change cup measurements into grams. I've had a page like this taped to the inside of my pantry door for years and I add to it as I go. Thanks to Phyllis, a new follower, who asked for the weight of my EGFG flour blend, I finally put all the measurements into this table and made it pretty enough to share.
Why Weigh Gluten Free Flour
There are two main reasons to weigh flour, it's more precise and it's efficient. For most of my everyday baking cup measurements are just fine. Here's when I think the accuracy of using weight measurements is important.
To make bagels, pasta, pizza dough and other yeast breads.
If I'm making a special occasion recipe like an Angel Food Cake, the best results are going to be from a recipe using flour measured by weight.
For a new recipe I've never tried, like the Red Velvet Cake I made for my son's birthday. (Thanks to Bojon Gourmet for the recipe.) I'm choosing a recipe that I'm very confident will turn out, I'm not experimenting. I know the recipes from any serious gluten free baker blog will have measurements given by weight. There's no guarantee but I'm not often disappointed.
To make a new flour blend to keep experimenting and finding the best flour blend for any recipe I'm trying to improve or make for the first time.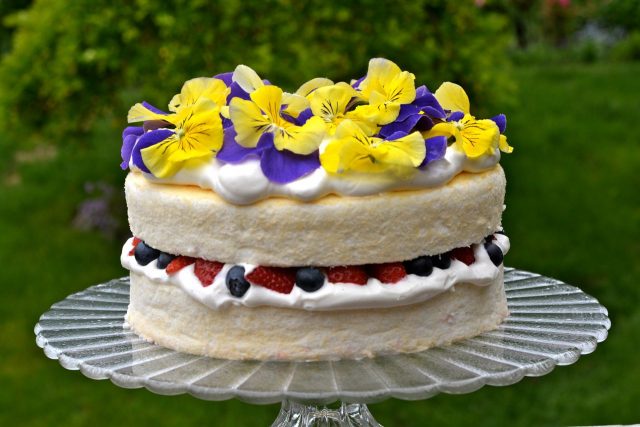 Weighing Flour For Efficiency
The reason I made this gluten free flour conversion chart is to bake more efficiently. If you've taken any of my cooking classes you know I like to be efficient! By changing the cup measurements into grams I can quickly weigh all the flour for a recipe into a single bowl. Not needing to dip and swipe a 1 cup measure twice, then another ½ cup measure, then repeat it all over for the second and third batch. It may not seem worth it for one recipe so I always give you both measurements in those kind of recipes.
Once a month I sell cookie dough in Calgary and sometimes make six or more recipes of Sugar Cookie dough, Gingerbread dough, Snickerdoodles and others. It's just easier to weigh the flour.
For more on this topic check out my post, Gluten Free Baking By Weight.
How You Think Matters
This chart is set up the way I think. If my recipe calls for 1⅓ cups of flour I look at the chart and add the two numbers in my head. That's why I want to see the weight for so many different amounts. I also have a colour printer so colouring the rows helps me follow across the page quickly to find the measurements I need.
How could I make it more user friendly for you? Not comfortable with kitchen math, need a larger font? Just let me know how this chart could be changed to suit your needs and I will do that for you. If you're thinking, "this conversion chart would be perfect if it just had ______", then someone else is thinking that too.
Download Gluten Free Flour Conversion Chart
This post contains affiliate links. When you purchase using these links your cost is the same, but I receive a few cents for every dollar spent. I appreciate your support for this website.
How To Convert Cups to Grams for Gluten Free Flour
In this post the most important 'tool' is the flour conversion chart. However, you do need an electronic scale and a decent set up to make it easy to weigh flour. You can find a more detailed list in this recipe post, EGFG Gluten Free Flour Blend but here's my short list.
A printer and some tape to post this table somewhere handy. If you're the person with a laminator lucky you and your friends!
Kitchen Scale – Mandatory for accurate measuring and consistent results. Buy one with a flat surface that can hold any container and has an easy to read display.
Small plastic bowls – Light weight bowls are interchangeable and easily hold 300 grams of flour.
Mesh strainer for that clumpy potato starch – My strainer fits easily over my large flour container and I use it to ensure there are no lumps in my blend.
Wire whisks with plastic handles come in many sizes, are comfortable to hold and essential for gluten free baking. Buy a few!
Watch on YouTube - Making A Gluten Free Flour Blend
That's it for today. I look forward to hearing from you and revising this table to work for you.
---
More Help for Gluten Free Flour
Blog Posts with more printable resources and video links