Turkey soup from leftover turkey couldn't be easier. My mom would say just throw that carcass in a pot, cover it with water, add some vegetables and boil it for a few hours. It really is that simple but if you've never done it before it's always good to get some guidance. After all, that's what a recipe is.
My husband Jim, is always the one to raise his hand and accept a cooked turkey carcass. We only enjoy a few turkey dinners each year but even when we're not cooking our host is often happy to give away the bones. As a matter of fact we've been know to take our stockpot when we're invited for turkey dinner.
The Secret to Rich Turkey Stock
Jim loves slow cooked dishes that simmer for hours, use simple ingredients and end with something amazingly delicious. He enjoys perfecting the process and pays attention to every detail. Turkey soup is one of those dishes.
My mom's old-fashioned method results in overcooked vegetables with no taste. Jim's method ensures a tasty bone broth with all the nutrients and minerals the bones have to offer. He boils the carcass for 6-8 hours and says you know you did it right if the broth gels when it's cold. Many sources recommend cooking the bones for 8-24 hours so plan accordingly. We cooked our turkey bones for six hours, the broth turned to gel in the fridge and tasted delicious so we're happy with our method.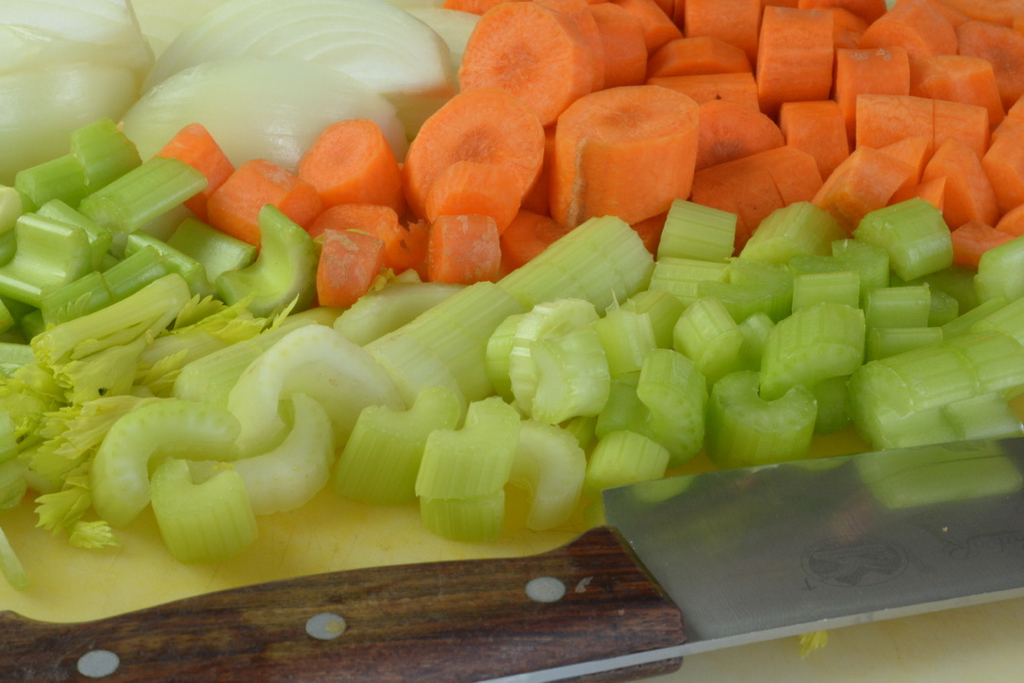 Soup From Leftover Turkey
The first round of vegetables, the mirepoix, made the delicious turkey stock but they're done, throw them out. Add them to your compost, that's the best place for them and then you won't be standing their thinking it's a waste to throw them out. For the best turkey soup add fresh vegetables and cook them just until they're done. That's another secret for turkey soup from leftover turkey, this dish is not leftovers!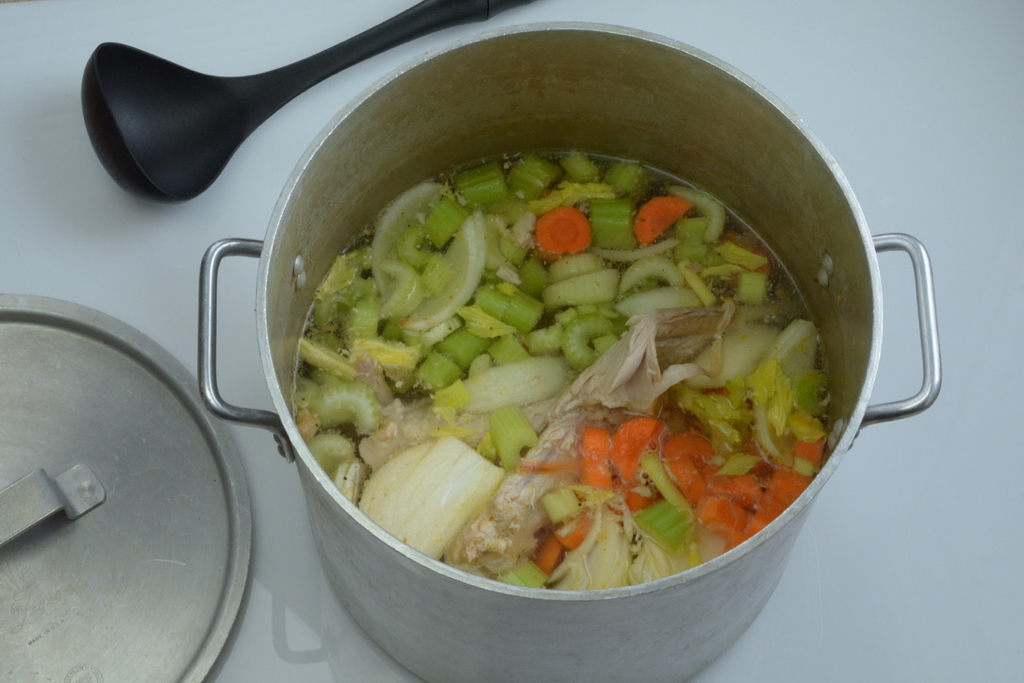 A Seasonal Strategy
Turkey has a season and for us it's from Canadian Thanksgiving in October right until New Year's Day. We only make turkey soup once a year, sometimes twice, but we love it. If people were offering up their turkey carcasses every month we might tire of the process but they don't. If you like slow food then let your friends know, someone may even have a turkey carcass in their freezer that they'd be happy to get rid of.
PIN for later...
Get The Tools
You don't need a big stockpot for soup but it comes in handy a few times a year. We have one leftover from our restaurant and catering days. A stockpot is larger than the large pot (sometimes called a Dutch oven) that comes with a typical set of pots. It will hold a whole turkey carcass and is perfect for kitchen projects and food parties like a Lobster Boil or making jam, salsa or antipasto.
If you have a turkey soup story I'd love to hear about it in the comments below.
---
__________________________________________________________________________
New here? Join our community and get your FREE resource, the tips I wish I knew when I started cooking gluten free.
Yes, I need 29 Tips For Cooking with Gluten Free Flour.
Still haven't mastered gluten free cooking? Check out our online Cooking Classes.
_________________________________________________________________________
More Recipes - The Turkey Feast and a Roast Chicken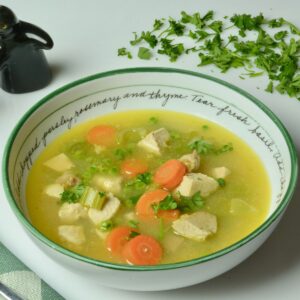 Turkey Soup (From Leftover Turkey)
Soup from leftover turkey couldn't be easier. We don't often have turkey so you might as well use the carcass and make the turkey stock too.
Ingredients
TURKEY STOCK
1

cooked turkey carcass, broken to fit in pot

(from a 12-20 lb turkey)

1

large onion, chopped

4

carrots, chopped

4

celery stalks, chopped

16

cups

filtered water or more to cover the bones
TURKEY SOUP
8

cups

turkey stock

2

cups

cooked turkey meat, chopped

2

carrots, chopped

2

celery stalks, chopped

1

cup

frozen peas

salt and pepper to taste

OPTIONAL GARNISH – fresh chopped parsley
Instructions
TURKEY STOCK
Put turkey carcass, onion, carrot and celery in stockpot. Add water and bring to a boil.

Cover and simmer 6-8 hours. DO NOT add salt or pepper.

Strain broth and use for soup.
TURKEY SOUP
Put turkey stock, turkey meat, carrot and celery in soup pot and bring to a boil. Decrease heat and simmer 20 minutes until vegetables are almost cooked through.

Add peas and simmer for 5 minutes.

Taste and add salt and pepper to taste.

Garnish with fresh parsley if desired.