Making Roasted Tomato Soup has become a fall ritual in my kitchen. The bounty of the garden coupled with the cooler weather provides the inspiration I need to move indoors and make soup. Although I enjoy making soup all year long this soup and my Farm To Table Gazpacho are all about the satisfaction of using home grown tomatoes.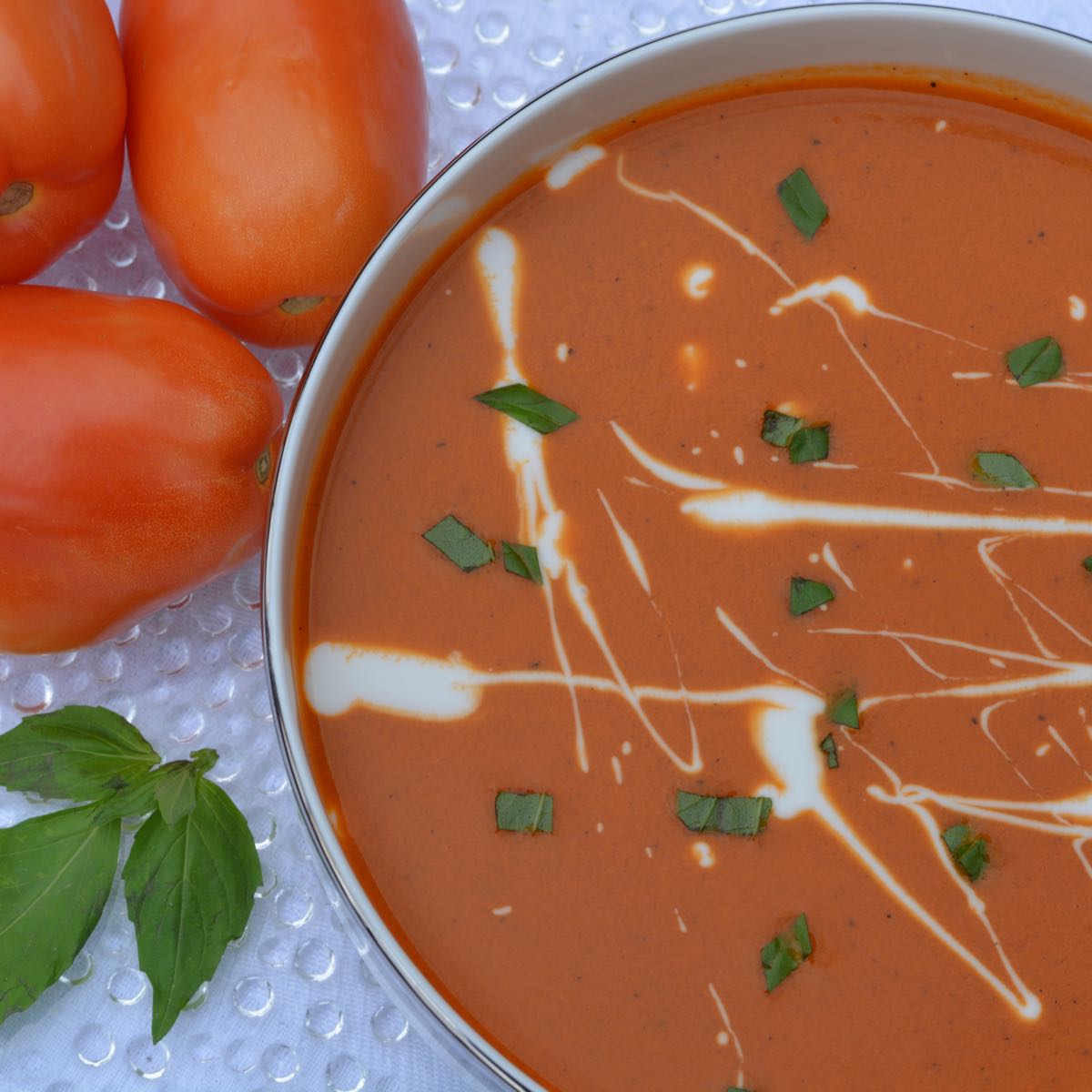 In recent years my sister has taken her tomato-growing skills to the next level. I on the other hand have not. I buy one cherry tomato plant every spring, sometimes a few larger tomato varieties as well. From year to year I experiment with different varieties of large and small tomatoes trying different locations in my garden. But I have not worked on my nurturing skills and the results speak for themselves.
Fortunately my sister is generous with her tomatoes and lives conveniently nearby. And now I can even see on Instagram when she picks them (that's not spying is it?).
So the crop has been harvested, the air is chilly and we have tested and tweaked this soup recipe a few more times. We determined that Italian Roma tomatoes are preferred for soup so I was given a generous box of them. We decreased the amount of onion and increased the amount of tomato but it is all about personal preference. If you make the same soup a few times you can do the same thing and tweak the recipe exactly to suit your taste.
How To Roast Tomatoes
For this Roasted Tomato Soup I halved the tomatoes and scooped out the seeds and pulp. A grapefruit knife made the job easy.
I roasted the tomatoes at a low temperature for a long time and added garlic for good measure. After they were roasted I scraped everything into the soup pot and added the remaining ingredients.
Homemade soup is always satisfying and worth the effort. The aroma of tomatoes and garlic roasting in my kitchen was heavenly and by the time we ate this Roasted Tomato Soup we thought it was divine.
Everyday to Gourmet
We eat with our eyes first so take a minute to make your soup look awesome. To get the random pattern of lines like I did in this photo dip a fork into well-stirred yogurt and splatter it over the soup in two directions. I find sour cream too thick to give the same effect. Garnish your soup with fresh basil if you have it.
A Year of Homemade Soup
Challenge yourself to make a new soup recipe every month to add variety to your meal rotation. Here's a list of my favourites but I move them around all the time. The month list is just a guide.
Get The Tools
Cookware is an investment. You don't need the most expensive pots available but there is a wide variety of affordable cookware that will serve you well.
Lots of pots work for soup and many people would recognize a gorgeous Le Creuset enamelled cast iron pot. They are heavy and expensive and will last a lifetime of cooking. For a fraction of the cost you can buy a lesser quality enamelled cast iron Dutch oven. I'm not sure, but I think it would last at least half a lifetime.
For the everyday home cook the largest pot in a typical set of pots is perfect for making soup. Some recipes call for a soup pot, (I may have written that somewhere too) but technically a soup pot, sometimes called a stockpot, is much larger.
If you cook pasta for a crowd or have an annual jam making party you should own one. For everyday cooks the largest pot in a typical set of pots is perfect.
Let me know in the comments below if you have an annual tradition with soup.
__________________________________________________________________________
New here? Join our community and get your FREE resource, the tips I wish I knew when I started cooking gluten free.
Yes, I need 29 Tips For Cooking with Gluten Free Flour.
Still haven't mastered gluten free cooking? Check out our online Cooking Classes.
_________________________________________________________________________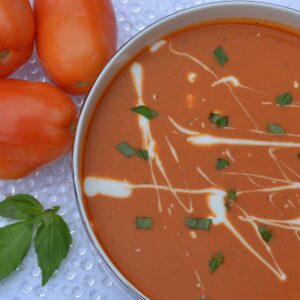 Roasted Tomato Soup
Making Roasted Tomato Soup has become a fall ritual. The bounty of the garden provides the inspiration and my sister grows the tomatoes.
Ingredients
ROASTING TOMATOES
4

pounds

Roma tomatoes

6

cloves garlic, peeled

⅓

cup

olive oil

generous sprinkling of salt and pepper
SOUP
1

tablespoon

olive oil

½

cup

chopped onion

2

teaspoon

salt

1½

teaspoon

pepper

5

cups

gluten free chicken stock

GARNISH – yogurt and fresh basil
Instructions
ROAST TOMATOES
Preheat oven to 350°F. Cut tomatoes in half. Remove pulp and seeds into a bowl.

Place tomatoes cut side down on a baking tray, add garlic.

Drizzle tomatoes and garlic with oil. Sprinkle with salt and pepper.

Roast in preheated oven for 1-1¼ hours until very soft and a little black around the edges.
SOUP
While tomatoes are roasting put tomato pulp and seeds into large strainer over a bowl.

Push the pulp through the strainer and collect as much juice as possible. Discard seeds and set aside pulp and juice.

Heat olive oil in large pot over medium heat.

Add onion and cook until softened, about 5 minutes.

Add salt, pepper, chicken stock, reserved tomato pulp, roasted tomatoes and garlic.

Return to heat just long enough to warm all the ingredients, about 5 minutes.

Using a hand blender or food processor puree soup until smooth.

Season to taste with salt and pepper.

Garnish as desired with thinned sour cream or yogurt and fresh basil.
Notes
*To get the random pattern of lines like you see in the photo dip a fork into well-stirred yogurt or sour cream, thinned with a bit of milk or cream, and splatter it over the soup in two directions. Garnish with fresh.