This Roundup of Homemade soups starts in the dead of winter. There's nothing like a hearty soup to warm you up in February but soup lovers know there's a soup for every season.
This is my year of homemade soups. With a list like this you have a new one to try each month and the variety is built into your meal rotation automatically.
Mix it up however you like but don't miss out on the joy of delicious homemade soup. I hope you'll find one you want to try this month!
My Year of Homemade Soups
Is Soup Stock Gluten Free?
No, many soup stocks and broths, whether liquid or dried, have gluten containing ingredients. You'll need to 'read labels like a celiac' to find the gluten free options wherever you shop.
Not every soup recipe uses stock but many do and some brands of store bought stock have a significant amount of salt. Follow these three tips for making delicious homemade soup every time.
Check the label on store bought stock or broth every time. (It's easy to grab the wrong one.)
Pay attention to salt in each ingredient (canned tomatoes, chickpeas etc).
Taste your soup near the end of the cooking time. Adjust the seasoning before you serve it.
Hearty Homemade Soups for Winter
If you need to add more lentils and split peas to your gluten free diet here are two delicious soups to try. It's always easier than you think to use unfamiliar ingredients. The best way to incorporate them into your diet is to find and save tried-and-true recipes that you look forward to making year after year.
This strategy just makes life in the kitchen more enjoyable.
Leek and Split Pea Soup with Pistou
A healthy, high fibre soup taken to new heights with pistou sauce!
Check out this recipe
Lentil and Red Pepper Soup
You don't need to soak the lentils to make this hearty, high-fibre soup. Smart cooks make Tandoori Chicken earlier in the week and serve some leftover meat on top. Yogurt and fresh cilantro brings a refreshing, bright taste to every bite.
Check out this recipe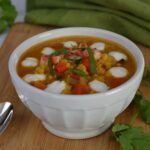 Leftover Turkey Soup
For anyone who still has turkey in the freezer, or even the carcass from your Christmas bird, it's time to turn that into soup!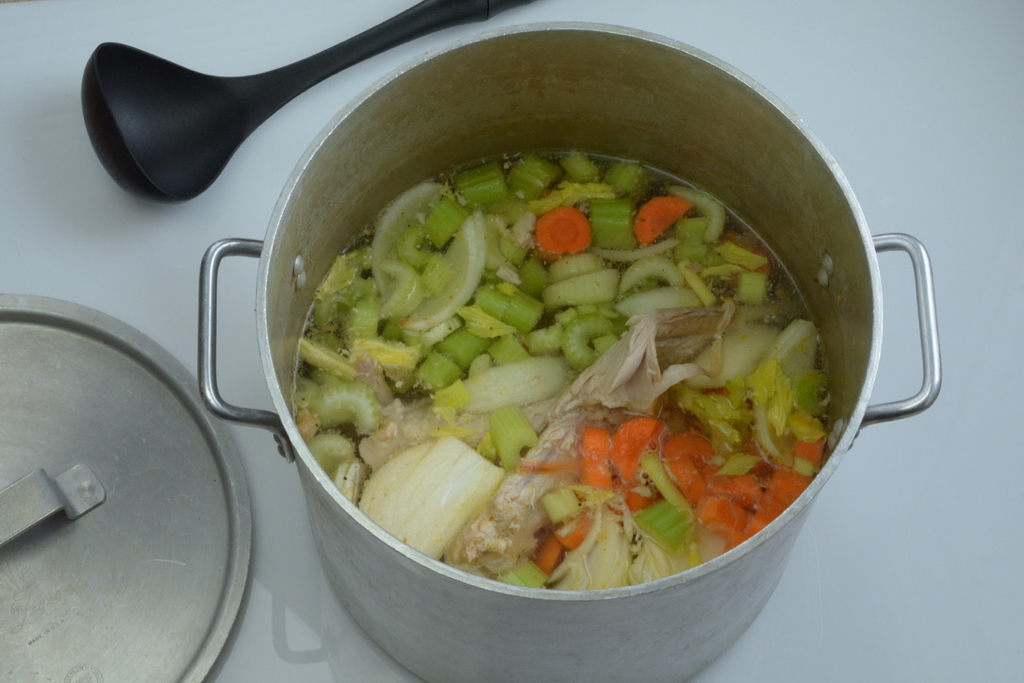 French Onion Soup
A winter classic, French Onion Soup is easy to make and brings back memories of a time when it was popular. Who doesn't love that gooey cheese on top?
Gluten free bread is not inexpensive so be sure to save the edges you cut off. I keep mine in a container in the freezer and pull it out every once in awhile to make breadcrumbs.
Easy Gluten Free Noodle Soups
If you're trying to get away from instant noodles try these. They're my two "go-to" noodle soups both loaded with flavour yet very different from each other.
Noodle Soup with Peanut Sauce
This is my version of gluten free Ichiban-style noodles. When I have black bean sauce in the fridge it's pretty easy. I've been making this version of Chinese Dan Dan Noodles for more than 20 years and the more times you make it the easier it feels.
Check out this recipe
Lemongrass Chicken Noodle Soup
This feels like a spring soup but I make it throughout the year when I'm looking for those fresh flavours of Vietnamese cuisine.
Check out this recipe
Farm-To-Table Soups For Summer
If you're a lover of homemade soup then you've got to have some summer favourites on your list.
For the hottest summer days when you'd rather chop than cook, Farm to Table Gazpacho is the answer. As soon as the cooler evenings come in September I've got this Green Bean Soup on my list to make next.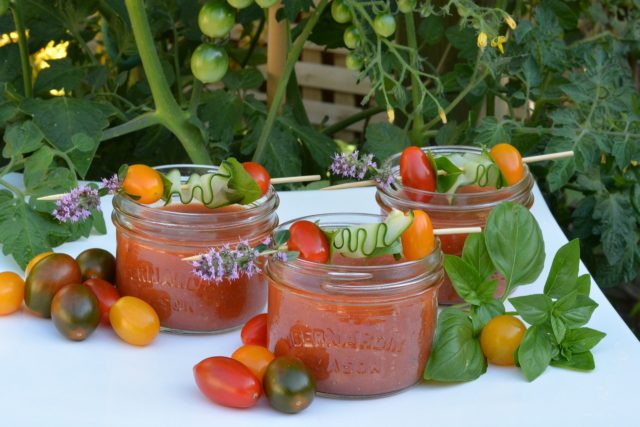 I typically grow some variety of small tomatoes for eating out of hand, putting in salads and making Bocconcini Cherry Tomato Skewers. But my sister grows tomatoes. Lots of them!
Favourite Homemade Soups for Fall
When she starts sending me pictures of all the varieties of garden tomatoes I know we'll be making this Roasted Tomato Soup soon. I always have fun making different patterns on top of the soup because at my house you can play with your food!
Roasted Tomato Soup
Making Roasted Tomato Soup has become a fall ritual. The bounty of the garden provides the inspiration and my sister grows the tomatoes.
Check out this recipe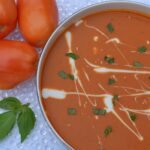 Butternut Squash Soup with Poblano Chiles
This soup has a southwestern flare with cumin and poblano chiles. Skip the poblano chiles if you must but they're in season when butternut squash is and they add some zip. This recipe is perfect for serving soup shooters at a fancy party.
Check out this recipe
Italian Fish and Shellfish Soup
This soup is fun to make for a casual get together with friends. Serve it as the main course with homemade gluten free crostini and a simple green salad. Don't forget the wine!
Check out this recipe
Soup Making Tools
You don't need the most expensive set of pots available but buy what you like because it will likely last for decades.
For the everyday home cook like me the largest pot in a typical set of pots is perfect for making soup. Recipes sometimes refer to a Dutch oven or soup pot but you don't need either.
A modern Dutch oven is the gorgeous Le Creuset enamelled cast iron pot some people dream of owning while others have one but can hardly lift it. They're heavy and expensive and will last a lifetime.
For a fraction of the cost you can buy a lesser quality enamelled cast iron Dutch oven and I'm pretty sure it would last half a lifetime.
A real soup pot, also called a stockpot, is extra large. They're ideal for salsa-making parties, a summer lobster boil, annual jam making event or to hold a turkey carcass. It's nice to have but takes up space so if you don't do any of those things you don't need one.
That's the end of my Year of Soup and we're back to winter. Start at the top and keep working on your list of 12 favourite soups to make year after year.
I'd love to hear in the comments below what kind of soup you're making anytime of year.
Originally posted in 2019, updated February 2023.
---
__________________________________________________________________________
New here? Join our community and get your FREE resource, the tips I wish I knew when I started cooking gluten free.
Yes, I need 29 Tips For Cooking with Gluten Free Flour.
Still haven't mastered gluten free cooking? Check out our online Cooking Classes.
_________________________________________________________________________