Chicken Fried Rice is a quick and easy dish and like every recipe, the more often you make it, the quicker and easier it gets. To make it gluten free the key is a well-stocked Asian pantry. For this recipe that means both gluten free soy sauce and gluten free oyster sauce.
This recipe is a guide to fried rice dishes. Once you master the simple technique you can vary the vegetables, the meat and the sauce experimenting with the flavours you love.
Many Chinese dishes are quick cooking with all the prep done before you start to cook. Some people like this kind of cooking where everything is lined up and ready to go. Once the heat is on you simply stir and add until all the little dishes are empty and your food is cooked.
If you have young cooks in your house pay attention to what frustrates them with cooking and what they like. Then steer them toward recipes with the cooking methods they like. There may be a stir-fry specialist hiding in your kitchen.
PIN for later...
This post contains affiliate links. When you purchase using these links your cost is the same, but I receive a few cents for every dollar spent. I appreciate your support for this website.
Should I Use Day Old Rice to Make Fried Rice
Many cooks insist you use day old rice to make fried rice. I actually thought Chicken Fried Rice and other similar dishes were invented to use up day old rice.
My quick search found just as many people claiming fried rice should be made with freshly cooked rice so the choice is yours. Either way, you need cooked rice to make this dish.
My only criteria is to make sure you're using plain rice, not rice that has been processed in some way. My preference is long grain, Thai Jasmine rice or basmati rice.
Help Setting Up a Gluten Free Asian Pantry
Are you new to cooking gluten free Asian cooking? I'm here to tell you that anything is possible.
You may have to make some sauces but there is nothing off limits. Check out these two posts; the Asian Pantry and Soy Sauce vs Tamari Tasting for help getting your pantry set up. An unlimited number of amazing dishes are waiting to be made in your kitchen.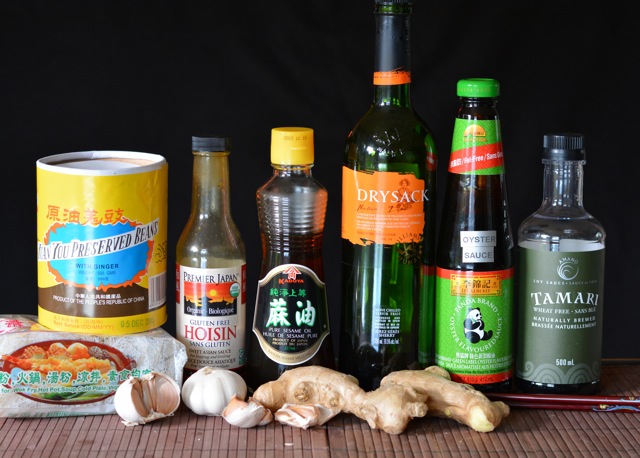 Tips For A Gluten Free Kitchen
It sounds daunting at first but setting up your pantry with all (or almost all) gluten free ingredients makes life in the kitchen so much less stressful. I only buy gluten free soy sauce, Hoisin sauce and Oyster sauce. All other ingredients should be gluten free but you always need to check that too.
Once you've done that you will spend zero time wondering what was the last thing made in this pot or is that little bit of something stuck on the bottom of the pot gluten. Create systems to avoid this as much as possible.
Many families have a breakfast area for gluten eaters with a separate toaster, butter and breakfast cereal leaving the other 95% of the kitchen completely gluten free.
The closer you get to everything gluten free the more the whole family can enjoy a variety of Asian dishes. Then the talk around the table will be about the food, not about what spoon touched what bowl.
The Benefits of Wok Cooking
One of the first kitchen tools I was given was a wok with a little Chinese cookbook by Martin Yan. At that time he had a cooking show and his Chicken Fried Rice was one of the first recipes I tried.
It's important to have what you need within easy reach so I keep my wok in the cupboard above the fridge.
A flat bottom wok can be used for stir-fries, saucy recipes like curry, deep frying and also as a steamer. No matter what size you need, here are few styles of wok that I'd recommend.
I've shared my streamlined process for set-up and clean up to deep-fry in the description of these recipes.
Let me know in the comments below if you tried this Chicken Fried Rice and how it was.
---
__________________________________________________________________________________________
New here? Join our community and get your FREE resource, the tips I wish I knew when I started cooking gluten free.
Yes, I need 29 Tips For Cooking with Gluten Free Flour.
Still haven't mastered gluten free cooking? Check out our online Cooking Classes.
More Wok Recipes
Chicken Fried Rice
Chicken Fried Rice is a quick and easy dish, the more you make it, the quicker it gets. It uses gluten free soy sauce and oyster sauce.
Ingredients
EGG
1

tablespoon

butter

2

eggs, beaten
AROMATICS
2

tablespoon

oil

2

garlic cloves

finely chopped

1

teaspoon

minced ginger

½

cup

finely chopped onion
MEAT & VEGETABLES
1

chicken thigh, diced small

½

cup

finely diced carrot

½

cup

finely diced red pepper
RICE & SAUCE
2

cups

cooked rice

(½ raw rice)

2

tablespoon

GF soy sauce

1

tablespoon

GF oyster sauce
FINISHING
4

green onions, thinly sliced

¼

cup

frozen peas

GARNISH - sesame seeds
Instructions
PREP
Measure and chop all ingredients. Combine soy sauce and oyster sauce. Line everything up in the order it will be used.
SCRAMBLE EGGS
Heat oil on high heat. Add butter and melt. Pour beaten eggs into wok, stir until scrambled but still soft. Tip out onto a plate with the green onion and peas for finishing.
COOK AROMATICS
Add oil to wok. When hot add garlic, ginger and onion. Stir fry 30 seconds until onion is transparent.

Add chicken, stir fry 1 minute (it will continue to cook until the dish is finished).

Add carrot and red pepper, cook for another minute.
RICE & SAUCE
Add rice, stir until there are no clumps.

Pour soy sauce/oyster sauce mixture on rice and stir until all grains of rice are evenly coated in sauce, 2-3 minutes.
FINISHING
Add peas, green onion and scrambled egg. Stir until well combined and heated through, about 1 minute.

GARNISH – Sprinkle with sesame seeds and serve.