Gluten free soy sauce vs tamari; they are both soy products but are made using a different process. Soy sauce is traditionally a wheat product (oh, no wonder so many brands have wheat on the ingredient list). This is the kind of thing you learn when you need to cook gluten free.
Now, when someone asks why there is gluten in soy sauce you'll know that's like asking why there is gluten in wheat flour. Wheat has gluten.
Yet gluten free versions of soy sauce are readily available now. Reading the label is the next step.
Tamari originated in Japan as a wheat free by-product of miso. Fast forward a few centuries and manufacturing has changed. Tamari is not quite as easy to find as gluten free soy sauce but people on a restricted diet become good at shopping fast.I see it at health food stores.
Gluten Free Soy Sauce vs Tamari
Soy Sauce
originated in China
originally made using a fermentation process
traditionally half soy beans and half wheat
Tamari
originated in Japan
originally made by a brewing process
traditionally wheat free
Of course we're thankful for the multitude of food products we can buy but we do want to know what's in our food. Companies are catching on, cleaning up their labels and the products they are offering. We get to choose, and let manufacturers know what we like, every time we buy.
Soy sauce and tamari do not taste the same and neither do any two brands of soy sauce. Trying new products and modifying recipes goes hand in hand with a gluten free lifestyle.
There's nothing like a head-to-head comparison to find out what you prefer, help you learn about the products you consume and have a little fun in the process. I won't say any more about product labels, they are self explanatory and a Tasting Party will put you on the right track.
PIN for later...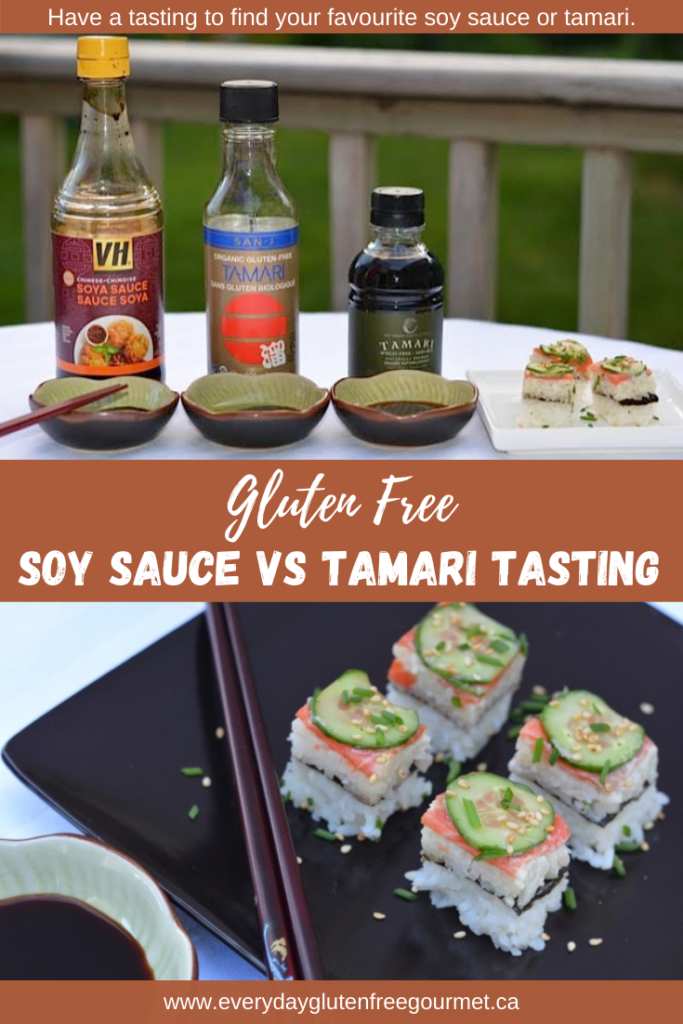 This post contains affiliate links. When you purchase using these links your cost is the same, but I receive a few cents for every dollar spent. I appreciate your support for this website.
How To Host a Soy Sauce vs Tamari Tasting
For my tasting I chose three soy products that are readily available to me. Two brands of tamari and one inexpensive brand of soy sauce. I chose these based on the ingredient label and the cost.
I served my sushi pizza for the tasting and made a Tasting Card. As well as the taste I included space to consider the cost of each one as well as how easy it was too buy. If I was to do this tasting again I would do it with friends and make hand rolled sushi for a real party.
Where To Buy Soy Sauce and Tamari
Here are a few brands I found online and these companies each have a long history. Serious foodies might enjoy talking about this at your Soy Sauce vs Tamari Tasting Party.
You can buy from their websites or add most of them to your next Amazon order.
Gluten Free Pantry Tip
My strategy for keeping a well stocked pantry is to purchase two bottles at a time. There are more gluten free options available all the time but I find this just makes it easy. As soon as I'm into the second bottle I'll buy a new one, or two new ones, depending on how fast I'm using it.
I still find that stores change their products all the time and manufacturers change their recipes so this pantry tip works for me.
Let me know in the comments below if you did a comparison of gluten free soy sauce vs tamari, and what you learned.
Originally posted in 2015; updated 2023.
Recipes Using Soy Sauce and Tamari
I love Asian food and cook many traditional and non-traditional dishes with soy sauce or tamari. Here are just a few of my favourites.
Spring and Summer Favourites
Fall and Winter Favourites