Whether you know it or not you have a gluten free Asian pantry. It may only contain gluten free soy sauce and that's how it all starts. You create a system to purchase and replace the necessary staples you want to have on hand for everyday cooking.
Whether it's an app on your phone or a notepad in your kitchen you need a simple system that makes sense and works for you.
PIN for later…
This post contains affiliate links. When you purchase using these links your cost is the same, but I receive a few cents for every dollar spent. I appreciate your support for this website.
Guidelines For Stocking A Gluten Free Pantry
Know what you have in your fridge, freezer and cupboards.
Store these items in a way that works for your style of cooking and frequency of use.
Restock items before you run out.
A well-stocked pantry is the key to cooking a variety of delicious homemade meals day after day. Just a few minutes of planning will pay off every time you cook and shop. Whether you are whipping up a quick dinner or planning something more adventurous a well-stocked pantry makes life in the kitchen more enjoyable.
Throughout this website I have written about many gluten free Asian ingredients and posted recipes for sauces I make, the ones I can't find at the store. Now it's time to put that information together in a more useful format, a simple list of ingredients for an Asian pantry.
I provided a link to the actual product I use where possible. After  that I've put links to my recipes to show you how I use each ingredient. And as always, when you follow a link to a recipe there is a description that often contains helpful information about the specific ingredient.
And yet this is just a beginning. Asia is a big continent with a lot of countries and each cuisine is created by the unique combination of ingredients and the techniques in which they use them. I have four lists grouping the ingredients as:
Basic Chinese
Thai and Vietnamese
Japanese
Indonesian
To help you use the lists below remember:
Product link on the LEFT – recipe links on the RIGHT
Basic Chinese Ingredients
Garlic – I like fresh but a jar in the fridge works too.
Ginger – Fresh ginger will keep in the fridge or freezer; a jar of chopped ginger is okay too.
Soy Sauce – Have a tasting to learn the finer points of tamari and soy sauce and pick a favourite; buy two at a time so you won't run out. You can even buy individual travel packs of GF soy sauce, available in packets of 50 or 20, to carry with you.
Oyster Sauce – Lee Kum Kee has oyster sauce, and the one with the GREEN label is gluten free. Use it to perk up an everyday stir fry , Lion's head meatballs or use in a marinade/sauce.
Hoisin Sauce – Perks up an everyday stir fry or use in a sauce like Hoisin ribs
Sesame oil – Small amounts for lots of flavour in salad dressing, stir fry, salmon, Hoisin ribs, sesame mayonnaise and more
Sherry – I buy W&H Dry Sack sherry at the liquor store and use it for salad dressing, stir fry, salmon and more. Use it in recipes calling for cooking sherry or Chinese cooking wine.
Fermented Black Beans – I use this ingredient to make my homemade black bean sauce

.

Homemade gluten free Black Bean Sauce – Use in an everyday stir fry, salmon or Hoisin ribs

.

Rice Noodles – keep a variety of widths to use in soup, salad, salad rolls, stir fry and noodle dishes
Thai and Vietnamese Ingredients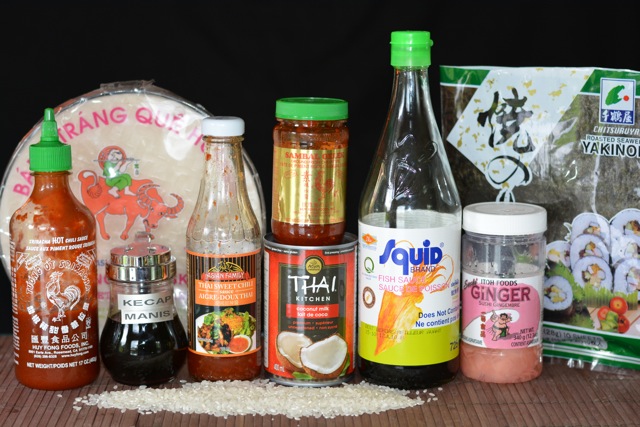 Japanese Ingredients
Indonesian Ingredients
Whether it is the first time you've thought about your Asian pantry or you have some basics and want to expand, I hope you found this helpful.
Let me know in the comments below what you keep in your Asian pantry or if you have a clever way of ensuring your pantry is well stocked.
---
A Well-Stocked Gluten Free Asian Pantry
Stock your pantry with gluten free items to make amazing dishes from around the world!