Stock up your gluten free Asian pantry and get ready to try all the wonderful dishes from that part of the world. From Chinese Chicken Balls to Indonesian satay, if someone's making it...someone's making it gluten free.
That someone could be you!
When ever you try a new dish pay attention to the ingredients. In the tables below look for other dishes using the same ingredients. Create a system to purchase and store them and keep trying new recipes to find your favourites.
Guidelines For Stocking A Gluten Free Asian Pantry
Know what you have in your fridge, freezer and cupboards.
Store these items in a way that works for your style of cooking and frequency of use.
Restock items before you run out. For hard to find gluten free ingredients buy two at a time.
A well-stocked pantry is the key to cooking a variety of Asian dishes on a regular basis. Just a few minutes of planning will pay off every time you cook and shop making life in the kitchen more enjoyable.
I love Asian food so these ingredients were the first things I looked for when I started to cook gluten free. In the tables below I share links to recipes, blog posts on specific ingredients and links to purchase some items online.
Asia is a big continent with many countries and each cuisine is created by the unique combination of ingredients and the techniques in which they use them. Below are four tables grouping the ingredients common to these cuisines by country.
There are no hard and fast rules but this will give you an idea of the recipes I've been making for years and now I make them all gluten free.
Basic Chinese and Fusion
Thai and Vietnamese
Japanese
Indonesian
Ingredients for Basic Chinese and Fusion Cooking
These sound like Chinese ingredients but they are also used in many Asian and fusion recipes.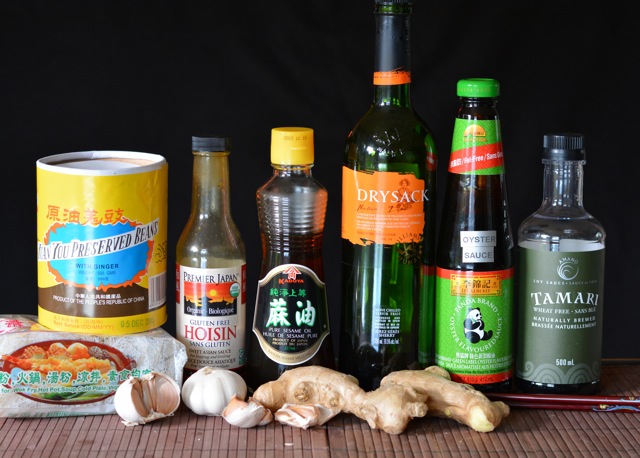 | Ingredient with Amazon link to purchase | Buying and storing tips plus recipe links |
| --- | --- |
| Garlic | I prefer fresh garlic but a jar in the fridge works too. |
| Ginger | Fresh ginger keeps in the fridge for weeks or in the freezer for months. Grate it from frozen to use in any recipe and put the rest right back in the freezer. Chopped ginger in a jar works too. |
| Cilantro | Where would we be without fresh cilantro! If you're someone who thinks it tastes like soap the best advice is keep trying it until you like it. Be sure to use the stems too. Store cilantro standing up in a jar of water (loosely covered with a plastic bag) or wash and dry thoroughly, wrap in paper towel and put in an airtight container. To prevent it from going bad use it all the time. |
| Soy Sauce | Have a tasting to learn the finer points of tamari and soy sauce then pick a favourite. Buy two at a time so you won't run out. Avid travellers buy individual travel packs of gluten free soy sauce to carry with them. Available in packets of 20 or 50. |
| Oyster Sauce | Lee Kum Kee brand of oyster sauce makes two versions, the one with the GREEN label is gluten free. Use it to perk up an everyday stir fry, Lion's head meatballs, Chicken Fried Rice or use in a marinade/sauce. |
| Hoisin Sauce | There are a few brands of gluten free hoisin sauce readily available now. It can be used as a glaze on salmon, it perks up an everyday stir fry or it's the star in these Hoisin glazed ribs. |
| Sesame oil | Use small amounts of sesame oil as a seasoning. It adds flavour in salad dressing, stir fry, salmon, sesame mayonnaise and more. |
| Sherry | I buy W&H Dry Sack sherry at the liquor store and use it to make Asian inspired salad dressing, stir fry, Salmon with Chinese Pesto, Korean Short Ribs and more. Use sherry in any recipe calling for cooking sherry or Chinese cooking wine. |
| Fermented Chinese Black Beans | Found at Asian grocery stores, these beans keep at room temperature. Some recipes like these Hoisin Glazed Ribs, use the whole beans rinsed and chopped. Make this homemade black bean sauce to use in dishes like Asparagus in Black Bean Butter Sauce, Mongolian Pork Chops, Salmon with Chinese Pesto or a Vegetable Stir Fry. See the yellow container in this post, Fermented Chinese Black Beans. |
| Rice Noodles | Keep a variety of widths to use in all Asian dishes like; soup, salad, salad rolls, stir fry and noodle dishes. |
Pantry ingredients for Chinese and Asian fusion cooking
Ingredients for Thai and Vietnamese Dishes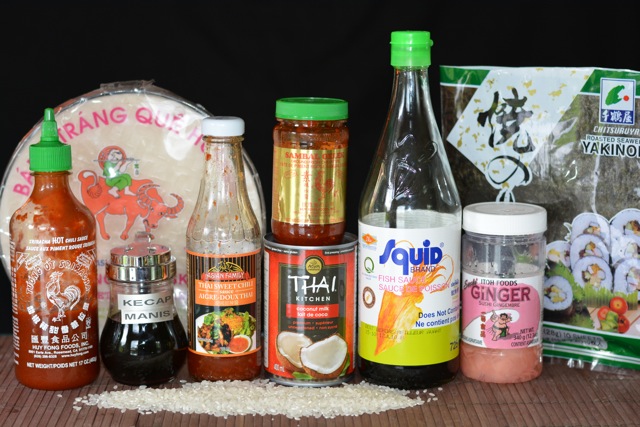 Ingredient with Amazon link to purchase
Buying and storing tips plus recipe links
Canned Coconut Milk
Keep cans of coconut milk in your pantry to make curries, soups, coconut rice and dairy free ice cream. Learn more about the fat content and when to use which one in this post, Gluten Free Coconut milk.
Fish Sauce
Fish sauce is the essential ingredient for Vietnamese and Thai cuisine used in almost every dish. It keeps indefinitely and most brands are gluten free. It's in Nuoc Cham dipping sauce for salad rolls, cabbage chicken salad and rice noodle bowls.
Read more about it in this post, Gluten Free Fish Sauce.
Sriracha chile sauce
You don't need every type of chile sauce but Sriracha is definitely a favourite.
Rice paper wrappers
It takes a little practise to use rice papers wrappers and roll up perfect salad rolls but it's worth the effort. They can also be used as a wrap and deep-fried.
Curry Paste
Make tantalizing Thai curries using a variety of gluten free curry pastes such as yellow, green, red, Massaman and more. If you're in a Dinner Club and you really want to try everything from scratch you can make your own Yellow Curry Paste. I haven't made it for years.
Sweet Thai Chile Sauce
I just said you don't need every chile sauce but I use this one as a dipping sauce for Fish Cakes, Spicy Thai Meatballs, or Pork and Shrimp Skewers. It's also an ingredient in the sauce for these Sweet Chili Ribs and this Beef and Bok Choy Stir Fry.
Chopped frozen lemongrass
I buy fresh lemongrass stalks when I teach a class but keep store bought, chopped frozen lemongrass in my fridge at all times. That means I can easily make recipes like soup, a marinade for chicken, Vietnamese Chicken Subs and more. 
Learn more about this ingredient in my post, How To Use Lemongrass.
Pantry ingredients for Thai and Vietnamese cooking
If you're new to Thai cooking check out this post, Introduction To Thai Ingredients.
Ingredients for Japanese Cooking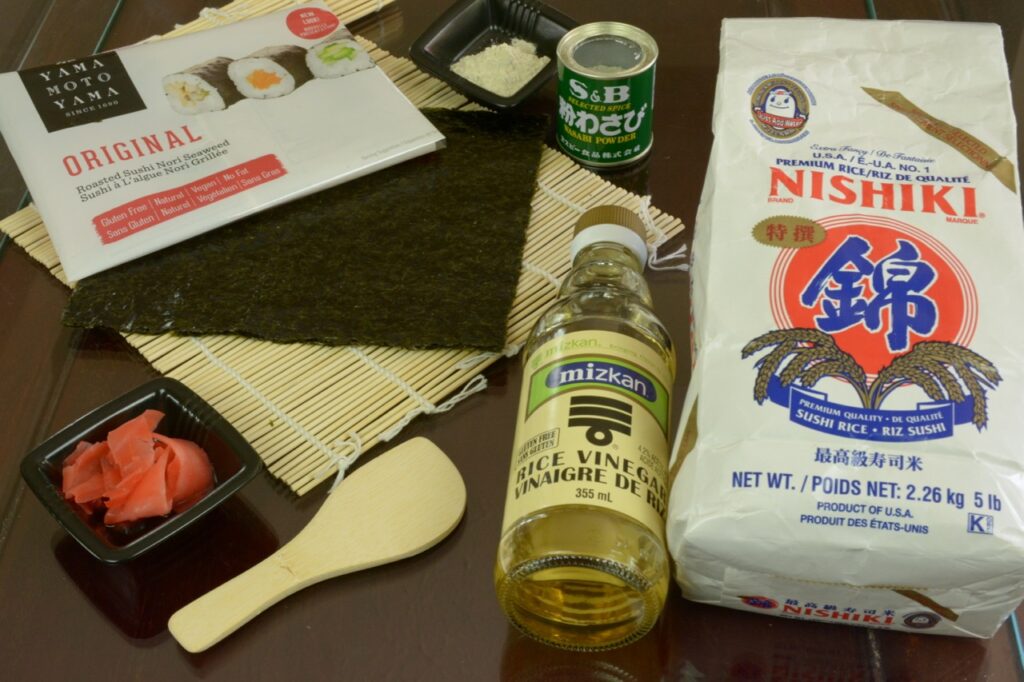 Pantry ingredients for Japanese cooking
Ingredients for Indonesian Cooking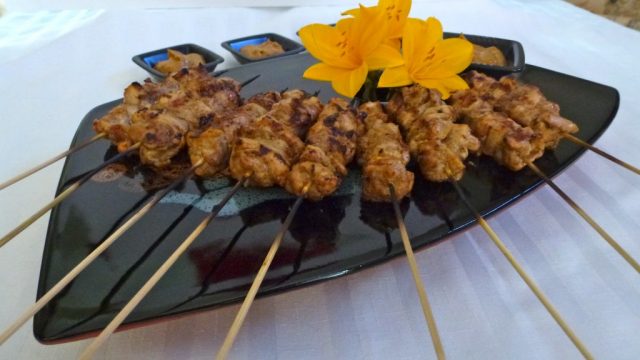 | Ingredient with Amazon link to purchase | Buying and storing tips plus recipe links |
| --- | --- |
| Kecap Manis | I use this sweet Indonesian soy sauce in the peanut sauce that goes with my chicken satay. I couldn't find a gluten free version so I pulled out this old recipe for kecap manis that I made back when you couldn't even buy specialty ingredients like this. |
| Sambal Oelek | This is my go to chile sauce for almost any cuisine. |
| Tamarind concentrate or paste | I use tamarind to make Pad Thai, satay, pork curry and some East Indian dishes. To know what to buy or substitute the paste and concentrate check out this post, Tamarind Concentrate vs Tamarind Paste. |
Pantry ingredients for Indonesian cooking
That's not everything but it is the majority of ingredients I have in my gluten free Asian pantry. Whether you're new to Asian cooking or you have some basics and want to expand, I challenge you to try something new.
Let me know in the comments below if you think I missed an important ingredient or what you have in your pantry for Asian cooking.
Originally published 2016, updated February 2023.
__________________________________________________________________________
New here? Join our community and get your FREE resource, the tips I wish I knew when I started cooking gluten free.
Yes, I need 29 Tips For Cooking with Gluten Free Flour.
Still haven't mastered gluten free cooking? Check out our online Cooking Classes.
_________________________________________________________________________