This gluten free Chocolate Chip Cookie Pizza is a casual party dessert and a fun edible gift. Everyone loves chocolate chip cookies so I think everyone should learn how to make them. Making this recipe as a Cookie Pizza isn't necessary, it was just fun!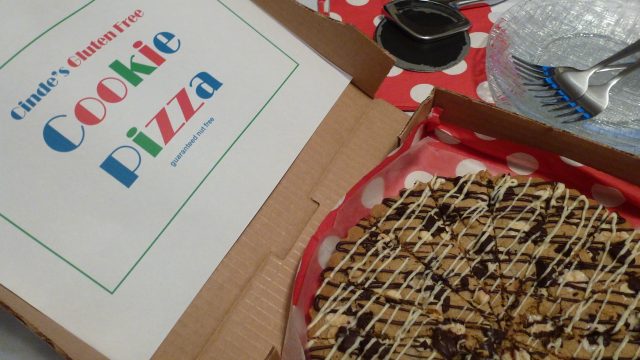 Baking cookies gluten free requires learning some new baking tips. Simply substituting a gluten free flour mix for the wheat flour in an old tried-and-true family recipe often results in problems. Bakers know that gluten free cookies often spread and end up like a mass of greasy, not quite cooked dough. But don't let that stop you from learning to bake gluten free cookies, keep cooking and learning. Eat your way to success.
A Single Flour Replacement
Before you get too excited there really is no single flour replacement for gluten free baking. There are more flours and blends that you can imagine but flour plays different roles in different recipes.
In this recipe I use quinoa flour which is an excellent single flour substitute for some recipes. I was extremely happy to learn how it worked early on in my gluten free baking journey. I made perfect peanut butter cookies and my cookie pizza worked, not every time but it worked. This pizza idea is a long time favourite recipe that I enjoy taking to parties and sending to school so I really wanted a gluten free version.
But, and there's always a but, quinoa flour is relatively expensive compared to other gluten free flours and mixes plus some people can't tolerate quinoa. Over time I learned that people can be allergic to quinoa while it causes others tummy trouble. So once again, gluten free baking is not that straightforward.
I continue to try different chocolate chip cookie recipes because one can never have too many chocolate chip cookie recipes, right? And, gluten free baking is always about learning.
How To Use Quinoa Flour
For more on quinoa flour check out this post from my yearlong blog post series on different gluten free flours; How To Use Almond Flour and Quinoa Flour.
Variations for Chocolate Chip Cookie Pizza
One of my so called secrets about baking is that I make the same recipes over and over. With a small list of reliable favourites and ways to vary their presentation you've got something of every occasion.
This cookie dough recipe, and the idea of a cookie pizza, is a perfect example for any holiday. Here's the list I have printed in my dessert recipe binder.
Halloween version:
2-3 types of mini GF chocolate bars, chopped
M&Ms – orange, yellow, brown or purple
Drizzle with melted dark chocolate or black chocolate candy
Valentine version:
Chopped white chocolate
M&Ms or cut up gumdrops – red, pink, mauve or white
Drizzle with melted white chocolate
Christmas version:
Chopped white chocolate
M&Ms or cut up gumdrops – red and green
Crushed candy canes
Drizzle with melted white chocolate
How To Serve a Cookie Pizza
Whether I cut my cookie pizza in wedges or squares I love serving it in a pizza box. It is ideal for travelling and to me it goes with the name. Adding a sign on the outside of the box and inside the lid is perfect to include a birthday or thank you message and allergy information. Children love to participate so include their drawing when you can.
Tips For Making Gluten Free Cookies
Baking is part science and part art and requires following some basic rules. Gluten free baking has new rules and the trick is to learn which ones are important. If this cookie pizza idea appeals to you I'd love to hear what you tried in your kitchen. In this post, Tips for Making Gluten Free Cookies, I share what I've been learning.
I'd love to hear in the comments below if you made a cookie pizza and how you decorated and served it.
__________________________________________________________________________
New here? Join our community and get your FREE resource, the tips I wish I knew when I started cooking gluten free.
Yes, I need 29 Tips For Cooking with Gluten Free Flour.
Still haven't mastered gluten free cooking? Check out our online Cooking Classes.
_________________________________________________________________________
Chocolate Chip Cookie Pizza
This Chocolate Chip Cookie Pizza is a casual party dessert and a fun edible gift. This recipe is made with quinoa flour so it's naturally gluten free.
Ingredients
2¼

cups

quinoa flour

½

teaspoon

baking soda

1

cup

butter, room temperature

¾

cup

white sugar

¾

cup

brown sugar

1

teaspoon

salt

2

teaspoon

vanilla

2

eggs

1¼

cup

chocolate chips
TOPPINGS
¼-½

cup

miniature marshmallows

¼-½

cup

chopped chocolate

¼-½

cup

gluten free M&Ms*

(or other gluten free candy)
FINISHING
melted chocolate for drizzling on top
VARIATIONS
chopped GF chocolate bars, toasted coconut, chopped nuts, crushed candy canes, cut up gum drops etc.
Instructions
In a small bowl mix flour and baking soda. Set aside.

In an electric mixer beat butter and sugars until smooth and fluffy.

Add salt, vanilla and eggs. Mix until combined.

With mixer on lowest setting add the flour.

Add chocolate chips and mix until combined.

Press the cookie dough into the pan of your choice (2-8 inch round baking pan or a large 12-14 inch flan pan with removable bottom). It will puff up during cooking so only fill the pan about half way. Make cookies with any left over cookie dough.

Bake in oven for 13-15 minutes. Remove and add marshmallows and other toppings.

Place back in the oven and continue baking for 8-10 minutes until brown around the edges and marshmallows have melted.

Transfer to a cooking rack and allow to cool completely.

Drizzle with melted chocolate if using. Let chocolate set before cutting.

Cut into wedges or squares. Serve whole on a large platter, pizza board or in a pizza box.
Notes
Halloween version:
Any gluten free Halloween chocolate bars or candy, chopped
M&Ms (orange, yellow, brown or purple)
Drizzle with melted chocolate or candy melts (white, brown, black, orange, green or purple)
Valentine version (can be made in a heart-shaped pan):
Chopped white chocolate
M&Ms or cut up gumdrops (red, pink, mauve or white)
Drizzle with melted white chocolate or red candy melts
Christmas version:
Chopped white chocolate
M&Ms or cut up gumdrops (red and green)
Crushed candy canes
Drizzle with melted white chocolate or red/green candy melts