I made lamingtons as part of my Australian cooking adventure to coincide with my vacation to the land down under. A lamington is a simple, square piece of cake covered in chocolate sauce then coated with coconut. Like many cultural dishes there is much debate about the history of the name as well as every detail of this seemingly simple dessert.
Australians are passionate about their lamingtons. National Lamington Day is July 21, a day to celebrate a cake! As the story goes a maid-servant to Lord Lamington, eighth Governor of Queensland, created the lamington for visitors with the few ingredients she had on hand. As they say, the rest is history.
Some say that lamingtons appear on every buffet table, at every picnic and at family celebrations all over the country. As is so typical of cultural specialties ones' idea of what a dish should look like is often very similar to the way their mother made it…perhaps exactly the way she made it. So three cheers for all the moms' who make homemade lamingtons…gluten free or otherwise.
This post contains affiliate links. When you purchase using these links your cost is the same, but I receive a few cents for every dollar spent. I appreciate your support for this website.
Sponge Cake for Lamingtons
The lamington should be square. Some say it should be sponge cake, others think a white or yellow cake. I don't make a lot of cakes so I turned to America's Test Kitchen How Can It Be Gluten Free Cookbook Volume 2. I used their Lemon Layer Cake recipe since there is no lemon in the actual cake. For my everyday style of cooking I think it turned out just fine. I made the cake in one pan for the height I needed and it domed on top as it baked. I simply cut the dome off so my cake was flat and ate it...to ensure the quality of the cake met my everyday standards.
My lamingtons are 2-inch squares. That size worked out well with my 8" square baking pan and it seemed like a good size for dessert. Now that I'm in Australia I see lamingtons in grocery stores and cafes every day. They are often 3-inch squares and I also see them rolled up jelly-roll style. When you're in the kitchen you can create any way you like.
Lamingtons can be filled with whipped cream before dipping them in chocolate. If you want to make squares larger than 2-inches I would suggest you bake two cakes to get the desired height. You can then spread whipping cream on one cake and top it with the second cake or fill each square individually. Personally I like the 2-inch squares, but I might eat more than one.
Chocolate Sauce
The chocolate sauce for dipping is made with cocoa and icing sugar, some recipes use milk or water, some use butter. I'm confident you could make a gluten-free, dairy-free lamington if you were up for the challenge.
Coconut
The final step is dipping the cake in desiccated coconut. Desiccated coconut is finely grated, dried, unsweetened coconut. The modern trend of adding sugar to every food possible is apparent when buying coconut. In regular grocery stores it seems to me that unsweetened coconut is very difficult to find. Sweetened coconut will work it's just annoying when you don't want the added sugar. Desiccated coconut can be found at Indian specialty shops but any type of dried coconut will work.
My sister who once lived in Sydney, Australia was excited to hear I was making gluten free lamingtons. When they were assembled and appropriately chilled she was the first to taste them and give them a two-thumbs up. I agreed.
If you try them please let me know about your lamington experience in the comments below.
---
More Cake Recipes
Click on the text on the image(s) to go to the recipe/blog post.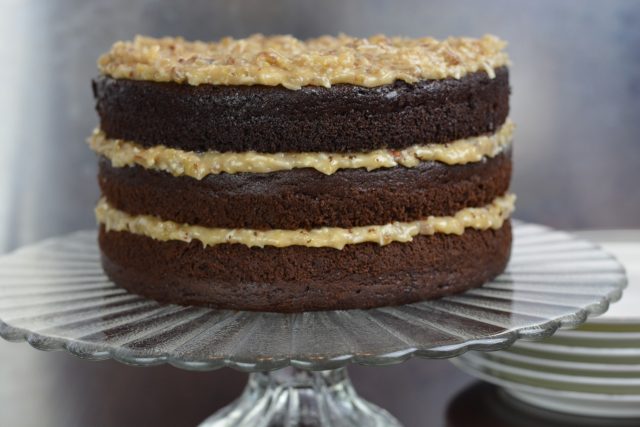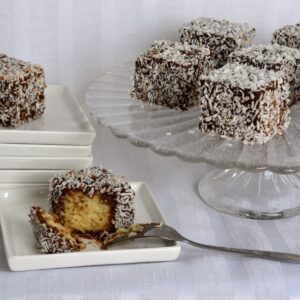 Australian Lamingtons
I made lamingtons as part of my Australian cooking adventure to coincide with my vacation to the land down under. As part of a dinner club menu this is a fun way to remember a past vacation or dream about a future one.
Ingredients
Gluten Free CAKE FLOUR BLEND
277

grams

white rice flour

(2 cups + 6 tablespoon + ½ Tbsp)

48

grams

brown rice flour

(⅓ cup)

110

grams

potato starch

(⅔ cup)

53

grams

tapioca starch

(6 Tbsp)

1½

tablespoon

skim milk powder
LAYER CAKE
1

cup

whole milk

½

cup

butter, melted

5

egg whites

2

teaspoon

vanilla

2

cups

gluten free cake flour

(recipe above)

1¼

cups

sugar

1

tablespoon

baking powder

½

teaspoon

baking soda

½

teaspoon

salt

¾

teaspoon

xanthan gum
CHOCOLATE SAUCE
2

cups

icing sugar

⅓

cup

cocoa

3

tablespoon

butter

½

cup

milk
COCONUT
1½

cups

desiccated coconut
Instructions
Gluten Free CAKE FLOUR
Measure all ingredients in a large bowl. Whisk to combine well. Use in any cake or muffin recipe.
LAYER CAKE
Preheat oven to 350°F with rack in the center of the oven.

Lightly grease an 8-inch square cake pan or line with parchment paper.

Pour milk in 2-cup measuring cup, add melted butter, egg whites and vanilla. Whisk together.

In large bowl of an electric mixer add flour, sugar, baking powder, baking soda, salt and xanthan gum. Whisk to combine.

Pour all but ½ cup of milk mixture to dry ingredients. Mix on medium speed until pale and fluffy, about 1½ minutes, scraping down sides as needed. Reduce speed to medium-low, add remaining milk mixture and continue beating until incorporated, 1 minute.

Pour batter into prepared pan using a spatula to smooth the top.

Bake in preheated oven for 45 minutes or until browned on the edges and pulling away from the sides of the pan.

Transfer to a wire rack and cool completely. Remove cake from pan.* Cut cake into 2" squares and set aside. Can be done 1 day in advance.
CHOCOLATE SAUCE
Place icing sugar, cocoa, butter and milk in a small saucepan over low heat. Stir until smooth. Remove from heat and set aside.
ASSEMBLY
Place a baking rack on a cookie sheet and set aside.

Put coconut in a shallow bowl.

Dip cake pieces into warm chocolate sauce turning to coat all sides. Next dip cake squares in the coconut and turn to coat all sides. Place lamingtons on a baking rack to set. Refrigerate until ready to serve.
Notes
Cake Baking Tip: When my cake has a dome in the center I simply cut it off making the cake flat on top. (I usually eat it just like that. Quality control.)