Chocolate Chip Cookies, now that's a recipe everyone needs. If your mother did not teach you to make cookies I'm here to tell you it is easy and rewarding. There is something special about mixing a few ingredients together, sliding raw cookie dough into the oven, then experiencing the aroma of baking and finally biting into a warm chocolate chip cookie.
Do not deprive yourself or your children of this experience.
PIN for later...
The New Basics for Gluten Free Baking
Cookie baking is a science so there are a few important things to know. Gluten free cookie baking is a different science. Simply substituting gluten free flour for wheat flour in tried-and-true family recipes doesn't consistently give good results. I recommend you find a recipe thats written gluten free. Then tweak it if necessary to make your new family favourite.
My recipe started with the help of America's Test Kitchen. The Test Kitchen works hard testing recipes and understanding what makes a recipe work. I have both of their gluten free cookbooks and strongly recommend them if you are looking for a reliable resource to keep in the kitchen.
Here are a few tips about baking gluten free cookies that will improve the quality of your baking and perhaps give you the confidence to tweak a recipe when you feel like it.
Resting the cookie dough can prevent that gritty taste in your mouth. Gluten free starches need time to absorb liquid.
Melting the butter and decreasing the amount prevents cookies from being too greasy.
Adding a little liquid (milk in this recipe) makes up for the decreased butter and helps hydrate the flour.
Xanthan gum is important for the structure of the cookie.
Letting cookies cool completes the cooking process.
Gluten Free Flour Blends
All blends are not equal so the comment about gluten free flour mixes is worth more than a single bullet. You can easily make your own gluten free flour blend for a fraction of the cost of a packaged blend. Many bakers prefer to make their own blends so they have the right combination of grains and starches. I did a whole post on what I now call my gluten free flour blend. That post is full of tips to make the process quick and easy and gives more details about the combination of 40% grains and 60% starches.
However, you can use a store bought mix in this chocolate chip cookie recipe. If you aren't getting the kind of results you want consider trying another flour mix or make your own. Think of it as a work in progress.
It was no surprise that America's Test Kitchen discovered they needed their own flour blend to get the kind of consistent results they wanted. Their recipe includes dried skim milk powder and a lot of white rice flour. It took me a few years to really understand that my baking made with their flour blend left a mouthfeel I didn't care for.
Although there is milk in this cookie recipe I don't want dairy in all of my recipes so I use their recipe
What I now refer to as my EGFG gluten free flour blend eventually became the 'go to' blend in my house. It doesn't work in every recipe but I use it for about 80% of the baking I do including this cookie recipe. I'm happy with that ratio!
Get The Tools
Many of my pans are more than ten and twenty years old. It takes time to collect good quality pans but it's worth the effort in the long run. Pay attention to the pans and sizes that you like and work well for you. This is what I recommend for cookie baking.
two cookie sheets, notice they have no edges
two jellyroll pans, also known as baking sheets, with ¼-inch sides all around (used more for cooking but helpful for a cookie baking spree)
metal scoops in various sizes for muffins, cookies, meatballs and more
Let me know in the comments below how these chocolate chip cookies turned out in your kitchen.
---
__________________________________________________________________________________________
New here? Join our community and get your FREE resource, the tips I wish I knew when I started cooking gluten free.
Yes, I need 29 Tips For Cooking with Gluten Free Flour.
Still haven't mastered gluten free cooking? Check out our online Cooking Classes.
More Cookie Recipes, Tips For Cookie Making and a Podcast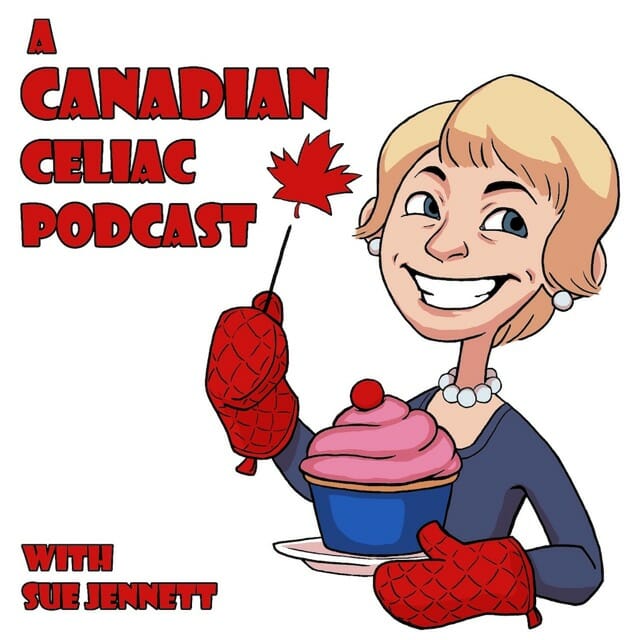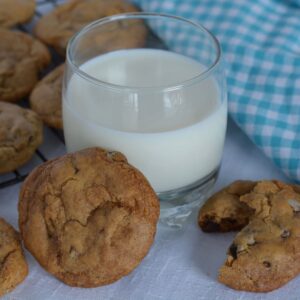 Chocolate Chip Cookies
Gluten free cookies have unique challenges. The good news is that cooking and eating is the quickest way to learn and find the recipes you love.
Ingredients
1¾

cups

EGFG gluten free flour blend*

(225 g)

1

teaspoon

baking soda

¾

teaspoon

xanthan gum

¼

teaspoon

salt

½

cup

butter, melted

¾

cup

brown sugar

⅓

cup

sugar

1

egg

2

tablespoon

milk

1

tablespoon

vanilla

1¼

cup

chocolate chips
Instructions
In medium bowl whisk together flour blend, baking soda, xanthan gum and salt. Set aside.

In a large bowl mix melted butter and both sugars until combined.

Add egg, milk and vanilla stirring until smooth.

Using a stand mixer add flour to butter/sugar and mix until soft.

Add chocolate chips, mix until evenly combined.

Cover cookie dough and let rest for 30 minutes. Or make dough balls using a portion scoop. Cookie dough balls can be frozen at this point.

Place cookies on baking sheet at least 2 inches apart. Bake for 11-13 minutes until golden brown and the edges are set.

Place baking pan on a wire rack for 2-3 minutes then transfer cookies to the wire rack and cool completely.

Store in air tight container for maximum freshness.
Notes
*EGFG gluten free flour blend: 300g sweet rice flour, 300g potato starch, 200g sorghum flour, 200g millet flour (makes ~8 cups)
Resting Time: Some cookie recipes include a resting time which helps the gluten free flours and starches absorb the fat and liquid more fully. This is a guide and will vary depending on the specific flour blend you use. 
Experibaking: I make this recipe for Chocolate Chip Cookies with my EGFG gluten free flour blend and I experiment by substituting some of the flour (about ½ cup) with different flours I have in my cupboard.