My EGFG Gluten Free Flour Blend is the combination of flours that took my gluten free baking to the next level. Potato starchAt the time I didn't even think of the difference between a blend and a mix so you may find an old reference to my flour mix.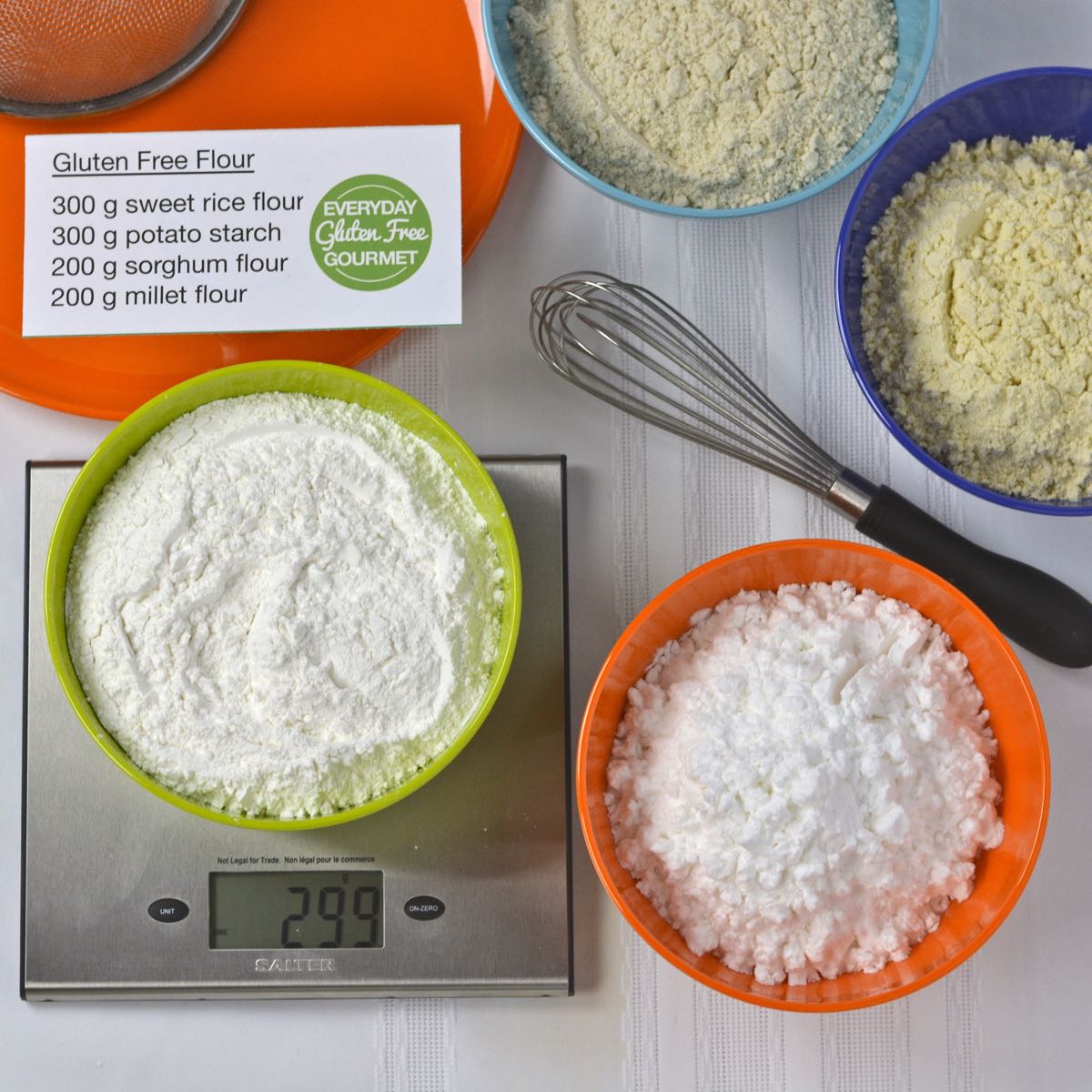 Blends vs Mixes
A flour blend is the combination of flours and starches blended together to replace the wheat flour we can't use. Some have an added binder, like xanthan gum, while others don't, leaving you to add one if the recipe calls for it.
Mixes, usually sold in a box, start with a flour blend plus have added sugar, baking powder, baking soda and other seasonings or flavourings. These two terms, flour blends and flour mixes, are often used interchangeably in the gluten free space. Simply read the label of everything you buy and you won't get fooled.
Finding Your Favourite Gluten Free Flour Blend
Over the years I've written so much about different gluten free flours I had to give my blend a name. EGFG stands for Everyday Gluten Free Gourmet so it made sense to call it my EGFG Flour Blend.
This is the flour I use in about 80% of the baking I do. If you can find a flour that works for you and the dietary restrictions in your family, it's a game changer. I encourage you to taste test until you have one.
Why Make A Flour Blend
Have you thought about making a gluten free flour blend? If you're not happy with your gluten free baking, you're trying new recipes or are looking for a less expensive alternative to store bought blends then it's time to try making your own flour.
I make my EGFG flour blend once a month depending on how much baking I do. I try to make it on a day I'm not baking or at least make it in advance. It only takes a few minutes to make if you have a clean counter space and an organized storage system.
Then you can start baking with a ready to use canister of EGFG flour blend or whatever your favourite is.
New To Gluten Free?
When people are new to the gluten free lifestyle the amount of new information is overwhelming. Finding a balance between eating at home, replacing family favourites with gluten free ones, buying prepared and semi-prepared foods and finding safe food when traveling and dining out. It's no small feat.
Somewhere in all of that you want to make healthy choices too.
You've got to start somewhere so whether you've new to baking or you're ready to try something new you can expect success. Gone are the days of marginal gluten free baking. With the variety of flours available and the sharing of experiences via social media plus a few good old-fashioned cookbooks; you can and should have high expectations for your baking.
Amazing gluten free food is being made in home kitchens around the world and yours' can be one of them.
If you want an excellent resource I highly recommend any of these cookbooks from America's Test Kitchen. They're packed with a lifetime of learning.
Gluten Free Pantry Tips
Do not under estimate the value of creating a system that makes 'mixing up a flour blend' simple.
There's nothing more frustrating than having the wrong tool for the job and that includes containers. The size and shape of a container affects how easy it is to store and use. It's the difference between a little job being quick and easy, or the same job being frustrating. Take the time to organize your pantry and set yourself up for success.
During one of my cooking classes on gluten free flour, Colleen asked if I could post the large print signs she saw on my containers so here they are. I have them taped to both sides of my container and I like the large print I can easily read from a distance.
EGFG flour signs to print
If you look closely you'll see that I changed the order of the ingredients so you can pick the one you like. I recommend you always sift potato starch since it's quite clumpy.
If you're trying to remember to do that you might want potato starch as the first ingredient. That way your set up will always start with the strainer on top of the container your blend goes into.
Cooking Class SHOUT OUT: I offer a class, Understanding How To Use Gluten Free Flour, every two months. It's for anyone interested in making their own blend(s), learning more about the nuances of cooking with different flours, and setting yourself up to easily make any gluten free recipe you come across. This will take your baking to the next level. It could be a game changer!
Making My EGFG Flour Blend on YouTube
After a few years of gluten free baking I finally created a system so I could quickly make my flour. I designated a bucket and a spot in my cupboard for the flours and everything I need to make this blend.
Now I can make my flour in five minutes and it's not a chore.
My System for Making A Flour Blend
The first step for me was finding a clear container to hold all the items I need to make my flour blend. It's clear so I can see everything at a glance and has sides that make it easy to grab. It has no lid to accommodate the strainer handle and I put the large container of flour on top of it all.
Kitchen Scale – Mandatory for accurate measuring and consistent results. Buy one with a flat surface that can hold any container and has an easy to read display.
Small plastic bowls – Light weight bowls are interchangeable and easily hold 300 grams of flour.
Clean canisters – I like easy-to-open containers with a wide top for spooning out flour but a 32-oz Mason jar with a plastic lid works too. Consider stackable containers in various sizes, often sold as a set of 4.
Mesh strainer – Mine fits easily over my large flour container and I use it to ensure there are no lumps of potato starch in my blend.
Wire whisks with plastic handles come in many sizes, are comfortable to hold and essential for gluten free baking.
Large Flour Container – I weigh each flour directly into the storage container that comfortably holds this recipe for 1 kg of flour (about 8 cups).
Smaller wide mouth Jam Jars with plastic lids are perfect to hold the last of my flour blend when I'm starting to make a new batch. They are also easy to grab when I need less than a cup of flour for any reason.
How To Improve Your Gluten Free Flour Baking
As you learn more about gluten free baking you can vary one of the flours and notice how it changes the taste and texture of your baking. I use my EGFG flour blend for the base when I make my Banana Muffins.
I've made this same recipe over and over so I know what to expect. Now I can confidently substitute any flour (anywhere from 2 tablespoon to ½ cup of the total amount) and easily notice the difference.
I do this to try new flours, use up bits of flour in my bucket of gluten free flours and even different blends I made for a specific recipe. To vary my muffins I can use coconut flour then add a bit of coconut and even some dried pineapple. I love to vary my tried-and-true recipes!
This list isn't complete but it shows the variety of recipes I make with this EGFG flour blend. It doesn't work for everything but it's my go-to for most of my everyday baking. I'd guess that's about 80% of what I bake.
Remember, there's no single gluten free flour that works in every recipe. The light, airy texture you want for Angel Food Cake or the hefty weight and wheaty taste of yeast dough is achieved with a combination of different flours. That's the joy of gluten free baking and you too can learn to make anything you want.
So Many Flour Blends
Whether you use a store bought or homemade flour blend doesn't matter. What matters is that you can make the foods you love.
Knowing that no single flour blend works for every recipe helps. I can't comment on how different blends will work in all of my recipes but I know people are using a variety of them to bake foods they love.
This table from my blog post of the same name, 11 Gluten Free Flour recipes, shows blends used by bloggers and home cooks everywhere. The best way to learn is to bake and keep good notes so you can repeat your successes and improve your results.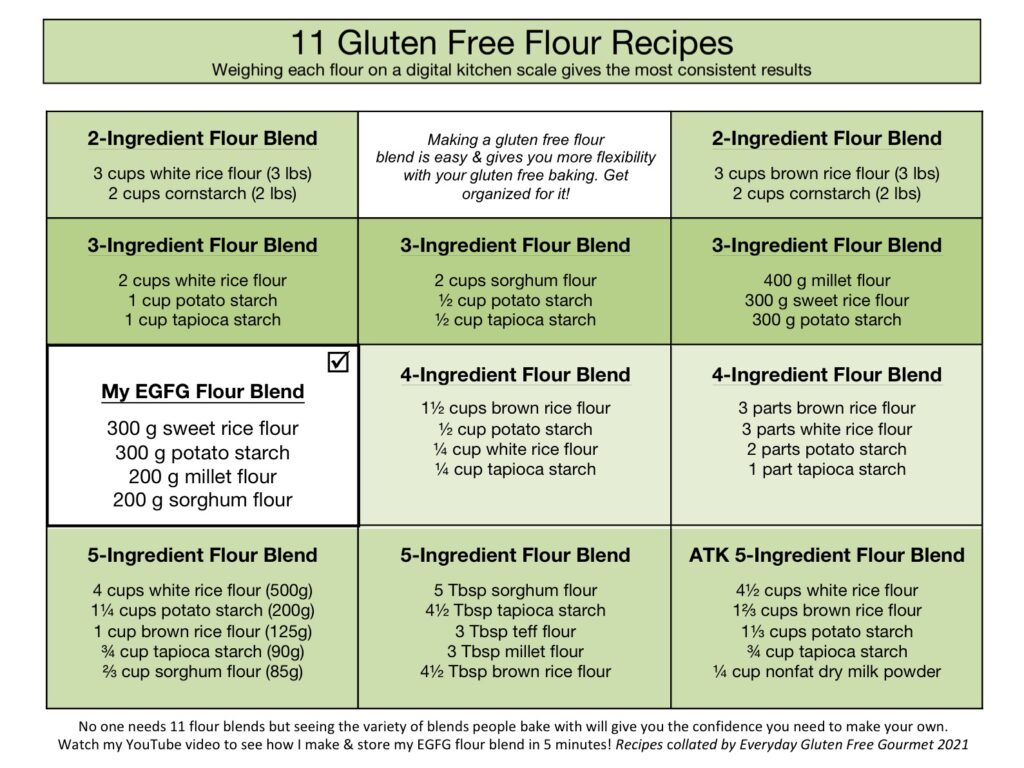 The Cost of Gluten Free Flour
In Canadian prices my EGFG Flour Blend costs between $.75 and $1/cup. America's Test Kitchen (ATK) 5-ingredient flour blend costs closer to $.50-.75/cup. The price of each flour changes all the time and is less expensive when you buy it in larger quantities so this is just a rough calculation.
Making your own blend is less expensive that buying one in a package but. However, we all need to consider the time and effort required, the items you need to stock in your pantry, and what you need to bake the foods you like.
No matter what you buy you're supporting some business so buy local and buy certified gluten free when you can. We all want to see gluten free businesses thriving and offering choice to the community.
The goal should be a flour blend that makes food everyone in your house, and even your friends, will want to eat. A blend that works for most of your baking makes life easier.
I'd love to hear in the comments below what you're still struggling with or anything you've learned that you'd like to share. I'm always interested in hearing about culinary adventures.
Help For Learning About Gluten Free Flour
My 12-part series on 21 ingredients including gluten free flours, starches and binders in my kitchen, is full of tips for gluten free cooks. The learning never really ends but you've got to start somewhere and this quote is what I live by.
The more I know the more I realize I don't know.

Aristotle
Each post in this series includes a YouTube video plus the full list of posts with links. The first post starts with the three rice flours; white, brown and sweet.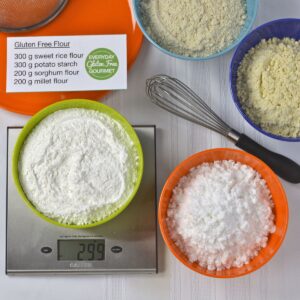 EGFG Gluten Free Flour Blend
I call this my EGFG Gluten Free Flour Blend, the combination of flours that cracked the code for my gluten free baking. A flour blend isn't the best choice for every recipe (especially yeast breads) but I use it in about 80% of my baking. From fluffy, buttermilk biscuits to flaky pie pastry, and deep-fried Churros to Yorkshire pudding it's wonderful.
Ingredients
200

grams

sorghum flour

200

grams

millet flour

300

grams

sweet rice flour

300

grams

potato starch
Instructions
Place a bowl on the electronic scale and zero (tare).

Spoon sorghum flour into the bowl until the scale reads 200g. Dump it into the large container where you will store your flour blend.

Spoon millet flour into the bowl to measure 200g then add to the container.

Spoon sweet rice flour into the bowl to measure 300g then add to the container.

Place a strainer over the large container.

Spoon potato starch into the bowl to measure 300g. Spoon half of it into the strainer then using the back of the spoon to push sift it into the container. Repeat with remainder of the potato starch.

Using a wire whisk mix until the flours are combined and the mixture is all the same colour.
Notes
This Gluten Free Flour Blend includes sweet rice flour which helps retain moisture so baked goods aren't dry and crumbly. I find sweet rice flour at the Asian grocery store.
Nutrition
Serving:
1
cup
Calories:
838
kcal
Carbohydrates:
185.3
g
Protein:
14.4
g
Fat:
3.2
g
Potassium:
107
mg
Fiber:
7.6
g
Sugar:
2.9
g
Iron:
3
mg