There's nothing like a naturally gluten free dessert that pairs perfectly with your meal. Pears Poached in Port with Cranberries is the ideal dessert to serve with a charcuterie board or maybe a cheese course to end a fancy dinner.
The presentation is so beautiful you'll want to put the pedestal tray of pears out for all to see!
I made this recipe for poached pears as the dessert at the very first meal I made for my good friend after her celiac diagnosis. They brought a set of port glasses and a good bottle of 20 year aged port for drinking. (Don't you LOVE friends like that!) It was many years ago but that first dinner, cooked for my friend, was a milestone for both of us.
Best Pear Variety For Poaching
Pears ripen from the inside out so are best purchased slightly under ripe and left to ripen on the counter. Check ripeness by gently pressing the flesh near the stem end of the pear. When it yields to gentle pressure it's ready to eat. Much like avocados, having ripe pears the day you want to use them isn't always easy.
Bosc, Bartlett and Anjou are the pear varieties I typically see at the grocery store. Bosc pears have a slightly elongated neck and are ideal for poaching because they keep their shape and don't turn to mush.
You can eat Bosc pears raw and bake with them too so next time you're at the grocery store have a look and buy some.
PIN for later...
This post contains affiliate links. When you purchase using these links your cost is the same, but I receive a few cents for every dollar spent. I appreciate your support for this website.
Dinner Club Ideas
Once again I'm pitching my Gourmet Dinner Club idea. No one is going to peel pears and poach them on any random day of the week. You've got to have a reason to try something challenging and Dinner Club is the best reason I know.
There are so many good things about Dinner Club that I think everyone should give it a try. First, your friends will learn more about what it means to cook a safe gluten free meal. (That's a bonus right there!) Also, you get to create the kind of culinary adventures that excite you. Whether you're interested in learning new techniques or experiencing foods from cultures around the world, Dinner Club is the best way to do it.
After thirty years of my Dinner Club (ladies only) we have more memorable stories than we can tell in one night. Sometimes we go out to eat, sometimes we bring prepared food in, but most of the time we cook. We cook, and drink and laugh!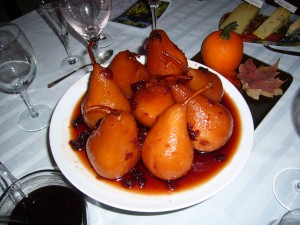 Get The Tools
Dinner Club can also be an excuse to get some fancy dishes you've always wanted. For me it's more about polishing the silverware and digging around to find serving dishes in the back of my cupboards. I've got a lot of dishes!
You don't need fancy dishes but sometimes that's part of the fun too. Buy what you love, focus on the parts of entertaining you enjoy and have fun.
Let me know in the comments below if you tried my Pears Poached in Port with Cranberries, how they were and what you served them with.
Originally posted November 2015, updated December 2021.
---
__________________________________________________________________________________________
New here? Join our community and get your FREE resource, the tips I wish I knew when I started cooking gluten free.
Yes, I need 29 Tips For Cooking with Gluten Free Flour.
Still haven't mastered gluten free cooking? Check out our online Cooking Classes.
More Pear and Port Recipes
Click on the text on the image(s) to go to the recipe/blog post.
Pears Poached in Port with Cranberries
This is a naturally gluten free dessert perfect for entertaining. It's impressive on it's own but would be excellent with a cheese course or as part of a charcuterie board.
Ingredients
8

whole allspice

2 inch piece of fresh ginger, cut into ¼ inch thick slices

1

cinnamon stick (about 2 inches)

1

strip orange zest (4 inches by 1 inch)

3

cups

cranberry juice cocktail

2

cups

Tawny Port

(or Ruby Port)

½

cup

dried cranberries

½

cup

sugar

6

firm-ripe Bosc or Anjou pears with stems
Instructions
Put all ingredients except pears in a large saucepan. Bring mixture to a boil, stirring until the sugar is dissolved. Reduce heat and simmer, uncovered, 15 minutes.

Peel pears, leaving stems intact, and gently slide them into poaching liquid. Simmer, uncovered, gently turning from time to time, until tender, 20-30 minutes depending on ripeness.

With a slotted spoon carefully transfer pears to a bowl.

Continue to boil the poaching liquid until reduced to about 1½ cups, about 10 minutes. Discard allspice, ginger, cinnamon and zest.

Serve pears at room temperature with a bit of syrup.