Nanaimo Balls? You heard it right. I turned that favourite Canadian treat, Nanaimo Bars, into balls for the holiday season.
Nanaimo Bars are a decadent, no-bake recipe made in three layers. It starts with a sweet chocolate-coconut-crumb base that is covered with a rich buttery filling then topped with a thin layer of chocolate. When I was a kid this was a special homemade treat. My aunt Marlene called hers New York Special.
For me the holiday season includes time in the kitchen baking. It's the time of year I pull out those special recipes, bake way too much and give generously.
Bird's Custard Powder vs Vanilla Pudding Mix
The center of these Nanaimo Balls is a sweet buttery mixture that includes custard powder. Bird's Custard Powder is gluten free and is an egg free substitute for custard invented more than 100 years ago. It is available in the baking section and is most commonly listed as an ingredient in Nanaimo Bars. However, the long past expiry date on my tin (I'm talking years, possibly even the wrong century) made me look for another option.
Many modern recipes call for packaged vanilla pudding mix instead of custard powder. This is also gluten free, is easy to find and comes in a fairly small package. I used it in the regular and mocha versions of this recipe.
My third option was to not use any powder. In my very old Grand Marnier Nanaimo Bar recipe the filling uses egg yolks rather than custard powder. I hadn't made that recipe for years but I was reminded how delicious it was when I made them again while planning this post.
Chocolate Topping for Nanaimo Balls
When making Nanaimo Bars you simply pour melted chocolate on top. For Nanaimo Balls I needed more chocolate to cover all those balls and I admit, it wasn't easy.
But even spreading the single layer of chocolate perfectly over the custard can be intimidating. But don't let that stop you from making Nanaimo Bars. Working fairly quickly just drizzle the chocolate back and forth over the whole pan. Doing it in two directions gives a nice lattice topping. That is what I did on these Mochaccino Cheesecake Brownies.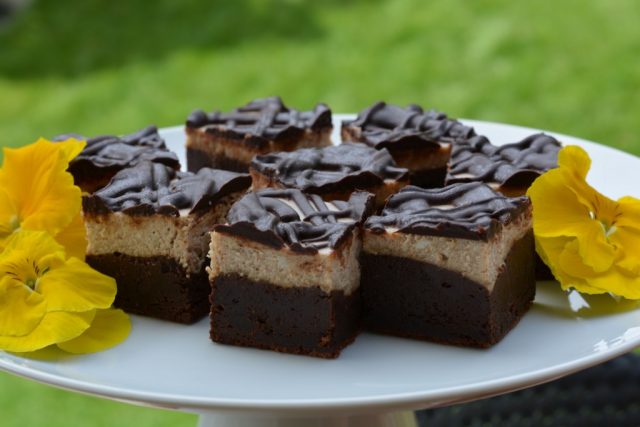 Turning Nanaimo Bars into Balls
To make Nanaimo Balls I mixed up the order of the layers. I started with a tiny ball of buttery filling, wrapped it with a small amount of the chocolate-coconut-crumb mixture and dipped it in chocolate. Voila! Nanaimo Balls.
To make a gluten free version I substituted Kinnikinick brand Graham style crumbs for the crumb layer. For me they're easy to find with other gluten free baking supplies at most well stocked grocery stores.
This was a fun kitchen project but and I'd call it a culinary challenge. Making Nanaimo Bars is straight forward. But no matter what you make remember why you are making them. Kids and adults alike enjoy messing around with melted chocolate and creating in the kitchen. This just might become a holiday tradition in your house. Making Nanaimo Bars would be an equally fun tradition.
Thanks to my friends over at Gluten Free Calgary who put out the challenge of making a gluten free version after seeing Nanaimo Balls over at the Bewitchin' Kitchen.
Let me know in the comments below if you have a specific version of Nanaimo bars that you make.
__________________________________________________________________________________________
New here? Join our community and get your FREE resource, the tips I wish I knew when I started cooking gluten free.
Yes, I need 29 Tips For Cooking with Gluten Free Flour.
Still haven't mastered gluten free cooking? Check out our online Cooking Classes.
Related Recipe: Nanaimo Ice Cream Bars
Inspired by local food writer Julie Van Rosendaal (of Dinner with Julie), I created this ice cream variation and made it gluten free, Nanaimo Ice Cream Bars.
Nanaimo Balls
You heard it right, that favourite Canadian treat, Nanaimo Bars, transformed into balls for the holiday season. It's a project and I suggest you make these with a friend and a bottle of wine.
Ingredients
CRUMB COATING (base layer from a traditional recipe for Nanaimo Bars)
½

cup

butter

¼

cup

sugar

1

egg

1

teaspoon

vanilla

2

tablespoon

cocoa powder

2

cups

gluten free graham-style crumbs

1

cup

shredded coconut

½

cup

chopped pecans
BUTTER FILLING
¼

cup

butter, room temperature

2

cups

icing sugar

2

tablespoon

milk

2

tablespoon

vanilla instant pudding or Bird's custard powder
CHOCOLATE COATING (the balls need double the amount used in a Nanaimo Bar recipe)
¾

cup

semi-sweet chocolate chips

or 5 oz semi-sweet chocolate

2

tablespoon

butter
Instructions
CRUMB COATING
In a medium pot over low heat combine butter, sugar, egg, vanilla and cocoa powder. Stir until it is an even mixture and slightly thickened, about 5 minutes.

Add the Graham style crumbs, coconut and pecans. Stir to combine. Set aside.
BUTTER FILLING
In an electric mixer combine butter, icing sugar and milk until smooth.

With a 1 tablespoon size scoop make balls smooth buttery filling. Make 24-26 balls.

Scoop out 1 tablespoon of filling and roll into balls. Place onto a wax paper lined baking pan. Set in freezer for 15 minutes.

Remove from the freezer 6 at a time to coat with the crumb mixture. Using your hands put 1 ball into the crumb mixture bowl and press a small amount of the mixture into the ball completely covering it. Put the completed balls back in the freezer while you finish this process.
CHOCOLATE COATING
Break chocolate into a bowl just large enough to hold it. Microwave on high for 1 minute. Stir then add butter. Microwave on high for 30 seconds. Stir vigorously to see if it is all melted. Repeat until chocolate mixture is smooth being careful not to burn the chocolate. Do not heat for more than 30 seconds at a time.

Using wooden skewers or chocolate dipping tools carefully dip balls into the chocolate one at a time. Lift the ball out and let the excess chocolate drip back into the bowl. Place the ball onto a wax paper lined tray or baking pan.

Immediately sprinkle with crushed candy canes or any decoration you want. When all the balls are coated, refrigerate until firm.
Notes
Canadians love to make variations of Nanaimo Bars so here are 2 of mine.
MOCHA VARIATION: dissolve 3 teaspoon instant coffee in 1 tablespoon boiling water.
ORANGE VARIATION: add 1 tablespoon Grand Marnier and 1 teaspoon finely chopped orange zest.