Baked Apples are an easy dessert that doesn't really require a recipe. Anyone can make them and as they bake the house fills with the wonderful aroma of cinnamon and apple.
I bought a box of Macintosh and Arlet apples for a fundraiser so was baking apple everything. There are so many varieties available this is the time of year to try something new. Some apples are definitely better for baking than others, but don't let that stop you.
Macintosh apples bake into applesauce mush in thirty minutes while some varieties are more likely to split open. This is only a problem if you are going for the look, they will all have their own flavour and your favourite will no doubt be different from the people you live with. So don't worry about the rules, start checking your apples at about thirty minutes and figure out what you like best.
Cut your apples anyway you like. Core them and put the lids back on, core the apple without cutting the top or even cut them right down the middle and bake apple halves. This last method allows you to add a generous amount of topping over the entire surface.
PIN for later...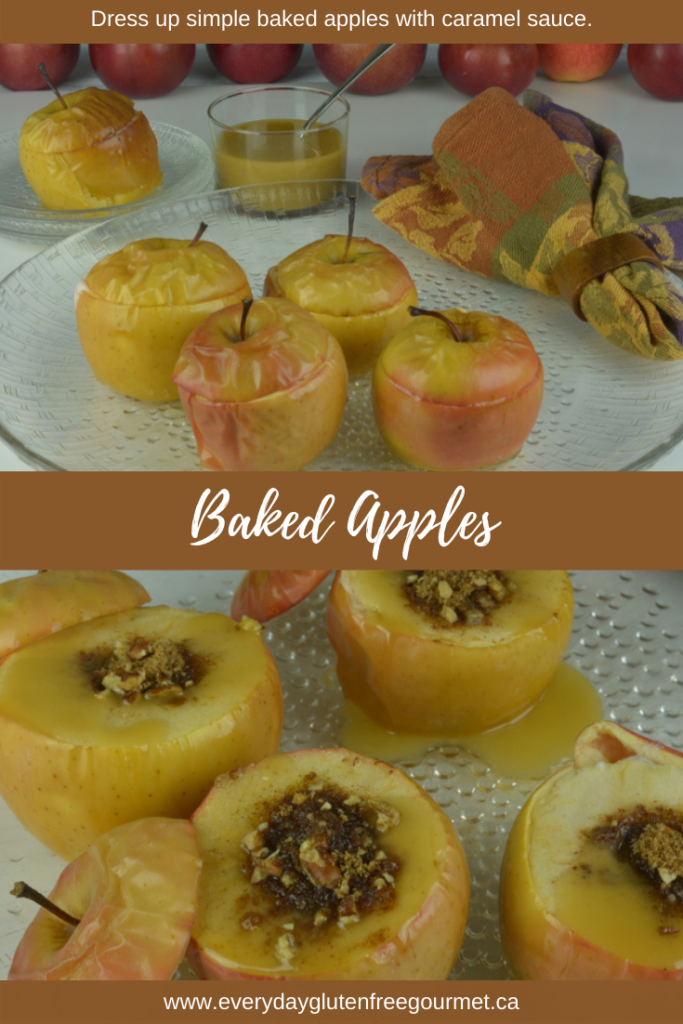 This post contains affiliate links. When you purchase using these links your cost is the same, but I receive a few cents for every dollar spent. I appreciate your support for this website.
Filling For Baked Apples
The cored out space in the center of the apple is small but that tiny bit of filling bakes a simple apple into a heavenly treat. Most baked apple recipes don't include wheat flour making this a naturally gluten free dessert. The combination of butter, cinnamon and sugar melts into a thin sauce that pairs perfectly with the texture of a soft apple. Anything else you add is extra but gives you lots of room to be creative and bake up your perfect apple dessert.
Beyond cinnamon, sugar and butter here are some ingredients to experiment with.
Cinnamon, nutmeg, cloves or pumpkin pie spice

Chopped walnuts or pecans

Raisins or dried cranberries

The crunchy streusel topping you see on the top of some

muffins

. I often have some leftover (in the freezer) so it's a good way to use it up. Some streusels contains oats or gluten free flour but if it's already made I'll use it.
Dressing Up Baked Apples
A baked apple can be the simplest of desserts that even a child can make. Yet an apple can be dressed up into a nice fall dessert. Some favourite additions are:
Thick cream
Whipped cream
Ice cream

Caramel sauce

- this easy recipe is the best way I know to use up leftover whipping cream before it goes bad. Click on the link to see the recipe.
Get The Tools
An apple corer is one of those infrequently used tools but a good one might last you a lifetime. You need to be careful not to poke all the way through the bottom of the apple but this is a useful tool and this is the one recipe when you want to have one.
I also used my grapefruit knife to gently help remove the core. It has a serrated edge and a bit of a curve that is useful. Long, thin ice cream sundae spoon are also good for this job. I suggest you look in your kitchen drawers and see what you can find.
I'd love to hear in the comments below how your Baked Apples turned out and how you stuffed them.
---
__________________________________________________________________________________________
New here? Join our community and get your FREE resource, the tips I wish I knew when I started cooking gluten free.
Yes, I need 29 Tips For Cooking with Gluten Free Flour.
Still haven't mastered gluten free cooking? Check out our online Cooking Classes.
More Apple Recipes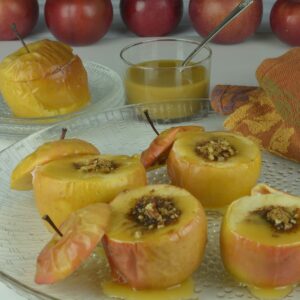 Baked Apples with Caramel Sauce
Baked Apples are an easy dessert that fills the house with the wonderful aroma of cinnamon and apple as they bake.
Ingredients
4

firm apples such as Honeycrisp, Braeburn, Rome or Empire

(I used Arlet in this photo)
FILLING
¼

cup

brown sugar

¼

cup

chopped pecans

1

teaspoon

cinnamon

4

teaspoon

butter

½ cup boiling water
SERVING – ice cream, whipped cream or caramel sauce
Instructions
Slice the top off of each apple and set aside.

Using an apple corer or grapefruit knife carefully remove the core leaving the bottom of the apple intact.
FILLING
Combine brown sugar, pecans and cinnamon in a small bowl.

Spoon filling into apples and top each one with 1 teaspoon of butter.

Sprinkle any remaining filling over the apples.

Pour boiling water into the bottom of the dish.

Bake in preheated oven for 30-45 minutes depending on the variety of apple.

SERVING – Serve with ice cream, whipped cream, caramel sauce or all three.