Winter Greens with Cranberry Port Vinaigrette is what I call a fancy salad, worthy of company. If you're a Port lover, or know one, then I've got three recipes you must try.
A Seasonal Strategy for Salad
I let the seasons inspire my cooking as often as I can. This salad includes cranberries, winter greens and a warm dressing, all ingredients that remind me of fall.
Cranberries are like pumpkin, they disappear at some point so I've got recipes in mind when they're in season. They keep well in the fridge but they can also be frozen and used right out of the freezer. I buy cranberries as soon as they're available in early October and use them right into January.
Winter greens refers to chard, collards, rapini and kale. Store bought greens include these but I make it with soft or firm greens including the one called 'spring mix'.
Salads with a warm dressing are also something I like to make in the cooler half of the year. For the holidays this salad can be presented beautifully to take advantage of the red and green colours.
Ruby Port or Tawny Port
You might not keep Port in your cupboard so here's my quick overview and ways to use it. Port is a fortified wine with brandy added during the fermentation process. Port, also called Port Wine, come in ruby and tawny. Ruby Port is young and has a deep, ruby colour. Tawny Port is aged and is a brownish, tawny colour. It's less sweet and is often served with a cheese course after a meal. It's the perfect drink to accompany a charcuterie board.
This post contains affiliate links. When you purchase using these links your cost is the same, but I receive a few cents for every dollar spent. I appreciate your support for this website.
Cooking with Port
I don't always have Port on hand but this is the time of year I buy it. Sometimes I buy an inexpensive bottle of ruby port with three recipes in mind; this salad dressing, Pears Poached in Port with Cranberries and my Chicken Porto.
If I want to treat myself I'll buy a more expensive bottle of Tawny Port. I'll plan to make the same three recipes but I'll also sip some with my 'port friends' and nibble on expensive cheese.
Is Blue Cheese Gluten Free?
Yes, blue cheese is safe for a gluten free diet. The Canadian Celiac Association has a short paragraph on the safety of blue cheese. The Spruce Eats has this extensive article titled Blue Cheese Is Gluten-Free: A Research Update.
If you don't like blue cheese because it's made of mould and smells like stinky socks well that's different. If you're a little shy about blue try Cambozola. It's a mild, soft cheese that's a combination of creamy Camembert and Italian Gorgonzola. If blue cheese just isn't your thing substitute a creamy goat cheese and enjoy.
Organize For Success: Homemade Dressing
I'm all about homemade salad dressing so I'm set up for that. I've got a variety of Mason jars with plastic lids and make dressing in the 1-cup and 2-cup sizes. I also like the little ½-cup size for a small amount of leftover dressing. I can even pop that into my lunch bag.
For more on my system for jars (7 sizes with 2 lids), check out Organize for Success with Mason Jars.
Face it, all salad dressing looks the same once it's in the fridge. The darker ones are likely Asian and the lighter ones aren't, that's my best guess most days. So, as often as I can, I label them. I've got little sticky labels from the Dollar Store just for this purpose. Sometimes I'll even use my Dymo label maker. And even today, I've got at least three jars of salad dressing in my fridge with no label.
In the comments below I'd love to hear if you made a version of this salad.
Originally posted October 2015, updated November 2021
Seasonal Recipes with Port and Cranberries
Click on the text on the image(s) to go to the recipe/blog post.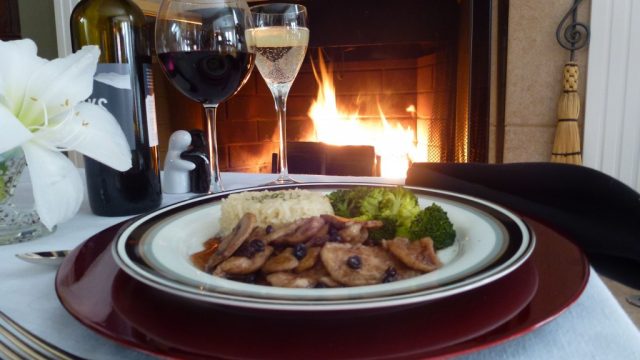 Winter Greens with Cranberry Port Vinaigrette
Cranberry Port Vinaigrette served warm on winter greens is what I call a fancy salad. The creamy Cambazola cheese, crunchy pistachios and warm vinaigrette is a sensational combination.
Ingredients
CRANBERRY PORT VINAIGRETTE
1

cup

tawny port

(or Ruby port)

⅓

cup

thinly, sliced shallots or white onion

1

cup

fresh cranberries

⅓

cup

olive oil

3

tablespoon

red wine vinegar

salt & pepper
SALAD
8

cups

assorted greens

¼

cup

shelled pistachio nuts

⅔

cup

your favourite blue cheese* (Cambazola)
Instructions
CRANBERRY PORT VINAIGRETTE
Boil port and shallots in a small saucepan to reduce slightly, about 15 minutes.

Add cranberries, oil and vinegar. Boil for 3 minutes. Season with salt and pepper. Let cool slightly.

Can be prepared one day in advance. Reheat before serving.
SALAD
Put greens and nuts in a large salad bowl.

Pour vinaigrette over greens and toss.

Portion salad onto plates and add cheese. Serve warm.
Notes
*Substitute the blue cheese with goat cheese if you must.