Why Key Lime Pie? Because this year I'm going to Florida to attend the worlds largest allergy conference. As soon as I knew I was going I checked out the top foods Florida is known for and Key Lime Pie is the recipe I wanted to post.
In the health care business we call this conference the "quad A I". Officially known as the Joint Congress of the American Academy of Allergy, Asthma & Immunology (AAAAI) and World Allergy Organization. There will be over six thousand delegates and finally I will be one of them.
This post contains affiliate links. When you purchase using these links your cost is the same, but I receive a few cents for every dollar spent. I appreciate your support for this website.
Key Limes vs Persian Limes
The usual grocery store limes are of the Persian variety. Slightly smaller than a lemon with a similar shape and smooth, green skin.
Key limes are tiny in comparison and are prized for their higher acidity levels. (Among my friends they are also prized for their ability to fit inside a bottle of Mexican beer.) Round in shape and often sold in bags key limes flourished in the Florida Keys in the early 1900's. Around the same time canned sweetened condensed milk was newly available and the Key Lime Pie was born.
Sadly a hurricane wiped out the crop and key limes are no longer commercially grown in Florida. By then this easy dessert had become a favourite and it remains popular today.
Real Limes vs Bottled Lime Juice
As much as possible I like to eat real food. However, citrus fruit doesn't grow anywhere near me making fresh lemons and limes expensive at certain times of the year. I keep bottled juice in my fridge and enjoy the convenience of it for salad dressings, marinades and everyday cooking.
When I am making a homemade dessert I will definitely use real fruit juice. For this recipe I bought fresh key limes and juiced them, thirty of them. I won't deny that it was tedious. Perhaps a lime connoisseur could tell the difference between Persian limes and key limes. Maybe I could too but as an everyday home cook I would say it wasn't worth the effort. Next time I make this recipe I'll just juice regular limes. When you make this recipe you can decide what kind of limes you want to use.
Whipped Cream vs Meringue
Like many popular recipes there is debate over what is the most authentic way to make it. Key Lime Pie can be topped with whipped cream or a baked meringue. I chose fresh whipping cream but a thick meringue would also be nice.
Key Lime Pie vs Pie in a Jar
When you think of pie you probably think of a nice round pie cut into wedges. At least I did so that is how I made my first Key Lime Pie. With an easy press-in graham cracker crumb crust it worked well. The pie was delicious but the crust broke into pieces when we served it and it didn't quite have the look I was going for.
To take a nice photo I decided to make it in jars the second time around. Aside from being trendy I love jam jars. The half cup size jars are perfect for this dessert.
In the jars you don't need to cook the crumb base so that was a bonus. The uncooked base was easier to stick a fork into and for that reason I think this recipe would also make perfect Key Lime Pie Shooters served in shooter glasses with little spoons.
I will do my best to eat some Key Lime Pie when I'm in Florida. Let me know in the comments below if you tried this recipe and how you liked it.
---
__________________________________________________________________________________________
New here? Join our community and get your FREE resource, the tips I wish I knew when I started cooking gluten free.
Yes, I need 29 Tips For Cooking with Gluten Free Flour.
Still haven't mastered gluten free cooking? Check out our online Cooking Classes.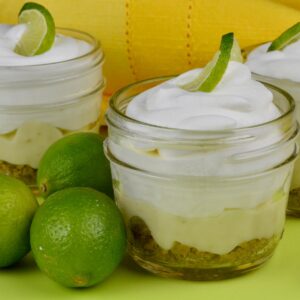 Key Lime Pie in a Jar
As soon as I knew I was going to Florida I checked out the top foods this state is known for and Key Lime Pie is the recipe I wanted to make.
Ingredients
CRUMB CRUST
1¼

cups

gluten free graham style cracker crumbs

(I used Kinnickinick)

¼

cup

butter, melted

2

tablespoon

sugar
FILLING
1

cup

lime juice from 30 key limes

(or 8-10 regular limes)

2

tablespoon

cornstarch

1

can

sweetened condensed milk

(300ml)

grated zest of 6 key limes

(or 1 regular lime)

2

tablespoon

whipping cream

2

eggs
WHIPPED CREAM TOPPING
1¾

cups

whipping cream

¼

cup

icing sugar

grated zest of 1 key lime
Instructions
CRUMB CRUST
In a bowl combine graham crumbs, sugar and melted butter.

Divide crumb mixture among eight ½ cup size Mason jars.
LIME FILLING
In a medium saucepan whisk together lime juice and cornstarch.

Add sweetened condensed milk, lime zest, whipping cream and eggs.

Place over medium-low heat and whisk to combine. Bring to a boil carefully stirring so it does not burn around the edges. By the time it comes to a boil it should be nice and thick. Makes about 2 cups.

Pour filling over crumb crust in Mason jars. Refrigerate at least 2 hours or overnight.
WHIPPED CREAM TOPPING
In a small bowl beat whipping cream to soft peaks.

Add icing sugar and lime zest and beat to stiff peaks.

Divide lime filling among Mason jars. Top with a key lime slice if desired.
Notes
Makes 8 ½-cup jars of pie using a heaping tablespoon of crumbs in each jar, ¼ cup filling and a generous portion of whipped cream on top.
I had a little whipped cream leftover but you probably know who wants double on their serving or will put it on pancakes in the morning.