Cupcakes are perfect for every occasion. They are just plain cute and these dairy free, gluten free Orange Cupcakes are bursting with flavour.
Fresh squeezed orange juice and zest are essential in this recipe. To bake amazing cupcakes from scratch you just need to commit to squeezing oranges. If you are not sure it is worth the effort just drink some of that fresh juice. That taste cannot be bottled. But, the recipe works just fine with juice out of a box and you can still add orange zest for that extra punch of flavour.
We made gluten free Orange Cupcakes with orange icing at a recent cooking class and they were a hit. Of course I tested them, took samples to my colleagues at work, made some for family and friends plus ate my fair share, just to make sure the recipe was perfect. This is the usual sort of commitment I make to recipe testing, all in the name of good blogging practices.
Sorghum Flour
These cupcakes are made with sorghum flour and potato starch. You can learn more about this whole grain, high protein flour in this post, How to use millet flour and sorghum flour. Sorghum flour is an excellent choice for baking and I use it in my homemade gluten free flour blend with great results.
Dairy Free Baking
Dairy free baking is new for me. Since more than twenty per cent of people with celiac disease have some degree of lactose intolerance it makes sense to learn more about dairy free cooking. Lisa came to my house for a Baking Class and inspired me to try something new. These light, airy cupcakes are from that menu.
Zesting Citrus Fruit
Get The Tools - Citrus Juicers
There are many kitchen tools to juice citrus fruit; a hand held wooden reamer, the juicer that sits on top of a bowl, plus hand and electric juicers. Your hands are good enough if you are squeezing half a lemon over fish. If you are juicing a bowl of oranges you may want something to make the job easier. The fashionable hand held press juicers come in varying qualities and sizes. Sometimes the colour of citrus fruits like this yellow and green one, they are really the best juicer in the world. If you know someone who regularly juices citrus this is a fabulous gift. A small electric juicer works too, so if you happen to have one like I do, it makes this job a breeze.
Organize For Success
When your kitchen tools are organized you are one step closer to the ease of baking. Buy the shapes and sizes you like for the kind of baking you want to do, most of them will last a very long time. I have these choices within easy reach any time.
Many thanks to Karina over at the Gluten Free Goddess for her inspiration. She is a goddess in the kitchen, and if you are not familiar with her website you should check it out.
I'd love to hear how your cupcakes turned out in the comments below.
More Cupcake Recipes
Salted Caramel Cheesecake Cupcakes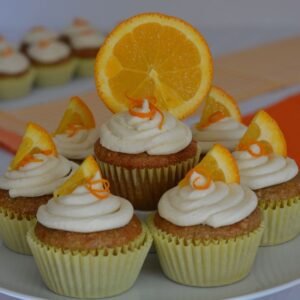 Orange Cupcakes with Orange Icing
Cupcakes are perfect for every occasion. They're just plain cute and these dairy free Orange Cupcakes are bursting with citrus flavour.
Ingredients
4-6

oranges for juice and zest
DRY INGREDIENTS
¾

cup

sorghum flour

¾

cup

potato starch

¾

cup

white sugar

¼

teaspoon

salt

1

teaspoon

baking powder

½

teaspoon

baking soda

1

teaspoon

xanthan gum
WET INGREDIENTS
1

cup

orange juice

2

teaspoon

minced orange zest

2

tablespoon

vegetable oil

1

tablespoon

melted honey

2

eggs

beaten

2

teaspoon

vanilla
ORANGE ICING
¼

cups

dairy free vegetable shortening

2

cups

icing sugar

1

teaspoon

vanilla

2-3

tablespoon

fresh orange juice
Instructions
CUPCAKES
Zest 2 orange and set aside. Squeeze oranges to measure 1 cup of juice (plus 3 tablespoon more for the icing) and set aside.

Preheat oven to 350°F. Fill cupcake pan with 16-18 paper liners.

In mixing bowl whisk together sorghum flour, potato starch, sugar, salt, baking powder, baking soda and xanthan gum until evenly combined.

In a large pyrex measuring cup mix orange juice, zest, oil, honey, eggs and vanilla until combine. Add to dry ingredients and stir just until combined. Let the batter sit for 1 minute before scooping into paper-lined cupcake tins.

Bake in preheated oven 20-25 minutes. Remove from the oven and let cool slightly. Transfer cupcakes to a wire rack and allow to cool completely before frosting. Makes 16-18.
ORANGE ICING
In medium mixing bowl of an electric mixer beat shortening until smooth.

Slowly add icing sugar, vanilla and orange juice. Increase speed once all ingredients are combined and beat until desired consistency. Add more juice if icing is too thick and more icing sugar if it is too runny.

Spoon icing into a plastic freezer bag or pastry bag with a piping tip. Frost cupcakes piping in a circular motion starting on the outer edge and finishing in the center. Swirl up as you finish.