Homemade Lemon Curd, sometimes called lemon butter, has always been a favourite of mine. Smooth, luscious and lemony, it's both sweet and tart at the same time.
Fresh, homemade lemon curd is easy to make, naturally gluten free and a thousand times better than the artificial lemon pie filling that comes in a box.
I always know I can pick up three lemons and I'll have everything else in the kitchen to make lemon curd tonight.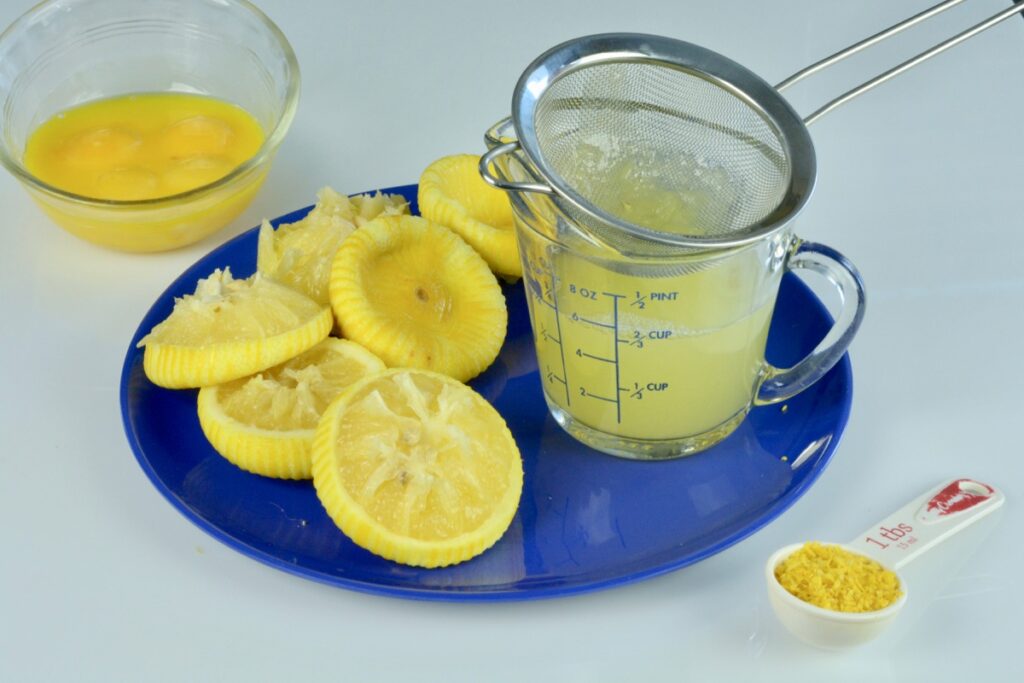 This post contains affiliate links. When you purchase using these links your cost is the same, but I receive a few cents for every dollar spent. I appreciate your support for this website.
3 Super Simple Gluten Free Desserts
When you're new to gluten free you need recipes that everyone wants to eat. Here are three super simple, family favourites to start your list.
You can learn to make variations of each of these to expand your dessert list and I've got ideas below for desserts made with lemon curd.
Food Rule #1
Rule #1 of Michael Pollan's 64 Food Rules is "Eat Food." Those rules are the best dinner table topic ever.
Growing up on a farm in rural Manitoba we made lemon pie filling out of a box. To young kids it seemed like magic. Pouring water on the white powder with yellow flecks and watching it turn yellow and thicken.
This lemon curd is full of white sugar so I'm not saying it's healthy. I'm just saying it's way better made with real lemons so don't waste your time reading the label on a box of lemon pie filling.
When I became fascinated with food as a young adult, I wanted to cook with real food. I learned to make lemon curd and decades later I'm still making this same recipe. What I didn't so was spend even one minute researching the name.
Lemon Curd vs Lemon Butter vs Lemon Pie Filling
Lemon curd and lemon butter are used interchangeably. The consistency varies from recipe to recipe and among store bought brands as well.
Lemon curd typically contains butter giving it a smooth feel and people like to spread it on toast so the name lemon butter makes sense.
Lemon pie filling has a slightly different texture and often does not contain butter. Who knew!
All foods have a rich history but for my goal of helping people cook gluten free that's as much as I'll say on the definition of lemon curd.
PIN for later...
5 Ways to Serve Lemon Curd or Lemon Butter
Spread on toast, scones or crepes.
On top of waffles or pancakes.
As a thick layer on top of warm oatmeal.
Poured over fresh berries.
With a spoon right out of the pot (self-serve option).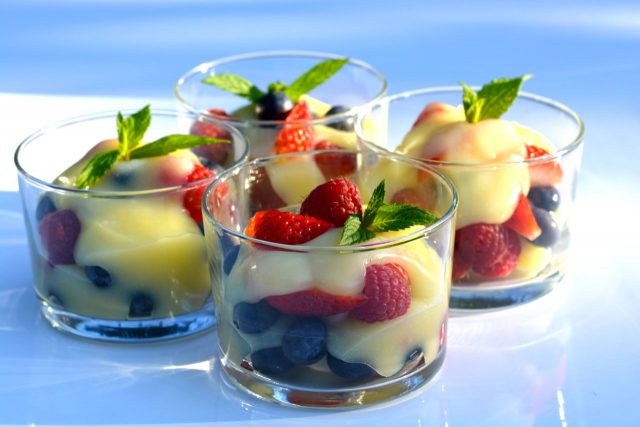 10 Desserts to Make with Lemon Curd
Angel Food Cake filled with lemon curd and decorated as you wish.
Lemon Curd Pavlova made with the extra egg whites from making this curd.
Shot glasses or liqueur glasses filled with lemon curd and topped with a tiny meringue cookie.
Lemon Mousse: Fold whipped cream into lemon curd (with or without gelatine).
Tiny tartlets made with tart pastry or shredded coconut.
Citrus Cupcakes filled with lemon curd and finished with lemon icing.
Chocolate Layer Cake with lemon filling.
A Lemon Crepe Cake.
Martini glasses of fresh berries topped with lemon curd.
If you have a friend who loves lemon you could even give this as a hostess gift. Fill a pretty glass jar with lemon curd, wrap in cellophane and add a handwritten tag. Give generously.
Naturally Gluten Free Dessert List
Everyone needs a few good lists taped to the inside of a cupboard door in the kitchen. This list will remind you of all the delicious desserts you can make that are naturally gluten free. There are many more but this is a good start.
Once you make your own list share it with friends and family who would love to have a list to refer to for the next time the gluten free people are coming over.
Let me know if the comments below if you think you need a more extensive dessert list and I'll make one.
Originally posted in 2016, updated February 2023
---
__________________________________________________________________________________________
New here? Join our community and get your FREE resource, the tips I wish I knew when I started cooking gluten free.
Yes, I need 29 Tips For Cooking with Gluten Free Flour.
Still haven't mastered gluten free cooking? Check out our online Cooking Classes.
Recipes For Extra Egg Whites
When you make this Lemon Curd you'll have six egg whites to use for something. You can make small meringues that would be nice with lemon curd or any egg dish like a frittata. If I was looking for a fancy dessert 'd make Pavlova or Angel Food Cake.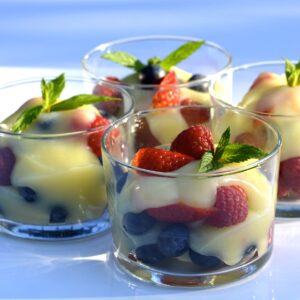 Homemade Lemon Curd (Lemon Butter)
Lemon curd can be as simple as serving it while standing at the kitchen counter or as decadent as you can imagine in any fancy dessert.
Ingredients
1½

cups

water

1

cup

sugar

¼

cup

cornstarch

⅛

teaspoon

salt

6

egg yolks

1

tablespoon

grated lemon zest

(from 1 large lemon)

½

cup

lemon juice

(from 3 large lemons)

2

tablespoon

butter
Instructions
In a medium saucepan combine water, sugar, cornstarch and salt. Bring to a simmer over medium heat, whisking constantly.

When the mixture turns translucent, about 5 minutes, add egg yolks, 2 at a time.

Whisk in lemon zest, lemon juice and butter.

Let mixture come back to a simmer then remove from heat. Pour into a bowl and cover warm curd with wax paper to prevent a skin from forming on top while it cools.

Serve straight up or with fresh berries when you have some.
Notes
Lemon curd will keep in the fridge for 2 weeks but that's never happened at my house.