Organize for success is one of my mottos in the kitchen. No system will ever be perfect and being organized is a relative term. There's no end to improving so as soon as it works for you, I'd call that organized enough.
In this post I'm sharing a few tips specifically about labeling. Labels for anything and everything. Labeling to fix some pain point in your kitchen.
What spot in your kitchen could use a little organizing with labels?
Identify An Area For Improvement
Here's how I worked through the steps to organize the job of making my gluten free flour mix. Not just the flours but also the container, the labels and all the things I use to make it.
I thought through the process and decided I wanted a system to streamline the process. This is what I wanted in the end.
An easy to grab bucket to put on the counter with everything, or almost everything, already in it. That included the container I would make the new batch of flour in, plus all the flours, bowls, my digital scale and a strainer.
A second container to transfer the small amount of leftover flour into.
The recipe right there so I could see it at a glance as I was measuring.
This is the video of me making my flour mix but just the opening picture shows you the final system I came up with. You can see the bucket with the recipe label I attached to it and the other items I use. In the end I left out the digital scale because I use it for other jobs and it already had a handy spot in my kitchen.
This post contains affiliate links. When you purchase using these links your cost is the same, but I receive a few cents for every dollar spent. I appreciate your support for this website.
Organize For Success To Minimize Food Waste
I think everyone knows what I mean when I say I found a science project growing in my fridge, right? It can't be helped but for me two easy strategies to prevent this kind of food waste are:
Use clear containers, preferably stackable.
Label everything.
I don't label everything; I'm just saying it's a good strategy. I used to think 'I'll use that up in a few days' or 'I'll remember what that is'. But by Friday I can't remember what I ate on Monday and this goes on week after week. You can decide to fix it though and I've done a pretty good job of that.
I have two labeling systems at my fingertips so when it's not labeled in my kitchen it's because I was just too lazy to spend ten seconds making the label. My two systems are a Dymo label maker and the standard sticky labels from an office store or a Dollar Store.
I keep these accessible in a drawer in my kitchen. The Dymo label maker is used for salad dressings or jars that will be in my fridge for a while. Sticky labels work better for things going into the freezer. I keep two sizes of sticky labels with a pen right inside each package making it really easy to use. I'm not 100% but I rarely find a science project in my fridge any more.
Labeling To Learn
When I started gluten free cooking the amount of new information was overwhelming. Most of the flours and starches seemed to have two names so I started labeling them like that. Then I just kept going with the label maker. This picture shows some of the ways I labeled items to learn the names plus how to use the ingredient. I also included other examples of using labels for spice mixes that work for me.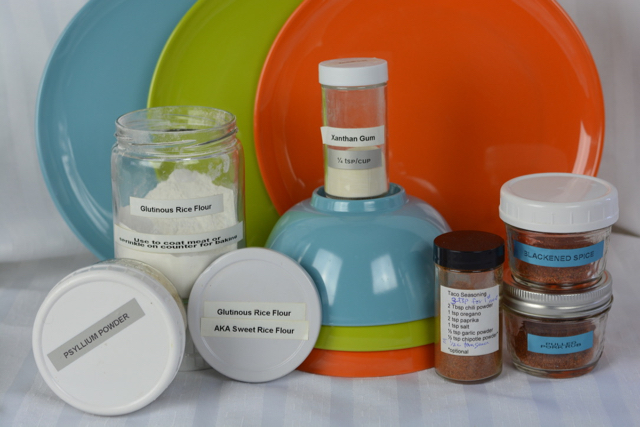 These labels took a little more effort (and they're not pretty) but they have saved me lots of time looking for recipes.
Cornstarch container – my label has the recipe for white sauce and I know I can just add cheese to turn it into a cheese sauce.
Spice bottle of taco seasoning (shown above) – I always make my own spice mix so I put the recipe right on the bottle. I made corrections but never got back to making it look pretty.
Chinese Black Beans – I don't make Chinese Black Bean Sauce often so I wanted the recipe to be with the beans so I didn't need to look for it.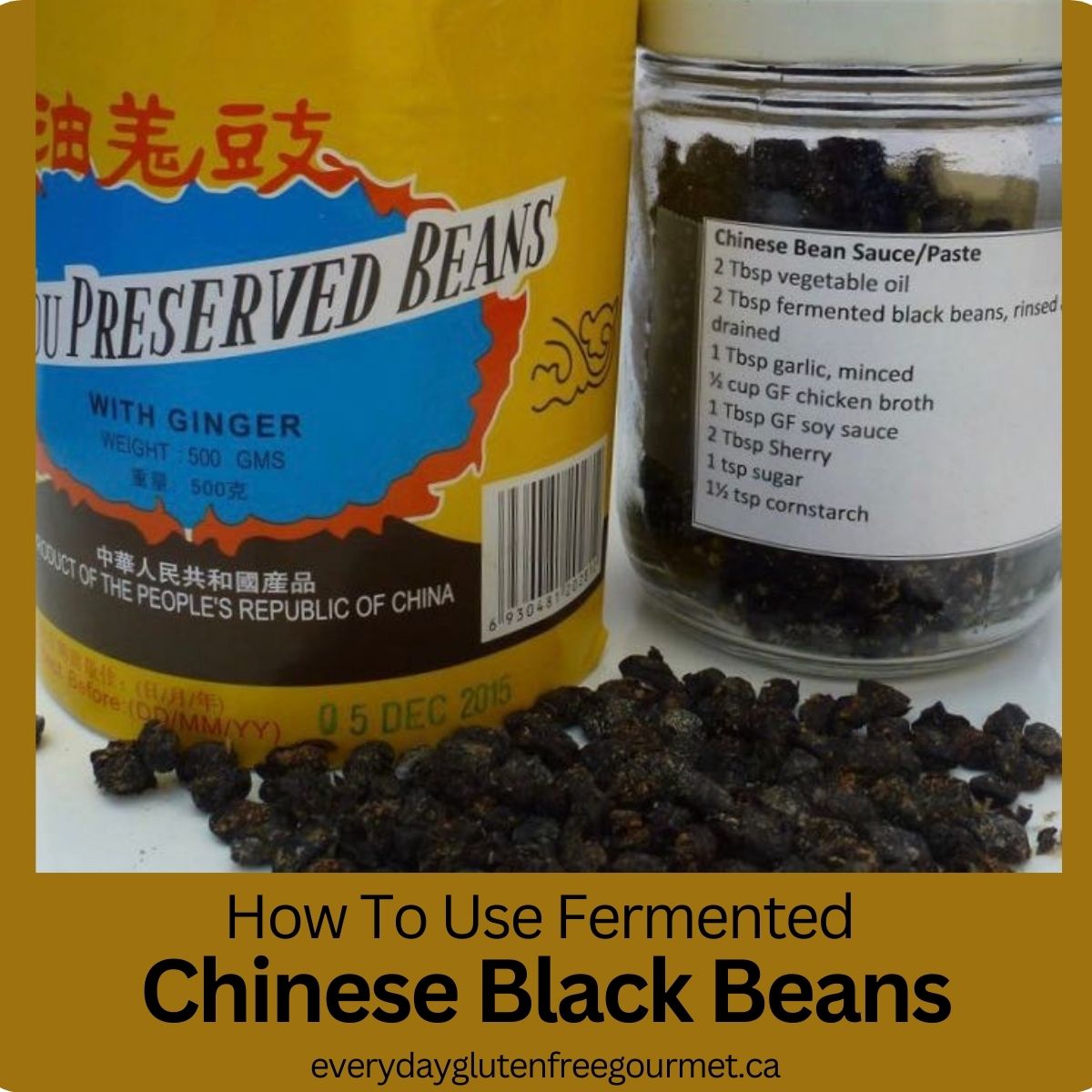 These are just a few ideas to help you notice some little things that annoy you in your kitchen and fix them. Throughout this website I share tips and tricks like these that I use in my kitchen. I encourage you to use the ones that make sense to you.
Let me know in the comments below if you have a clever kitchen tip that you're proud of.
Happy cooking!