Have you noticed the teal coloured pumpkins yet? The Teal Pumpkin Project started in 2012 to raise awareness of people living with food allergies and food restrictions so that includes kids with celiac disease. Teal pumpkins on the doorstep on Halloween night are meant to tell kids that the home has non-food treats.
Parents know Halloween is a big deal. Kids love the holiday and families put a lot of effort into costumes, decorations, parties and spooky Halloween food. School parties involve food too and this often excludes the children on special diets. Fortunately the awareness is working and we see treats labelled peanut free and gluten free. In the food allergy world that still leaves out a lot of kids!
Use #tealpumpkinproject
You too can help raise awareness of food allergies and celiac disease even if you don't have kids and don't give out Halloween candy. Here's one idea.
I made Pumpkin Chocolate Chip Cookies and took them to work with a mini teal pumpkin on a teal and white plate. For a few people they finally connected the sighting of teal coloured pumpkins with their meaning. Follow the hashtag #tealpumpkinproject to see all the fun things people are doing.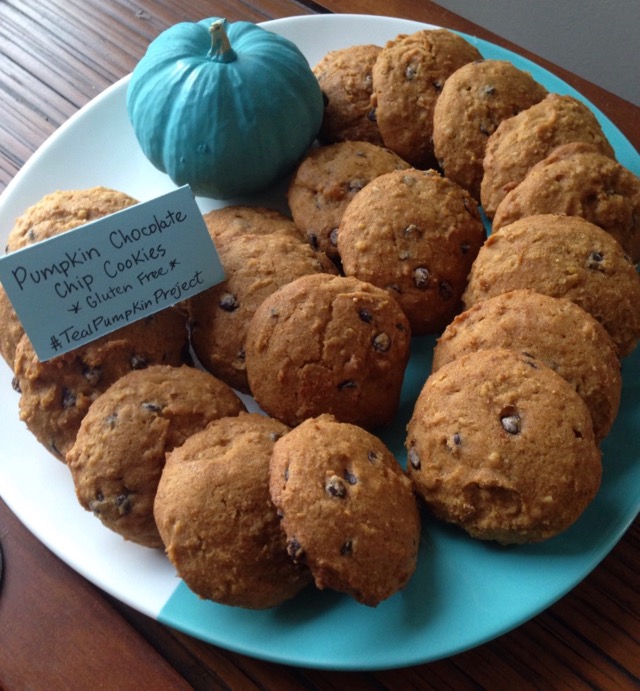 PIN for later…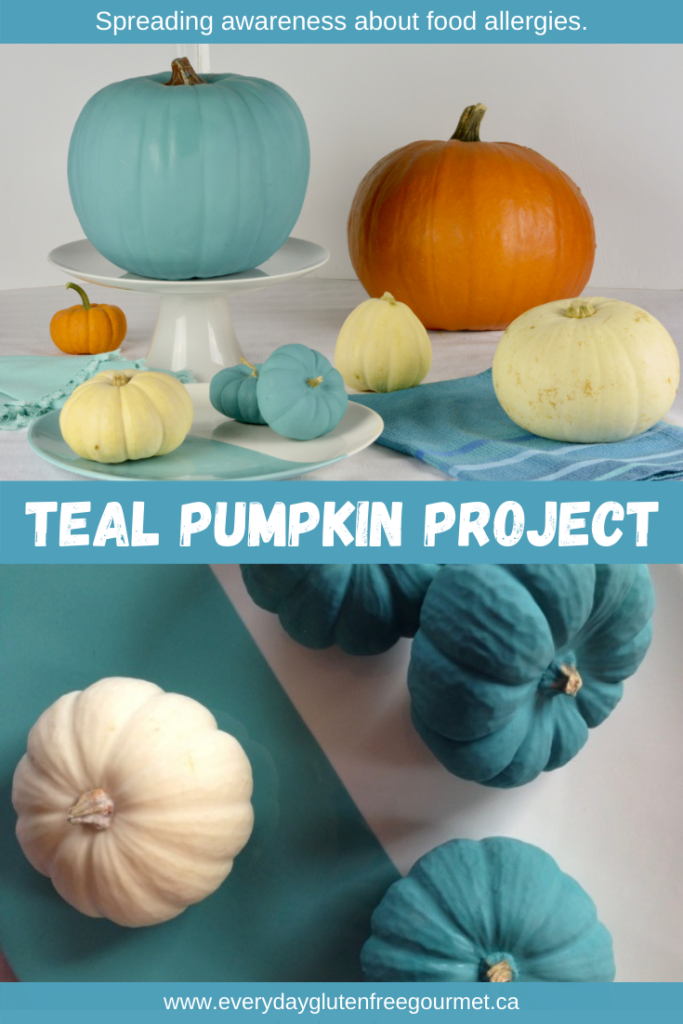 Food Allergy Advocates
The Teal Pumpkin Project was started by a mom of children with food allergies. Frustrated that they couldn't eat the candy they worked hard to collect on Halloween night she came up with the idea. Simply display a teal pumpkin telling trick-or-treaters that allergy friendly or non-food treats were available. The project has been successful and you can see photos of beautiful displays including one or more teal coloured pumpkins.
Read more about Becky Basalone here, Meet The Mom Who Founded the Teal Pumpkin Project.
Non-Food Treat Ideas
There are plenty of non-food treat ideas. The American Food Allergy Research & Education group, F.A.R.E., posted this list of non-food ideas to give out at the door.
Glow sticks, bracelets, or necklaces.
Pencils, pens, crayons or markers.
Bubbles.
Halloween erasers or pencil toppers.
Mini Slinkies.
Whistles, kazoos, or noisemakers.
Bouncy balls.
Finger puppets or novelty toys.
May is Food Allergy Awareness Month
Watch for the teal theme in May too, celebrating Food Allergy Awareness month. Turn it Teal is a program that raises awareness for food allergies by lighting major buildings and landmarks in shades of teal, the official colour of food allergy. Here's a list of organizations involved.
Every October I spray paint some pumpkins with teal paint just for fun. Let me know in the comments below what you've done with teal pumpkins or if the Teal Pumpkin Project is new to you.
---
More Blog Posts To Support Celiac Kids