These Pizza Cheese Buns are my version of Brazilian Cheese Bread with a pizza twist. Made in muffin tins and served with pizza dipping sauce they are a great snack or party food. Are you ready for Pizza Friday?
Best of all these cheesy buns are easy to make so this is a perfect recipe for anyone new to gluten free including kids.
Tapioca Starch: What Gluten Free Cooks Need To Know
This Brazilian cheese bread recipe is made with tapioca starch so you need to know a bit about this ingredient and the terms used in gluten free baking. Tapioca starch and tapioca flour are exactly the same and the terms are used interchangeably in recipes. This is what I think you need to know about starches.
Tapioca starch and tapioca flour are the same.
Potato starch and potato flour are NOT the same.
Cornstarch and corn flour are NOT the same.
Kitchen Tip – Label your container with both tapioca flour and tapioca starch so over time you remember. Or write this info on a recipe card and tape it to the inside of a kitchen cupboard where you can refer to it.
Buying and Using Tapioca Starch
I buy Erawan brand tapioca starch at the Asian grocery store where it is inexpensive and readily available (under $2 for a 400 gram package). You can also buy both Erawan brand and Bob's Red Mill online.
If you want to know more about cooking with starches check out this post, How To Use Starch in Gluten Free Baking. It is 2nd from my year-long blog series on gluten free flours. It is a long post and includes links to many recipes that I make that include tapioca starch.
PIN for later...
Pizza Variation
These Pizza Cheese Buns get most of their pizza taste from the dried herbs and pepperoni plus the traditional pizza sauce served on the side for dipping. My favourite version was with just chopped sun-dried tomatoes and pepperoni. Even cold in my lunch bag without the dipping sauce I thought they were great. So experiment by adding your favourite pizza toppings and find your own winning combination.
We eat with our eyes first so the look is somewhat important. Gluten free baked goods can have an unappealing white look and there are many tricks to adjust for this. I thought these Pizza Cheese Buns were a little too pale for me so I tried two things to improve the finished look.
Sprinkling some Parmesan cheese on top before baking
Topping each one with a slice of pepperoni
There was no perfect fix, not yet that is. Next time I might try a combination of mozzarella and cheddar cheese and see what I think.
Tools and Techniques
I use a metal portion scoop with a thumb release to measure everything from meatballs to muffins. They make these jobs easier and ensure a uniform size for even baking. I have three sizes and use them all.
While experimenting I learned that the silicone muffin liners are perfect for these. They come out so nicely your kids will definitely not think it is worth washing them. (Just saying.) Of course reusable is the best choice for the environment but I typically use a combination of reusable and disposable paper liners. I find that for many muffin recipe they don't brown enough on the bottom when they are fully cooked. (I have more to learn with those.)
But there is still a bit of technique involved. Using a 3 tablespoon scoop I scraped the bottom of the scoop on the side of the bowl as I filled the muffin tin. These Pizza Cheese Buns were a bit smaller and the recipe made about 16 buns in my standard size muffin tin. I liked how they puffed up during cooking so the next time I made them a little bigger to see what would happen. To do this I scooped up the batter leaving it rounded on top. This method made 12 buns so they needed a few extra minutes of cooking time.
I hope you'll try this recipe and if you like it then make it a few times to determine the technique that works best for you. There are lots of ways to experiment and I'd love to hear what you tried in the comments below.
__________________________________________________________________________
New here? Join our community and get your FREE resource, the tips I wish I knew when I started cooking gluten free.
Yes, I need 29 Tips For Cooking with Gluten Free Flour.
Still haven't mastered gluten free cooking? Check out our online Cooking Classes.
_________________________________________________________________________
More Bread Recipes
Click on the text in the photo to go to the recipe.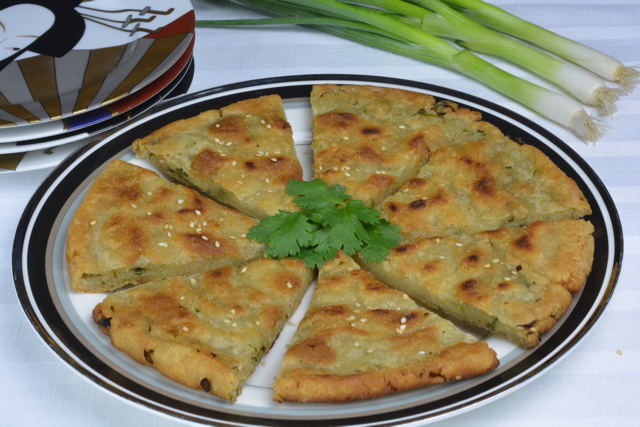 Pizza Cheese Buns
Pizza Cheese Buns are my version of Brazilian Cheese Bread with a pizza twist. It's as easy as making a smoothie so teach your kids to make them. Serve warm with pizza sauce for dipping.
Ingredients
2

cups

tapioca starch

2

cups

shredded mozzarella

(115 g)

1

cup

grated Parmesan cheese

(85 g)

⅔

cup

whole milk

⅓

cup

olive oil

2

eggs

1

teaspoon

salt

½

teaspoon

dried basil

½

teaspoon

dried oregano
ADD INS
½

cup

chopped pepperoni

(plus extra slices to top buns if desired)

½

cup

precooked pizza toppings

1

cup

pizza sauce

(served on the side for dipping)
Instructions
Preheat oven to 375°F. Line a regular size muffin tin with silicone liners or grease lightly with oil

In a blender or food processor add all ingredients. Blend until evenly mixed, about 1 minute. Scrap down the sides as needed and process until evenly mixed.

Transfer to a bowl and stir in pepperoni and other pizza toppings. (At this point the batter can be kept in the fridge and baked later.)

Using a portion scoop fill prepared muffin tins almost to the top!

Top each one with a slice of pepperoni if desired.

Cook in preheated oven 17-22 minutes until slightly brown around the edges and puffed up over the top of the pan.

Place on baking rack and cool for a few minutes. Remove from pan and cool another 5 minutes. Serve warm with pizza sauce for dipping.

Freeze leftover pizza cheese buns in airtight container. Thaw and eat at room temperature or reheat in microwave.