Have you tried Brazilian Cheese Bread yet? Also called cheese buns or cheese puffs, the Brazilian name, is Pão de Queijo.
Made from tapioca starch these cheesy, chewy buns have a unique texture. They're a popular snack and breakfast food in South America but gluten free cooks make endless variations of them.
Learn the tricks for this recipe then bake them in any size or shape and season them to your liking.
Is Tapioca Starch the Same as Tapioca Flour
There's no Gluten Free 101 that prepares you for all you need to know about gluten free flour. It certainly gets easier but the learning curve is steep. My best advice is just start cooking and learn as you go.
If tapioca starch is new to you here's the first thing you need to know. Tapioca starch is sometimes called tapioca flour but they are the exact same ingredient. In contrast corn flour and cornstarch are not the same ingredient and neither is potato flour and potato starch...
My friend would say, "you can't make this stuff up!"
When I was new to gluten free I put this kind of information right on the label of the new containers I was organizing in my kitchen. To this day the label says "Tapioca starch (AKA tapioca flour)".
Technically there is a difference between starch and flour. Tapioca starch is removed from the cassava plant leaving no protein. Flour contains both protein and starch but you don't need to remember this. You just need to a basic understanding of flour to decrease frustration and use the right ingredients in recipes.
If you want to learn more check out my virtual cooking class called Understanding How To Use Gluten Free Flour. I offer it every other month and it's slightly different depending on the problems people are trying to solve and the questions they bring. Visit the CLASS CALENDAR for details.
If you want to read more check out my post, How To Use Starch in Gluten Free Baking.
Ingredients for Brazilian Cheese Buns
Like many recipes there are local and regional variations. In Brazil these are made with Minas cheese, a soft white cheese from the state of the same name, Minas Gerais. In North America most recipes include Parmesan cheese with either cheddar or mozzarella.
These are the basic ingredients for my Brazilian Cheese Bread but you can change the cheese and add seasoning like I did in this version for Pizza Cheese Buns.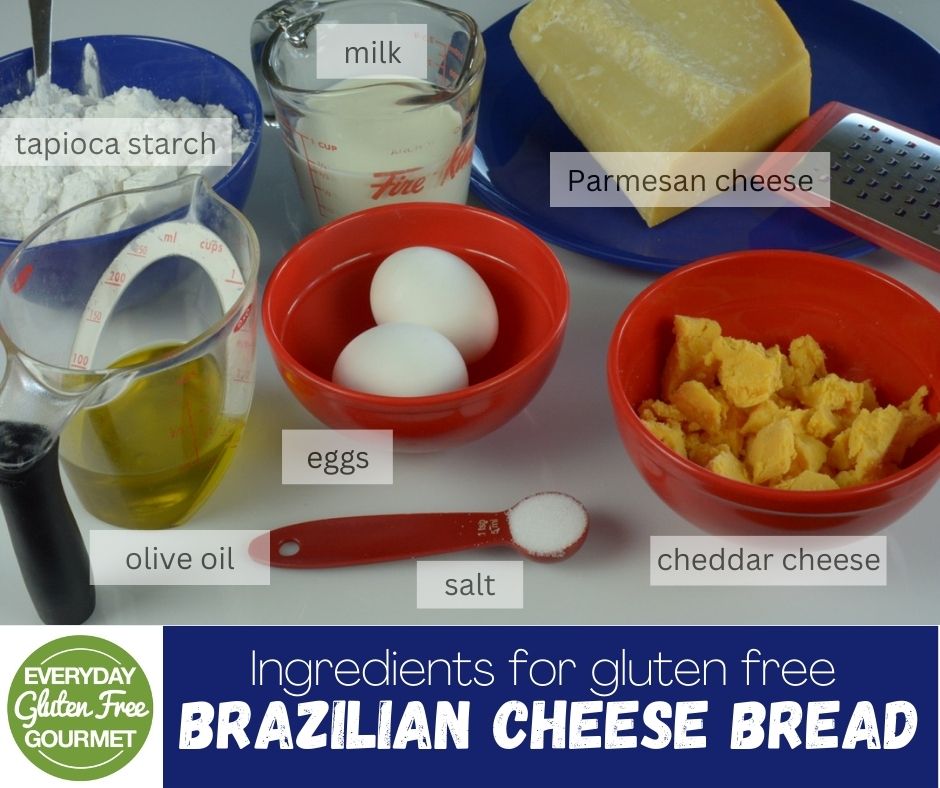 Where Can I Buy Tapioca Starch
Tapioca starch is available in Asian markets, grocery stores with a well stocked Asian section or wherever you buy gluten free flours. I'm sure it can also be found in Latin American markets but I haven't even looked since there are several places I can buy it.
I found these brands online in the same packages I see in stores.
I have made your Brazilian Cheese Bread several times now and I keep getting asked to make more. They are super easy to make and so delicious!

From cooking class student Julie
Tips for Making Cheese Bread/Buns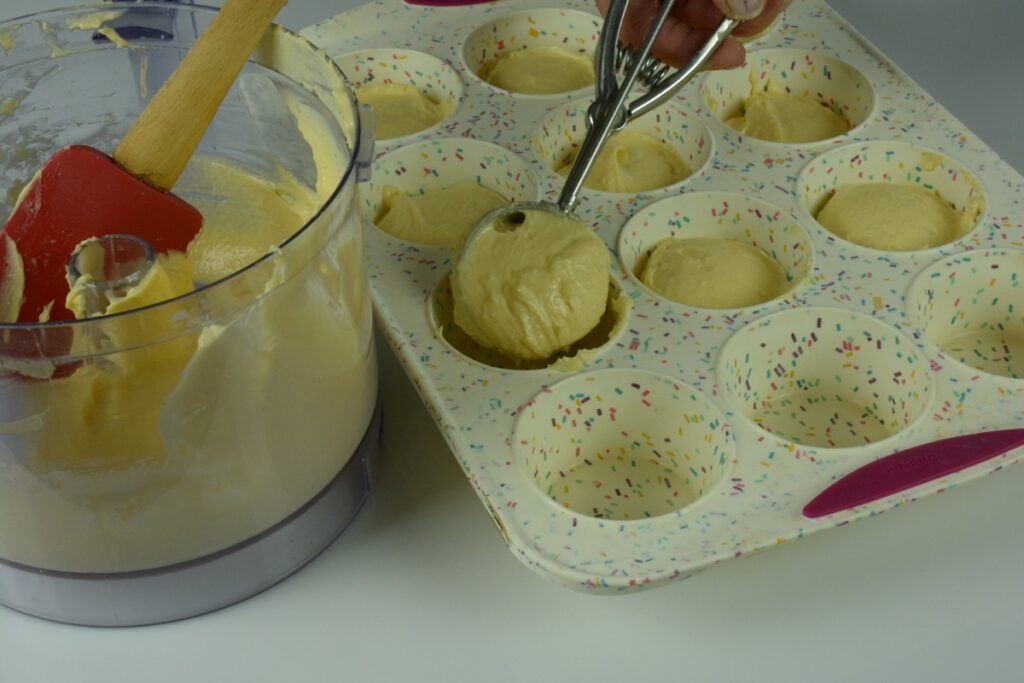 I bake the whole recipe and freeze what we don't eat. Some people prefer to leave the batter in the fridge and bake a few each day over three or four days. I agree these cheese buns are best served warm but I'm happy to reheat mine in the microwave.
Cooling is the crucial step in gluten free baking so pay attention. Most baked goods eaten immediately after cooking taste slightly gooey and under done.
Since the texture of these buns may be new to you it's important to wait at least ten minutes before eating them. If you're curious do a taste test yourself at five, ten and then fifteen minutes after cooling.
FAQ's
Can I make Brazilian cheese buns in a blender?
Yes, a blender is perfect for this recipe. My blender is a little too small so I make it in a food processor but both work well. If you're mixing the batter in advance or only baking half at a time you can easily put the blender cup in the fridge.
Can I freeze Brazilian cheese bread?
Yes, I freeze them and like to put a frozen bun in my lunch. By the time I eat it's thawed and on a good day I have access to a microwave to warm it up.
Can I reheat Brazilian cheese bread in the microwave?
Yes. I reheat one bun (thawed) on half power (level 5 on my microwave) for 30 seconds. Experiment with your microwave to find the perfect setting and time to give you a warm, chewy bun.
PIN for later...
Organize For Success
Part of what makes any recipe easy is having the right tools and being organized. Then making the same recipe over and over, even just three times, streamlines the process and you suddenly call it easy.
For me these are the tools that make this recipe easy.
What variation of Brazilian cheese bread will you create? My friend Shirley, over at Gluten Free Easily, inspired me to make these when I saw her variation she calls pizza bombs.
Recipes like this, made with a single flour or starch, are gems for gluten free bakers so I hope you'll give them a try. Let me know in the comments below if you made these and what you thought.
Previously posted 2018, updated April 2023.
__________________________________________________________________________
New here? Join our community and get your FREE resource, the tips I wish I knew when I started cooking gluten free.
Yes, I need 29 Tips For Cooking with Gluten Free Flour.
Still haven't mastered gluten free cooking? Check out our online Cooking Classes.
_________________________________________________________________________
More Gluten Free Bread Recipes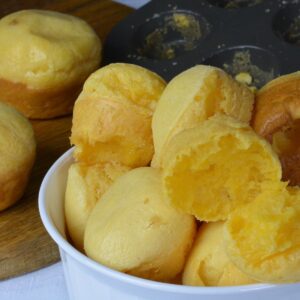 Brazilian Cheese Bread (Pão de Queijo)
These cheese buns, a popular snack and breakfast food in Brazil, are made from tapioca starch. If you're cooking gluten free, for the rest of your life, I recommend you try every specialty food from every culture that is naturally gluten free. This is one of them.
Ingredients
2

cups

tapioca starch

(or cassava flour)

4

oz

sharp cheddar cheese, shredded or crumbled

(115 g)

1

cup

Parmesan cheese, grated

(about 85 g)

⅔

cup

whole milk

⅓

cup

olive oil

2

eggs

1

teaspoon

salt
Instructions
Preheat oven to 375°F. Line a 12-count muffin tin with silicone muffin liners (best option!) or grease.

Combine all ingredients in a blender or food processor. Blend until evenly mixed, about 1 minute. Scrap down the sides as needed and mix once more. (At this point the batter can be refrigerated and cooked later or even the next day or two.)

Using a metal portion scoop fill each muffin very close to the top.

Bake in preheated oven 17-20 minutes until golden and puffed.

Place on baking rack and let cool in the muffin pan for a few minutes. Transfer all buns to cooling rack and let cool 5-10 minutes longer.* Serve warm.

These cheese buns freeze well. Thaw at room temperature. Reheat in microwave on 50% power for a warm, stretchy, chewy treat.
Notes
Silicone muffin liners or baking pans are perfect for this recipe!
If you want to enjoy them fresh out of the oven the batter will keep in the fridge for 3 days. Just stir, portion and bake up as many as you want. Some celiacs use a toaster oven.
Mini cheese buns: Use a 24-count mini muffin tin and decrease the baking time by 5 minutes.
*Cooling time is essential for gluten free baking. I encourage my students to do the taste test. Try them after they've cooled for 5  minutes, they probably taste under done. Wait another 5 or 10 minutes, they'll still be warm and I'm sure you'll recognize the difference. Learn to do this with all your baked goods until you know the baking time and cooling time that gives the best results.