For a special breakfast or brunch in my house we like Eggs Florentine. This is a twist on the usual ham and poached egg combo in Eggs Benedict. It includes the addition of cooked spinach and uses a cheese sauce instead of the rich buttery hollandaise sauce that some people love. I prefer the cheese sauce but I make both on an infrequent basis.
White Sauce vs Cheese Sauce vs Mornay Sauce
Cheese sauce always starts with a basic white sauce, the same as if you were making Mac and Cheese. It is simply melted butter with cornstarch to thicken, then add milk. It's pretty simple.
KITCHEN TIP - Write this recipe for white sauce on the outside of your cornstarch container so you can read it as you make it.
Add cheddar to this sauce and you have cheese sauce for Mac and Cheese. For the Eggs Florentine add Gruyère and then the cheese sauce is called Mornay sauce. Or add any cheese you like and call it whatever you want.
Best Way To Make Perfect Poached Eggs
My husband is the egg poaching expert in our family. We have owned every one of these devices to poach eggs and my favourite way is to have someone else poach the eggs. I think you just need to figure out what works for you and go with that.
I've also tried the method of tying individual eggs in clear wrap and poaching them in a pot of water. It's a bit tedious but all methods give you poached eggs.
Organize For Success - Eggs Florentine
Organization is the key to serving any dish like that involves several steps. Simply making the same recipe three times, even within six weeks, is super helpful. This seems to create some memory of the steps and the timing and I think that little effort turns any recipe into one you can pull off with ease.
Store bought English muffins are perfect but when I made this dish I used my basic cornbread recipe. Cooked in a larger pan I got the thickness I wanted and just cut them into rounds with a clean tin can (from canned tuna).
Start by making the cheese sauce since it can be made in advance. I portion the ham and spinach then leave it at room temperature. Since hot cheese sauce goes on top of hot eggs that warms up the spinach and the ham. Then the whole thing goes under the broiler with a little Parmesan cheese and the finished dish should be piping hot to enjoy.
When you serve Eggs Florentine with fresh squeezed orange juice, or maybe Prosecco Berry Sangria, it's a decadent brunch. But once you've mastered the steps you can also enjoy it as a weekend treat whenever you want. Let me know in the comments below if you noticed that just making the recipe three times changes it from challenging to easy.
---
More Recipes Using Basic White Sauce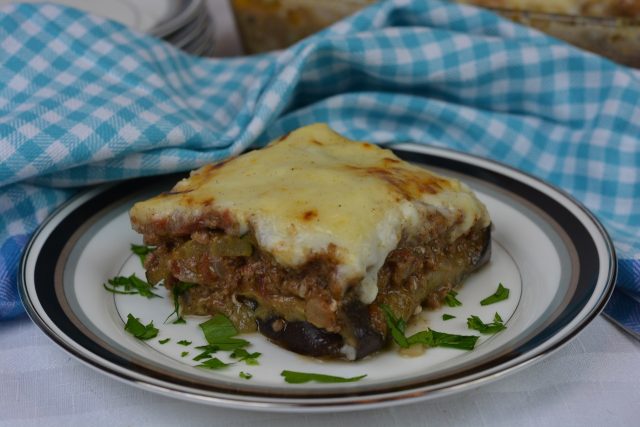 Eggs Florentine
For a special breakfast or brunch in my house it's Eggs Florentine. This is a twist on the usual ham and poached egg combo in Eggs Benedict.
Ingredients
gluten free corn bread

(or English muffins)

8

pieces

gluten free ham or Canadian back bacon

10

oz

fresh spinach

(or frozen, thawed)

8

eggs
CHEESE SAUCE
2

tablespoon

butter

1

tablespoon

cornstarch

¼

teaspoon

salt

⅛

teaspoon

pepper

1

cup

milk

(1% or 2%)

1

cup

shredded Gruyère cheese
FINISHING
2

tablespoon

Parmesan cheese to sprinkle on top
Instructions
CORNBREAD
Cut cornbread into 8 rounds. Place on baking sheet and set aside.
MORNAY SAUCE
Melt butter in small sauce pan.

Sprinkle cornstarch over butter, whisk until smooth and slightly thickened.

Pour half milk into pan, cook stirring occasionally until thickened.

Add remaining milk and continue cooking until thick and smooth.

Add shredded cheese and stir until melted. Set aside.
COOKING
Half fill a frying pan with water, cover and bring to a boil. Add spinach and cook 3 minutes. Drain and squeeze to remove excess moisture. Transfer to cutting board in 8 separate clumps.
ASSEMBLY
Top cornbread round with ham and then spinach. Top with a poached egg.

Pour a generous spoonful of Mornay sauce on each egg. Sprinkle with Parmesan cheese.

Place under the broiler until cheese is lightly browned. Serve.
Notes
Assembly Line - Serving this hot takes a little practise but it's worth it. The more times you make it the easier it gets.
Eggs Florentine for 2 - When I make this for 2 or 4 people I still make the full sauce recipe because I always eat 2 peoples worth. Use the extra sauce to make Macaroni and Cheese, any made up pasta dish, in lasagna or Croque Monsieur.