Description
The snow finally melted in my back yard and I was able to dig up the last of my carrots and beets. That is what brought me to thinking about beets and beet recipes, and finally to this Greek recipe for Beet Yogurt Salad with Walnuts.
I've been thinking about Greece lately after I wrote a guest post for my friend over at Travel Tales of Life. That post was about a long ago vacation to Europe and got me thinking about some of my favourite Greek recipes that I haven't made for awhile. This is one of them.
This post contains affiliate links. When you purchase using these links your cost is the same, but I receive a few cents for every dollar spent. I appreciate your support for this website.
Beets, An Under Appreciated Vegetable
Beets are often thought of as an under appreciated vegetable. That may be true but if you have ever cooked them you also think about the red stain on your hands, your cutting board and the counter. Beets are not as easy to peel as carrots so under appreciated or not, beets are a little bit of work.
But don't ignore beets and be sure to eat the beet greens too. Simply boil or steam them just like you would cook spinach or chard. In my family we always sprinkle them with vinegar.
Beets can be roasted, pickled or made into soup. They can also be cooked then grated or cut up and added to salad like I did here. They are a root vegetable so are freshest in the fall when they just came out of the ground. Unlike other vegetables that you add to boiling water, root vegetables should always go into a pot of cold water and then be brought to a boil. I'm sure no one has ever died from adding them to boiling water, that's just a little kitchen hack, apparently the correct way to cook them.
A Seasonal Strategy – Beet Season
I only have a handful of beet recipes that I make year after year. I don't make them all every year and have not made this Beet Yogurt Salad with Walnuts for a few years. The seasons go by pretty fast so these few recipes are enough to keep me appreciating beets and cooking them year after year.
Every fall when I think of beets these are my default beet recipes:
Beet Borscht
steamed beets and beet greens with vinegar
Beet Yogurt Salad with Walnuts For Dinner
But what's for dinner? I too need to turn this Beet Yogurt Salad with Walnuts into a meal so the default dishes I think of making with this Greek recipe are:
everyday Breaded Pork Chops or chicken
super easy Grilled Pork Souvlaki (cooked under the broiler in winter)
Roasted Lemon Chicken, a simple dish that I can make with lemon juice out of a bottle. I like to eat real food as often as possible but I don't always have fresh lemons so the bottle works for me.
Layered Moussaka, a favourite dish that I will definitely make once this fall or winter
Get The Tools
To cook you need some kitchen tools. For this recipe I used a mandoline. This is a slicer that can make cutting a breeze but also scares people because the blades are dangerously sharp. You can always use a knife to cut anything and the more you use it the better you get. I like my mandoline for cutting potatoes for french fries, this gorgeous dish of Scalloped White and Sweet Potatoes, Pan Fried Potato Latkes and anything when I want that nice julienned look.
So what do you make with beets? Whether you grow them, find them at the farmers market or buy them at the grocery store, work them into some of your meals. Root vegetables keep well so you can use them all fall and into the winter. Before you know it the next season is here then beets will fall off my list for awhile but I'll use them again next fall.
Let me know in the comments below if you have a favourite beet recipe. Or, did you try cooking beets for the first time.
---
Dinner Club Menu – Greek Night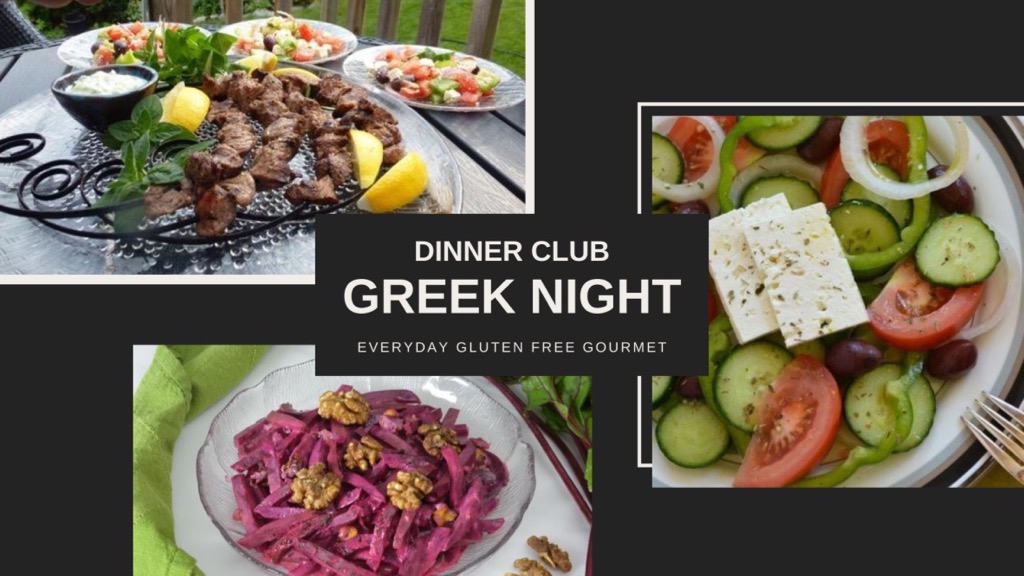 A Travel Tale – Mykonos
From time to time I write a guest post for my friend Sue over at Travel Tales of Life. Here is a link to the one I wrote about our trip to Mykonos and it includes the nude beach story.
Ingredients
BEETS
1 lb beets, scrubbed and ends trimmed
2 Tbsp red wine vinegar
YOGURT DRESSING
½ cup plain yogurt
¼ cup extra virgin olive oil
1 garlic clove, finely minced
¼ tsp salt
⅛ tsp pepper
¼ cup chopped walnuts, toasted
GARNISH – additional chopped or whole walnuts
Directions
1

Place beets in large pot and cover with water. Bring to a boil and cook, covered for 40-50 minutes until a knife inserted in the center of the largest beet is soft.

2

Drain and run cold water over the beets until they are cool enough to handle.

3

Peel and cut into medium julienne using a mandolin or food processor.

4

Transfer to a bowl and sprinkle with vinegar. Set aside.

5

In small bowl mix yogurt, oil, garlic, salt and pepper.

6

Pour mixture over beets, add walnuts and stir until combined. Taste and adjust seasoning.

7

Cover and refrigerate for 30 minutes or until ready to serve.

8

Sprinkle with chopped or whole walnuts and serve.