Banana Bundt Cake is a slight variation of my basic recipe for Banana Muffins. By baking it in a special pan and adding icing, a chocolate glaze in this photo, it becomes an impressive dessert. I love recipes that can do double duty as an everyday muffin or a dessert worthy of any celebration.
I now experiment with the muffin recipe on a regular basis using different gluten free flours. I've now made the same recipe dozens of times but I keep learning the finer points of gluten free baking. Try it, you'll be surprised what you learn.
Cakes vs Muffins
There is a difference between cakes and muffins. A cake is typically sweeter than a muffin and is often frosted. Muffins are a form of bread served for breakfast so should be less sweet and would never have icing. But we can all think of examples of muffins that are very cake like so the lines are blurred.
I think banana cake and banana bread or muffins is one of those recipes that works both as a muffin and a cake. Although I will eat a plain banana muffin for breakfast once this recipe is baked into a cake and covered in frosting it is plenty sweet enough to qualify as dessert.
PIN Banana Bundt Cake for later...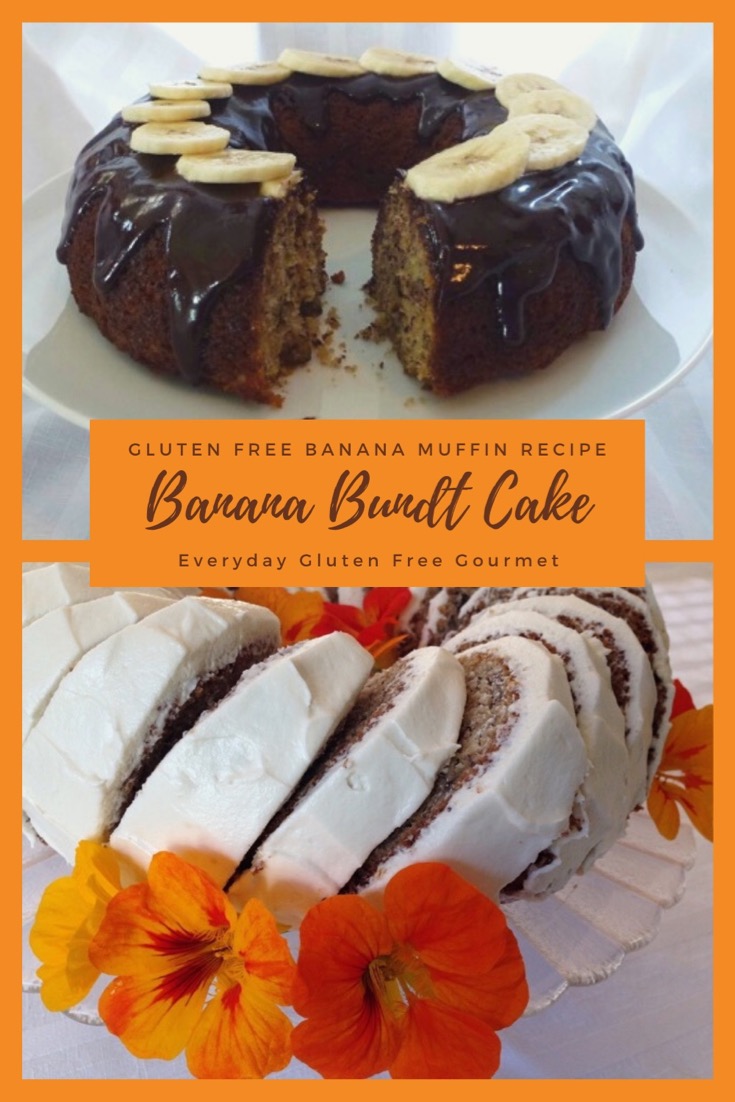 The New Basics For Gluten Free Baking
Gluten free bakers quickly learn about structure in baking. Baked goods need something to create structure and prevent whatever you are making from crumbling to pieces at the first touch. Xanthan gum works nicely in many cases as long as you can tolerate it and don't detect an off taste. To turn my muffin recipe into a successful cake I added a little more xanthan gum.
To learn more about binders check out this post, How To Use Binders in Gluten Free Baking.
Bundt cake is baked and cooled right in the pan. Baking the cake until done ensures that your cake will come out of the pan cleanly when inverted. Recipes often say to cook a cake until "a toothpick inserted into the center comes out clean". Gluten free baked goods should be baked slightly longer than the toothpick test making it important to use a kitchen timer. Learn how long it bakes in your oven and write it down so you can repeat your success.
Get The Tools
A Bundt pan is a great addition to your collection of baking pans. With a hole in the middle of the cake pan there is no worry about your cake being under done in the center. A Bundt pan also has some ridges along the sides making a pretty design. I think these cakes should always be served on a glass cake stand (pedestal tray) to complete the look.
Bundt pans are available in various sizes with most recipes calling for a 9-inch or 10-inch Bundt pan. Not only can you make cakes in them but people also use them to make ice moulds, jellied desserts and even meatloaf. The mini Bundt pans called Bundtlettes are perfect for those who prefer individual serving sizes.
Everyday to Gourmet - Banana Bundt Cake
Some occasions just call for a nice presentation. Here are a few ideas to make your cake extra special.
Ice the whole cake with cream cheese icing, garnish with nasturtium blossoms or other edible flowers from your garden.
Drizzle a little or a lot, of this chocolate glaze along the top allowing it to drip down the sides.
Do a similar drizzle using caramel sauce or a combination of chocolate and caramel sauces. Does salted caramel go with Banana Bundt Cake? If you think so then try it.
Try any of these ideas using mini Bundt cakes.
Let me know in the comments below how your Banana Bundt Cake turned out.
---
More Muffin Recipes
This bundt cake was originally a muffin recipe so here is my Recipe Round Up of Gluten Free Muffins for any bakers who are making cake from muffin recipes. Sue Jennett, my friend and host of A Canadian Celiac Podcast, calls this experibaking!
Banana Bundt Cake
This Banana Bundt Cake is a slight variation of my basic recipe for Banana Muffins. Adding a glaze transforms it into an impressive dessert.
Ingredients
DRY INGREDIENTS
2¾

cups

EGFG gluten free flour blend*

(360 g)

1

cup

sugar

1½

teaspoon

baking powder

1

teaspoon

baking soda

¾

teaspoon

xanthan gum

½

teaspoon

salt

½

cup

chopped walnuts or pecans

(optional)
WET INGREDIENTS
6

ripe bananas

4

eggs

½

cup

vegetable oil

2

teaspoon

vanilla
CHOCOLATE GLAZE
4

oz

semi sweet chocolate

¼

cup

butter

2

tablespoon

whipping cream
Instructions
Preheat oven to 325°F. Lightly oil 9-inch Bundt pan.

In a large bowl combine flour, sugar, baking powder, baking soda, xanthan gum and salt. Whisk thoroughly, set aside.

In another bowl mash bananas, add eggs, oil and vanilla. Mix thoroughly.

Add the wet ingredients to the dry ingredients and stir until combined.

Fill Bundt pan and bake in preheated oven for 45-50 minutes until browned and starting to pull away from the sides of the pan. Cover with foil if the cake is brown on top but not quite cooked in the center. Continue cooking until done.

Cool completely on a wire rack.

Invert cake onto serving platter. Top with chocolate glaze and banana slices.
CHOCOLATE GLAZE
While the cake is cooking combine chocolate, butter and whipping cream in a small pan over low heat. Stir until smooth. Let cool slightly before pouring over the cake.
Notes
*EGFG flour blend: 300g sweet rice flour, 300g potato starch, 200g sorghum flour, 200g millet flour
This cake is also delicious with cream cheese frosting, a caramel drizzle or even the chocolate glaze AND a caramel drizzle. There's no end to ideas for this simple cake.