When I was a young cook the saying was, "Real men don't eat quiche". I'm not sure of the current status of quiche but for pastry lovers and people who like to put some effort into their weekend brunch this Spinach Feta Quiche is a treat. So don't be using skim milk instead of half and half, make a real quiche and make it rich, creamy and delicious.
Double Crust vs Single Crust Pie Shell
Recipes often refer to 'standard' sizes of baking dishes without giving you any more detail than that. A standard pie plate refers to a shallow 9-inch pie plate with fluted edges. A single pie crust recipe is enough to fill the bottom of a standard pie plate for a quiche, a Pumpkin Pie or a top only Pot Pie. A double pie crust recipe yields enough dough for a pie that has a top and a bottom like an apple pie.
Nowadays there are all kinds of beautiful ceramic baking dishes that are larger and deeper than the standard 9-inch pie plate. For these dishes you may need to make a few adjustments. A larger dish will require more pastry while a deeper dish will need a longer cooking time. As with any pie, you can cover the pie edges with foil near the end of the cooking time to prevent over browning.
I included a double crust recipe here so I could experiment with the extra pastry. I tried some mini quiches and they cooked in 35 minutes. The pastry was browning too much near the end so I covered the whole muffin tin with foil for the last 5 minutes. Experience is how you learn so just use the cookware you have and get baking.
PIN for later...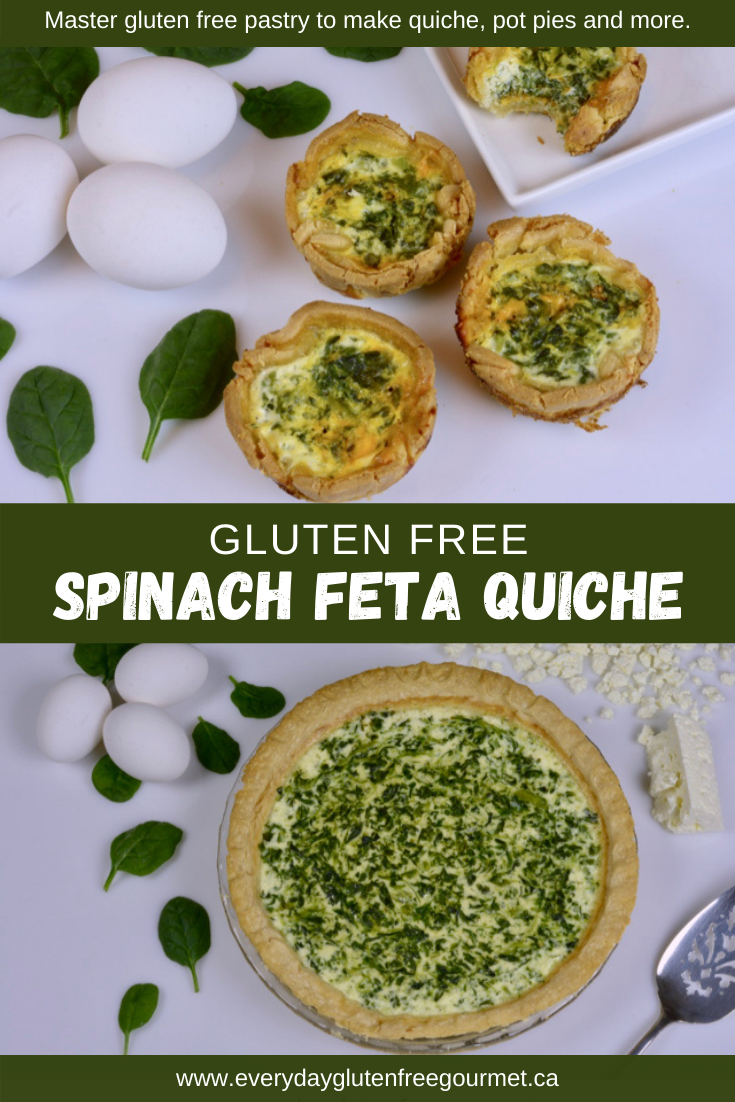 This post contains affiliate links. When you purchase using these links your cost is the same, but I receive a few cents for every dollar spent. I appreciate your support for this website.
Gluten Free Pastry Tips
There is no end to learning about gluten free baking. These are the three tips I think are important for a successful quiche.
Prebaking the crust and sprinkling a layer of Parmesan cheese on the bottom prevents the dough from becoming soggy.
Placing the piecrust on a baking sheet adds insulation so the bottom of the quiche cooks completely.
Cooling gluten free baked goods is an important step to help the structure.
Organize For Success – Frozen and Canned Food
I love fresh ingredients but I don't always love making another trip to the grocery store. I think an everyday cook needs some canned and frozen ingredients to make cooking easier and offer you lots of options to keep meals interesting. One of those ingredients is frozen spinach. It doesn't even seem possible that spinach should freeze well but it does. I like both spinach and feta and I like the combination so those ingredients can often be found in my kitchen.
Get The Tools
Depending on how interested you are in making pastry you might want a few tools to make it easy.
Let me know in the comments below how your pastry making is going.
---
__________________________________________________________________________________________
New here? Join our community and get your FREE resource, the tips I wish I knew when I started cooking gluten free.
Yes, I need 29 Tips For Cooking with Gluten Free Flour.
Still haven't mastered gluten free cooking? Check out our online Cooking Classes.
More Pastry Recipes
Spinach Feta Quiche (with gluten free pastry recipe)
Spinach Feta Quiche made with gluten free pastry is perfect for a weekend brunch; a whole or small individual pies.
Ingredients
DOUBLE CRUST PASTRY (enough for 2 quiche or a pie with a top crust)
6

tablespoon

cold water

3

tablespoon

sour cream

1

tablespoon

rice vinegar

380

grams

EGFG gluten free flour blend*

(2¾ cups + 2 Tbsp)

1

tablespoon

sugar

½

teaspoon

salt

½

teaspoon

xanthan gum

1

cup

butter, cut into ¼-inch pieces and freeze for 10-15 minutes
FILLING
5

eggs

2

cups

half-and-half

or coffee cream, about 10%

¼

teaspoon

salt

¼

teaspoon

pepper

½

cup

grated Parmesan cheese

1

cup

crumbled feta cheese

10

oz

frozen chopped spinach, thawed and squeezed dry
Instructions
MAKE PASTRY
In 1-cup measuring cup combine water, sour cream and vinegar. Set aside.

Combine flour, sugar, salt and xanthan gum in food processor with dough blade. Process 10 seconds to combine.

Add cold butter from the freezer and process until combined into uniform crumb-like mixture.

Add sour cream mixture, process until a dough begins to form and stick together.

Using your hands, and sprinkling the dough with sweet rice flour, form it into a ball incorporating all the crumbs until you have a uniform texture.

Divide dough into 2 pieces and flatten each piece into a round thick disk shape. Wrap each piece in a generous amount of wax paper. Refrigerate for 20 minutes.
MAKE FILLING
Whisk eggs, half-and-half, salt and pepper together in a large liquid measuring cup. Add spinach and stir with a fork. Set aside at room temperature.
ROLL OUT PASTRY
Preheat oven to 375°F. Remove one piece of dough from fridge, unwrap and leave in the center of the wax paper. Lightly dust each side of the dough with sweet rice flour.

Using a rolling pin start in the center of the dough, rolling out toward the edges. Dust, flip the dough and dust again to prevent sticking, always rolling out from the center. Use two sheets of wax paper or wax paper and a flexible cutting mat. Continue rolling and flipping until you have an 11 or 12-inch circle of dough ⅛-inch thick.

Remove wax paper and invert the dough into the pie plate. Quickly push the edges of the dough into the curved shape of the pie plate before it cracks.

To make a thick edge crust tuck the excess dough under itself, crimping the edge into the rim as you go. Alternately, use a knife to cut off the excess dough and simply push the dough into the rim of the pan with your thumb and fingers.

Chill piecrust in freezer for 15 minutes before baking.
BAKING QUICHE
Bake piecrust in preheated oven for 20 minutes.

Remove from oven, sprinkle bottom of crust with Parmesan cheese and bake another 5 minutes.

Place piecrust on wire rack and reduce oven temperature to 350°F. The crust must be warm when you add the filling.

Sprinkle feta cheese on the bottom of the crust. Pour egg mixture into crust until ¼ inch from the top. You may have some egg mixture leftover.

Place quiche on a rimmed baking sheet and return to oven. Bake 40-45 minutes until top is lightly browned and set. Insert the tip of a knife in the center. If it comes out clean it's done.

Let quiche cool before cutting. Reheat before serving if needed.
Notes
REHEATING – I microwave a single piece of leftover quiche on power level 5 for 1 minute and the crust is still tender and flaky.