My niece, Amanda, recently came to visit and thought it would be fun for us to make a dessert together. She decided on a Crepe Cake for several reasons. First, Crepe Cakes are all over Instagram and they look impressive. Unlike a fussy layer cake, Crepe Cakes have a sort of fun, haphazard feel and that is exactly what we needed with a baby and a 2-year old at our side.
Crepe Cakes sound French so might conjure up images of traditional French pastries or other classic desserts that require some level of expertise. Amanda wanted to demonstrate that they really aren't as difficult as you might think. There are definitely some techniques to pay attention to so we have shared our tips here and a quote from Julia Child.
From her book, Julia's Kitchen Wisdom, "Once you have mastered a technique, you barely have to look at a recipe again."
Crepe Cakes provide endless possibilities so learning the basics of crepe making seems like a good skill for gluten free cooks. After trying crepes with quinoa flour and buckwheat flour we decided on this gluten free version of the typical sweet crepe. This is the kind of crepe you would make for breakfast or dessert and no one would guess it was gluten free.
PIN for later...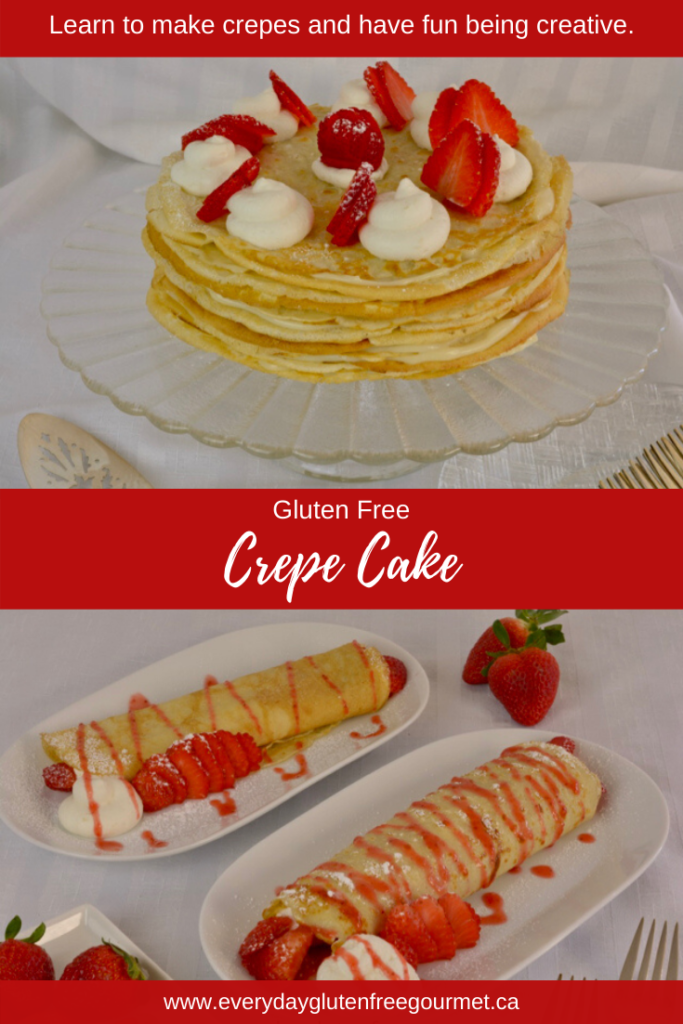 This post contains affiliate links. When you purchase using these links your cost is the same, but I receive a few cents for every dollar spent. I appreciate your support for this website.
Assembling a Crepe Cake
For the filling Amanda chose a classic French vanilla Pastry Cream for its' decadence with fresh strawberries and stabilized whipped cream to finish off the presentation.
This pastry cream is luscious from the six egg yolks and can likely be made with ingredients already in your kitchen. I make an eggless version of this called Vanilla Cream. I like that recipe because I can start it with what's in my fridge, but then I do need a trip to the store for whipping cream to finish off the recipe. So use which ever filling you want with this tip on making sauces with cornstarch.
The filling for a Crepe Cake needs to be thick. Over whisking any sauce made with cornstarch can result in a watery mess, so just don't over whisk allowing the heat to thicken the sauce.
The fun part about making this recipe together was that we learned from each other. It is pretty easy to assume that everyone knows what you know but of course that isn't true. This is what we learned.
Amanda taught me how to stabilize whipped cream by adding dissolved gelatine into the whipped cream. This helps it hold its shape for hours in the fridge, perfect for serving our birthday Crepe Cake much later that day.
Sprinkle 1 teaspoon of gelatin over 1 tablespoon cold water. Let sit for 5 minutes until a thick semi-solid. Microwave 5-10 seconds until just melted. Whisk until smooth and add to whipping cream as it whips. Continue beating to soft or stiff peaks and use as usual.
I taught Amanda my trick of beating the chilled and set custard to a velvety smooth texture before spreading it onto the crepes.
Tips and Techniques
It took me two batches of crepes, with two pans going at once, to master the technique of crepe making. This is what we thought were the important points to share.
the pan needs to be quite hot
use a tiny amount of oil and wipe the pan with a paper towel before each crepe to evenly re-grease the pan plus pick up any flecks of batter from the last crepe
I preferred a measuring cup to pour the same amount of batter in the pan each time
Amanda poured with one hand then quickly swirled the pan with her other to cover the entire bottom as quickly as possible
whisking the batter as you cook keeps it from settling to the bottom
¼ cup batter makes thin crepes but a slightly thicker crepe is needed to hold the weight of a Crepe Cake
a very thin flipper is ideal and wiping the flipper with the oiled paper towel helped prevent the crepes from sticking
if a crepe tears you can still use it if the tear is small, otherwise discard it (eat it).
Get The Tools
A crepe pan isn't necessary but they do have some features you might like. For serious crepe makers who can imagine a few Crepe Cakes in their future you might consider some of these tools.
So Amanda and I challenge you to master the art of crepe making and unleash your creativity with crepe cakes. Who knows, it could just become a family dessert tradition.
Let me know in the comments below how your Crepe Cake turned out. I'd love to see a photo of it and if you send me one I'll add it here.
---
__________________________________________________________________________________________
New here? Join our community and get your FREE resource, the tips I wish I knew when I started cooking gluten free.
Yes, I need 29 Tips For Cooking with Gluten Free Flour.
Still haven't mastered gluten free cooking? Check out our online Cooking Classes.
More Crepe Recipes
Crepe Cake Filled with Pastry Cream
Crepe Cakes have a sort of fun, haphazard feel yet the presentation is WOW. Learn to make gluten free crepes and you have lots of options.
Ingredients
PASTRY CREAM Step 1
½

cup

whole milk

⅓

cup

sugar

6

egg yolks

⅓

cup

cornstarch
PASTRY CREAM Step 2
1¾

cups

whole milk

⅓

cup

sugar

1

tablespoon

vanilla
CREPES
1½

cups

milk

(whole milk preferred)

2

eggs

2

tablespoon

melted butter

1¼

cups

EGFG gluten free flour blend*

2

tablespoon

sugar

¼

teaspoon

salt

vegetable oil for cooking
FINISHING
strawberries and whipped cream
Instructions
PASTRY CREAM
In medium bowl, whisk first amount of milk and sugar with egg yolks and cornstarch.

Combine second amount of milk and sugar in medium saucepan, add vanilla. Set over medium heat and bring to simmer without stirring.

When hot, remove from heat and gradually whisk into egg yolk mixture.

Return to saucepan over medium heat and cook, whisking constantly, until cream simmers and thickens, 1-2 minutes.

Remove from heat, whisk until smooth.

Transfer to bowl and press plastic wrap or wax paper directly on the surface to prevent a film from forming. Refrigerate until cold, 3-4 hours or overnight.
MAKING CREPES
In a medium bowl whisk milk and eggs. Add melted butter, stir and set aside.

In a large bowl combine flour, sugar and salt. Add egg mixture and whisk until evenly combined.

Heat 10-inch non-stick pan(s) over medium-high heat. When hot add 1 teaspoon of oil, swirl in bottom of pan and wipe away excess with paper towel.

Pour ¼-⅓ cup batter into the hot pan. Immediately tilt and swirl the pan so the batter coats the entire surface as quickly as possible. Cook until lightly browned, about 1 minute.

Flip crepe, cook for another 1½-2 minutes. Transfer to a plate.

Return pan to heat, add more oil if needed. Using paper towel continue wiping away any excess oil and flecks of cooked crepe batter.

Repeat until all batter is used stacking crepes on top of each other as you go. Cool completely before assembling Crepe Cake.
ASSEMBLING CREPE CAKE
Place 1 crepe in center of serving platter.

Spread filling over the crepe being careful it is thin in the center but goes right to the edges of every crepe.

The goal is a flat cake, not high in the center and drooping around the edges.

Add each crepe and repeat until you have used up the filling. We found 24 crepes made a nice high cake and you can go up from there as you gain experience.

Refrigerate at least 2 hours before serving.

Garnish with unsweetened whipped cream and fresh strawberries.
Notes
*EGFG flour blend: 300g sweet rice flour, 300g potato starch, 200g sorghum flour, 200g millet flour (makes ~8 cups)