Asparagus with Black Bean Butter Sauce is a recipe for spring. In late March asparagus bundles start to appear in the grocery store despite the significant amount of snow still covering my garden.
Asparagus is high in fibre and is both nutritious and delicious. When at its' peak asparagus has the best taste and should have the best price. That's when I start buying it and making every asparagus recipe I have.
I think of asparagus as the first sign of spring. With so much produce available year round it's hard to know what produce is in season.
My best advice it to simply buy it and cook it as soon as you hear about it. Save your favourite recipes and before you know it the season is over and something else is waiting to be enjoyed.
Is Thin Asparagus Better Than Thick
No, thin asparagus is not better or fresher than thick stalks. The diameter of the stalk has to do with the age of the plant. Here are some guidelines to follow.
Thick stalks stand up best in the high heat when broiling, grilling or roasting.
Thin stalks will shrivel up with that heat so are better suited to steaming and stir-frying.
Buy what you like and see if you can notice a difference.
What Are Fermented Black Beans and Where To Buy Them
If these Chinese black soybeans are new to you they have a unique umami taste and the flavours will explode in your mouth.
Umami, or savouriness, is our fifth basic taste alongside sour, sweet, bitter, and salty. You do not need to remember that to enjoy the flavours of fermented black beans.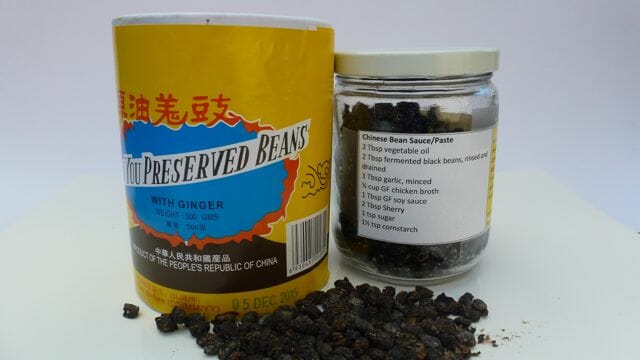 This post contains affiliate links. When you purchase using these links your cost is the same, but I receive a few cents for every dollar spent. I appreciate your support for this website.
You can learn more about this unique ingredient and how to use it in this post, Fermented Chinese Black Beans.
I've only bought Chinese black beans at an Asian store but I found the same brand online in it's recognizable round, yellow cardboard box by Yang Jiang.
10 Ways To Use Asparagus
The first four are the recipes that immediately come to mind when you say asparagus. Try any and every way while asparagus is in season because it's a long time until it's back again.
Watch the prices increase and the quality decline. When you won't pay the price they're asking you can officially say asparagus season is over.
I'd love to hear in the comments below if you made this recipe or what else you made using Chinese black beans.
Originally posted April 2018, updated April 2023.
---
__________________________________________________________________________________________
New here? Join our community and get your FREE resource, the tips I wish I knew when I started cooking gluten free.
Yes, I need 29 Tips For Cooking with Gluten Free Flour.
Still haven't mastered gluten free cooking? Check out our online Cooking Classes.
More Recipes Using Chinese Black Beans
Once you buy the black beans you need more recipes to use them in. Here are some of my favourites.
Asparagus with Black Bean Butter Sauce
Asparagus with Black Bean Butter Sauce is a tried and try recipe that I make every spring when asparagus is at its' peak.
Ingredients
2

lbs

asparagus, ends trimmed

1

tablespoon

fermented black beans, rinsed

2

cloves garlic, finely chopped

1

tablespoon

cornstarch

2

tablespoon

butter
SAUCE
½

cup

gluten free chicken stock

2

tablespoon

dry sherry

1

tablespoon

gluten free soy sauce

1

tablespoon

sesame oil

½

teaspoon

sugar

⅛

teaspoon

pepper
FINISHING
1

tablespoon

butter

1

tablespoon

toasted sesame seeds
Instructions
Coarsely chop fermented black beans. Combine with garlic and set aside.

In a 1-cup measuring cup combine chicken stock, sherry, soy sauce, sesame oil, sugar and pepper.
ASPARAGUS
Fill large saucepan with water and bring to a boil.

Add asparagus and cook for 3-4 minutes. Drain and pat dry.
SAUCE
In a small bowl whisk cornstarch with 1 tablespoon water. Set aside.

Place 2 tablespoon butter in a 10-inch skillet set over medium-high heat.

When butter sizzles add black beans and garlic. Sauté just until the garlic sizzles.

Add sauce and bring to a low boil.

Add cornstarch mixture and immediately stir sauce until thickened. (For a thinner sauce add only half of the cornstarch mixture.)

Remove from heat and stir in 1 tablespoon butter.

Arrange asparagus in serving dish. Pour on sauce and sprinkle with sesame seeds. Serve hot.