Gluten free crepes aren't as hard to make as you might think. That's what I discovered when I finally tried them gluten free. Crepes are also versatile! Once cooked they can be rolled, folded, stacked or stuffed and there's no end to ideas for filling them. This recipe for a sweet crepe can be served for breakfast or dessert.
When my niece, Amanda, was planning to visit me she asked if we could make a Crepe Cake and post it here. That's all the inspiration I needed so we got to work learning the finer points of crepe making. We experimented with a rice free version since Amanda bakes for her sister-in-law who can't eat gluten or rice. We tried a few different flours (quinoa and buckwheat) but the recipe we deemed to be the winner, the one in this post, was the one make with my gluten free flour blend. This flour blend includes rice flour so Amanda has more recipe testing to do for a rice free version.
PIN for later...
This post contains affiliate links. When you purchase using these links your cost is the same, but I receive a few cents for every dollar spent. I appreciate your support for this website.
Steps for Making Perfect Gluten Free Crepes
Crepes are as thin as lace yet after only a few tries I found they stayed together well and were easy to flip. We quickly mastered the technique of making crepes in a regular non-stick pan and these are our tips for making crepes:
the pan should be quite hot
use a tiny amount of oil and wipe the pan with a paper towel before each crepe to evenly re-grease the pan plus pick up any flecks of batter from the last crepe
use a measuring cup to pour the same amount of batter in the pan each time (you can free-pour but the measured pour worked better for me)
focus on swirling the pan to cover the entire bottom as quickly as possible
use the thinnest flipper you have to flip them
Crepes and Pancakes From Around The World
To me crepes are French and you often see the word spelled crêpe. The French pronounce the word like "step". Of course I'm English so I pronounce crepe like it rhymes with "ape". Regardless of the pronunciation I learned that the French are not the only ones who enjoy crepes.
A little research told me that almost every European country has a version of crepes. Palatschinken is the crepe made in Germany and Austria, Ukrainian people make nalysnyky, blintzes come from Russia and in Czech they eat palačinky. The list goes on and the recipes vary, but the main message is that if all these people can make crepes you can too.
Pancakes, the typical North American type, generally have a leavening agent like baking powder. Unlike crepes, pancakes are typically thicker, even if you prefer yours a little on the thin side. All my reading has inspired me to learn more about the pancakes and crepes made and enjoyed around the world. I will share my recipes as I find new favourites and have success with different gluten free flours.
Sweet vs Savoury Crepe Fillings
Just like North American pancakes the amount of sugar varies among crepe recipes but the filling you add will make the most significant difference. In France crepes are commonly sprinkled with white sugar, or spread with jam or whipped cream and then rolled or folded. Modern favourites include Nutella and sliced banana. For this photo my niece filled these crepes with whipped cream and drizzled them with the strawberry sauce I had leftover in my fridge.
You could use this crepe recipe with a savoury filling, I did. However, many sources say that savoury crepes should be made with buckwheat flour. This flour has a distinct nutty flavour and is gluten free so that is what I experimented with during my month of crepes. For more on buckwheat flour read this post, How To Use Buckwheat Flour.
Get The Tools
A crepe pan isn't necessary but they do have some features for easy cooking. If your family loves crepes here are a few choices in the crepe pan department.
I made my crepes with two regular non-stick pans. I had them both on the stove at the same time to work efficiently, keep me at full attention and to learn what temperature worked best. Try the different flippers you have, we preferred the thinnest one available among my kitchen tools.
Let me know in the comments below if you tried making crepes for the first time (or the first time in a long time) and how that went.
---
Savoury Crepes and a Crepe Cake
Click on the text on the image(s) to go to the recipe/blog post.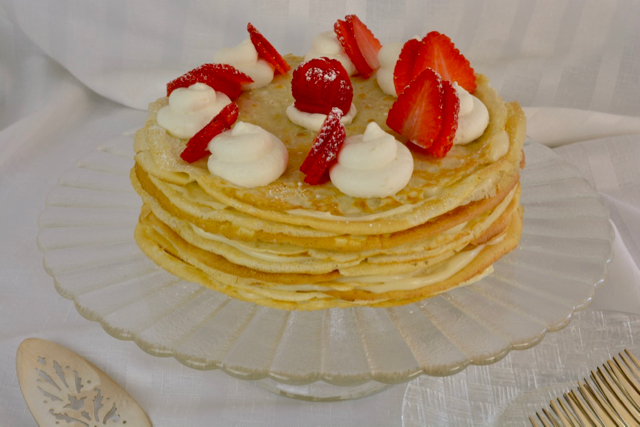 Crepe Cakes are fun to make and look impressive. Once you've mastered the art of crepe making you're ready to tackle a crepe cake. For tips on making yours as beautiful as you had hoped check out this post, Crepe Cake Filled with Pastry Cream. Good luck!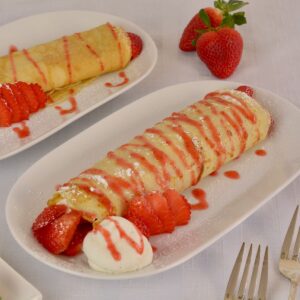 Gluten Free Crepes
Ingredients
1½

cups milk

(2% or whole milk)

2

eggs

2

tablespoon

melted butter

1¼

cups

EGFG gluten free flour blend*

2

tablespoon

sugar

(or 2 teaspoon for less sweet crepes)

¼

teaspoon

salt

vegetable oil for cooking
Instructions
Whisk together milk and eggs. Add melted butter, stir and set aside.

In a large bowl mix flour, sugar and salt.

Add egg mixture to the flour and whisk until evenly mixed.

Heat 10-inch non-stick pan(s) over medium-high heat.

Pour about ¼ cup batter into the hot pan. Immediately tilt and swirl the pan so the batter coats the entire surface. Cook until lightly browned, about 1 minute.

Flip crepe, cook for another 1½-2 minutes. Transfer to a plate.

Put pan back on heat, add more oil if needed. Use a folded paper towel to wipe away excess oil and any flecks of crepe left behind.

Continue cooking until all the batter is used.
Notes
*My EGFG flour blend: 300g sweet rice flour, 300g potato starch, 200g sorghum flour, 200g millet flour. Makes ~ 8 cups.
SERVING SUGGESTIONS:
-Fill with whipped cream and strawberries. Roll up and serve for dessert.
-Sprinkle with sugar or maple syrup. Fold and serve.
-Spread with jam and roll or fold. Top with whipped cream if desired.
-Spread with Nutella and top with banana slices. Fold and serve.