No doubt you've heard baking is both art and science but for me this recipe for gluten free crusty bread works every time. The bread bakers I know, love to talk about how it feels more than exactly how much flour to use. They love the process; the feel of the flour, the dough in their hands and the smell of yeast in the air.
I was never one of those people. I prefer measurements and I can follow instructions precisely.
For everyday gluten free cooks mastering a handful of bread recipes will pay off in spades. The opportunities for warm crusty bread, fresh from any oven, are greatly diminished so you might as well give it a try.
My best tip is the same tip for any recipe, make it at least three times. Don't abandon it thinking it's a bad recipe. If you like the taste try it a few times, make some notes and see what you think.
The Science of Baking
Everything from the size of your eggs, the humidity in the air and the temperature of your oven, contributes to the success of a recipe. That is the science. The art is when you can bake it successfully, loaf after loaf, perhaps going by the feel. I have not completely mastered that technique but I'm working on it.
For gluten free bakers knowing when your baked goods are fully cooked is equally as important.
Baking with Cup Measurements or Weight Measurements
Expert bakers swear that baking with weight measurements is the most accurate, therefore gives the most consistent results. Yet not everyone is that far along on their gluten free journey so I give you both cup and weight measurements.
For more on this topic check out my post, Gluten Free Baking By Weight. Gluten free bakers are going to use and measure more ingredients than anyone baking with wheat flour.
It's not hard to weigh flour, it's just a mindset and a willingness to get organized for that kind of baking.
I perfected this recipe using cup measurements when I was fairly new to gluten free baking. Since then I've learned more about different binders and baking by weight yet this recipe works in my kitchen with the cup measurements.
Watch on YouTube: Making a Flour Blend by Weight
Although I'm making my own EGFG gluten free flour blend in this video you'll see how I organized my supplies to be able to do this quickly and easily.
This post contains affiliate links. When you purchase using these links your cost is the same, but I receive a few cents for every dollar spent. I appreciate your support for this website.
Crusty Bread in a Boule or a Loaf
You can make this bread in a loaf pan if you want slices that would be ideal for sandwiches. I wanted to taste it dipped in extra virgin olive oil and good quality balsamic vinegar...so I formed it into a ball. This free form ball-shape is often called a boule after the French word for ball. It refers to a rustic loaf of bread that has been leavened with yeast. If you have ever been to France you will recognize the word "boulanger" which is the bread baker and "boulangerie" which is the bread bakery. Both of these words come from the root word "boule".
PIN for later...
No matter what shape you choose for your bread I wish you success. Let me know in the comments below how your bread turned out and if you email me a photo I'll share it here.
---
Follower Photos
Thanks to Brad for this picture of his first attempt at this Crusty Bread recipe.
---
More Gluten Free Help and Bread Recipes
For a better understanding of gluten free flour check out my year-long blog series where I reviewed 21 different ingredients. I did this to learn about the binders, starches and flours I had and what recipes I used them in. At the bottom of every post you'll find the titles with links to the whole series. It starts with How To Use Rice Flour.
Click on the text on the image(s) to go to the recipe/blog post.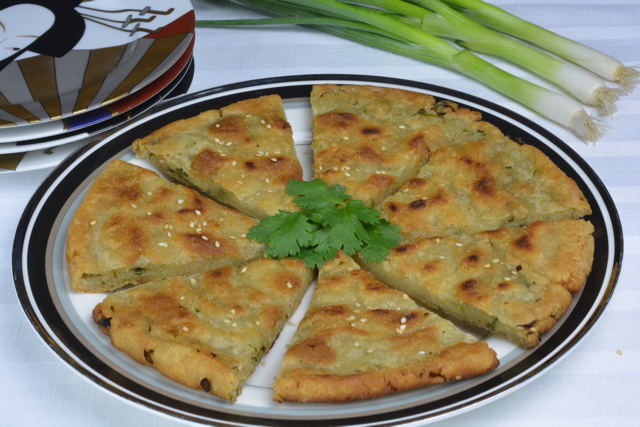 Crusty Bread
No doubt you've heard baking is both art and science. This gluten free crusty bread recipe works for me every time using cup measurements. If you've struggled with gluten free bread try using the weight measurements which are more precise.
Ingredients
1½

cups

tapioca starch

(193 grams)

½

cup

brown rice flour

(77 grams)

¾

cup

sorghum flour

(77 grams)

⅓

cup

potato flour (not potato starch)

(57 grams)

1

tablespoon

active dry yeast

2

teaspoon

salt

2

tablespoon

xanthan gum

1½

cups

lukewarm water

(100°F)

2

large eggs

lightly beaten

¼

cup

melted butter
Instructions
DRY INGREDIENTS
Combine flours, yeast, salt and xanthan gum together in a large bowl. Whisk to break up lumps and combine evenly.
WET INGREDIENTS
Combine wet ingredients in a stand mixer with paddles. Gradually add the dry mixture continuing until it is all incorporated into dough. Using wet hands and a spatula dump the dough into a large bowl. Cover with a tea towel and let rest until the dough rises, approximately 2 hours.

The dough can be refrigerated at this point for up to 3 days.

Using wet hands form the dough into a ball shape. Place on a piece of parchment paper on top of a cutting board and let rest for 1 hour, loosely covered with plastic.

Set the oven racks so you can place a metal pan with water under the bread. Preheat the oven to 450°F and place a baking stone on the middle rack.

Dust the top of the bread with brown rice flour and make hash marks with a sharp knife.

Transfer parchment and bread onto the preheated baking stone.

Pour 1-2 cups of boiling water into the metal baking pan and place underneath the bread.

Bake for 50-60 minutes or until nicely browned and firm. Cooking times will need to be adjusted for the size of your loaf and temperature of your oven.
Notes
Measuring ingredients by weight is the most precise for baking. Get yourself organized so this is an easy process in your kitchen. Watch my YouTube video showing how I organize to measure my EGFG gluten free flour blend. I don't use that blend to make this recipe but you'll see how I have it organized and can create a similar set up that will work for you.