Vietnamese Pork in Tomato Sauce with Nuoc Cham sauce is a refreshing main course dinner that seems spring-like to me. It starts with a bed of lettuce with fresh herbs, cilantro and mint, so as soon as I see mint growing in my garden I think of making this dish. The base layer is topped with warm rice and then the tomato based meat sauce. The classic sauce called nuoc cham, is sprinkled on at the table and the fresh flavours of Vietnamese cuisine are in every bite. Don't forget the fresh cracked pepper!
The Asian Pantry - Vietnamese Cuisine
Fresh herbs and fish sauce are essential for Vietnamese and Thai cuisines. Fish sauce is the secret ingredient since it seems to be used in every dish yet the final taste can be completely different from one dish to the next.
Nuoc cham is the dipping sauce you may recognize by taste. It's commonly served with salad rolls and contains fish sauce, rice vinegar and lime juice. It takes only five minutes to make and will keep in your fridge for weeks or even months. In this dish the nuoc cham is sprinkled on at the table.
This post contains affiliate links. When you purchase using these links your cost is the same, but I receive a few cents for every dollar spent. I appreciate your support for this website.
If you're new to cooking Vietnamese or Thai foods, or need a vegan option, check out these posts:
Cook Once, Eat Twice
Do you like the idea of only cooking once, but getting to eat twice? This recipe already makes two meals for two people but sometimes I make a double recipe of the meat sauce and freeze half of it. If I have a jar of nuoc cham in the fridge then this is a quick and easy dinner. If you need a reminder to use up all those jars in your fridge just add a label to the sauce that reads "for Viet Pork & Tom Sauce". You can also use the sauce for these two recipes.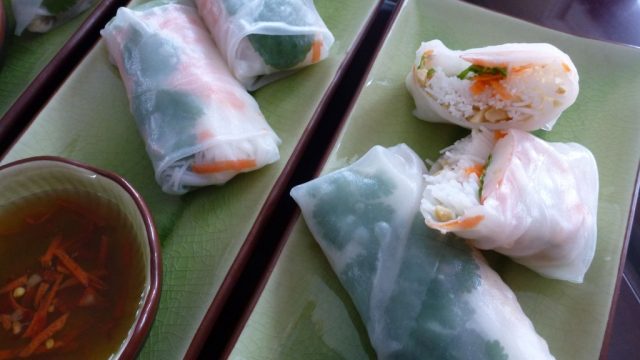 Get The Tools - Wok Cooking
I can't say enough about the benefits of wok cooking, you really should own one. A standard flat bottom wok isn't expensive, will last for years and is ideal for more than Asian dishes. You can cook this sauce in any frying pan or Dutch oven, but the wok is perfect. The large surface area of a wok is the key to stir-frying and it's shape, a small base with a large top, makes it perfect for deep-frying. Once you have a wok you'll find all sorts of ways to use it.
Let me know in the comments below if you tried this dish and what you thought.
This recipe is adapted from a beautiful coffee table cookbook, The Foods of Vietnam by Nicole Routhier. She describes this dish as the Vietnamese interpretation of spaghetti and meat sauce.
---
More Recipe with Nuoc Cham
The actual recipe in each of these is slightly different but you can mix and match when you have some leftover in your fridge.
Vietnamese Pork in Tomato Sauce
This main course dinner of Vietnamese Pork in Tomato Sauce has warm rice on a bed of lettuce with fresh herbs. Nuoc cham completes the taste.
Ingredients
NUOC CHAM
2

cloves of garlic, crushed

⅛

teaspoon

red pepper flakes

2

tablespoon

sugar

2

tablespoon

lime juice

¼

cup

rice vinegar

¼

cup

fish sauce

¼

cup

warm water
SALAD
½

head

iceberg lettuce, cut into bite size pieces

4

green onions, thinly sliced

1

cup

chopped cilantro

½

cup

chopped mint leaves
FIRST STEP FOR PORK SAUCE
1

tablespoon

vegetable oil

1

pound

ground pork

1

tablespoon

sugar

1

tablespoon

fish sauce
FINISHING PORK-TOMATO SAUCE
1

tablespoon

vegetable oil

6

garlic cloves, chopped

1

large onion, slivered

1

can

diced tomatoes with juice

(28oz/796ml)

½

cup

gluten free chicken stock or water

2

tablespoon

fish sauce

2

tablespoon

tomato paste
SERVING
freshly ground pepper

2

cups

cooked rice
Instructions
NUOC CHAM
Combine all ingredients in a jar and stir until the sugar is dissolved. Set aside.
SALAD
Combine lettuce, green onions, mint and cilantro in a salad bowl and toss. Divide between 4 plates.
PORK-TOMATO SAUCE
Heat 1 tablespoon oil in a wok or large skillet over medium high heat. Add ground pork and brown, stirring to break up the lumps. Cook 8-10 minutes until no longer pink.

Add the sugar and 1 tablespoon fish sauce. Cook for another 2 minutes. Transfer to a bowl and set aside.

Heat the remaining 1 tablespoon oil in the wok. Add the garlic and onion and fry until softened, 8-10 minutes.

To the wok add the tomatoes, chicken stock (or water), tomato paste, remaining 2 tablespoon fish sauce and cooked pork. Simmer, stirring occasionally, for 15 minutes.
SERVING
Top lettuce with warm rice then pork-tomato sauce.

Sprinkle generously with black pepper, drizzle with Nuoc Cham and serve.
Notes
There are many versions of nuoc cham that are all similar. Use leftover nuoc cham in any of these recipes.