Sesame Baked Chicken is a long time summer favourite in my house. Made with a gluten free, crispy cornflake breading it's delicious served hot or cold.
This recipe is perfect for two strategies I use in my kitchen to keep getting meals on the table that everyone loves. For Cook Once, Eat Twice I simply make the entire recipe and freeze enough for a second meal. On days when I don't have enough time or all the ingredients I might simply make the breading recipe and have some left over for a second use. I call this Prep Once, Eat Twice and that second meal could be a Breaded Chicken Caesar Salad.
Does Oil Tenderize Meat
Yes, oil tenderizes meat, prevents food from sticking to the pan and carries flavour into he meat. The idea that fat makes you fat was debunked long ago so cook with flavour in mind and don't be afraid to use oil.
PIN for later...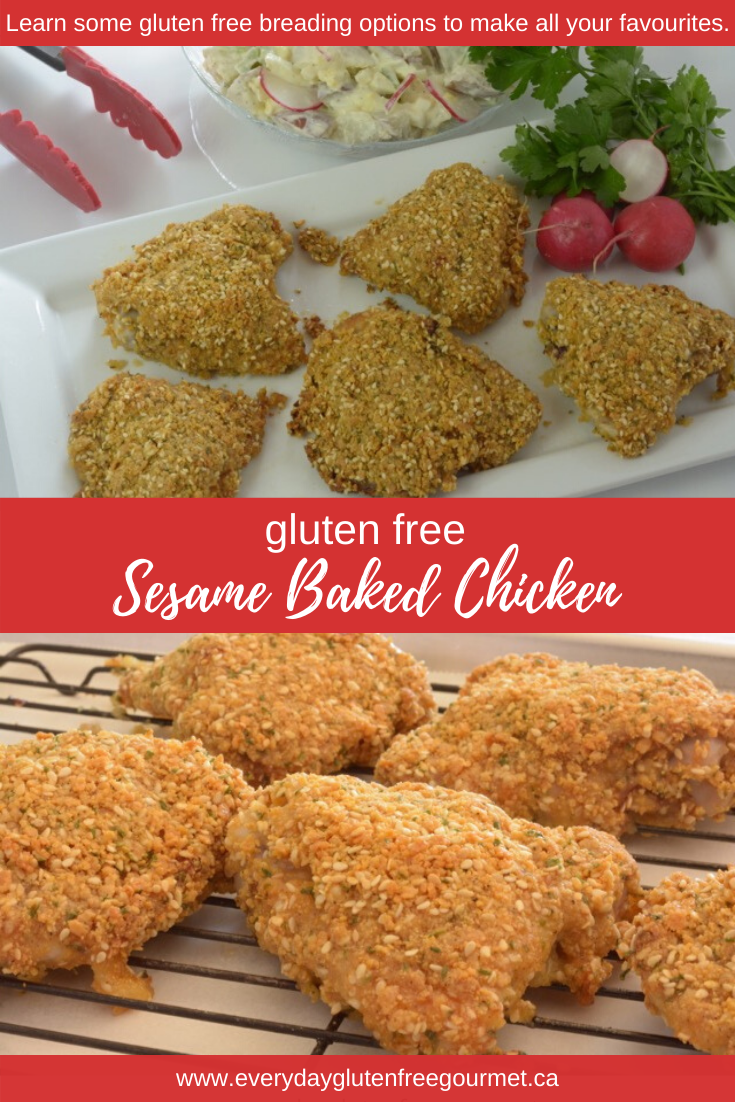 This post contains affiliate links. When you purchase using these links your cost is the same, but I receive a few cents for every dollar spent. I appreciate your support for this website.
Gluten Free Breading
When you're cooking gluten free you've got to have a few strategies for breading. This is what I do.
Make crumbs from leftover buns in the freezer (I don't let hot dog, hamburger or dinner buns stay in the freezer too long)
Use cornflake breading from my Breaded Pork Chops recipe
Replace breadcrumbs with whole oats, quick oats or cornmeal (experiment with the different textures to find what you like)
When I made this chicken I compared the sesame breading recipe made with my usual cornflake breading or with just cornmeal. The taste was a bit different but I'd repeat this recipe using either of these options any day. Here's how I did it.
Cornflake Breading vs Cornmeal Breading
EGFG Cornflake Breading
Cornmeal
1¼ cups GF cornflake breading*
6 tablespoon toasted sesame seeds
1 teaspoon dried parsley (1 tablespoon fresh)
½ teaspoon salt
¼ teaspoon pepper
1¼ cups cornmeal
6 tablespoon toasted sesame seeds
1 teaspoon dried parsley (1 tablespoon fresh)
½ teaspoon salt
¼ teaspoon pepper
*The cornflake breading recipe is listed at the bottom of the instructions within this recipe card for this Sesame Baked Chicken. It is 3 cups GF cornflakes (crushed), ⅓ cup cornstarch, ½ teaspoon each salt & pepper. Finely grind in a food processor or smash it with a rolling pin.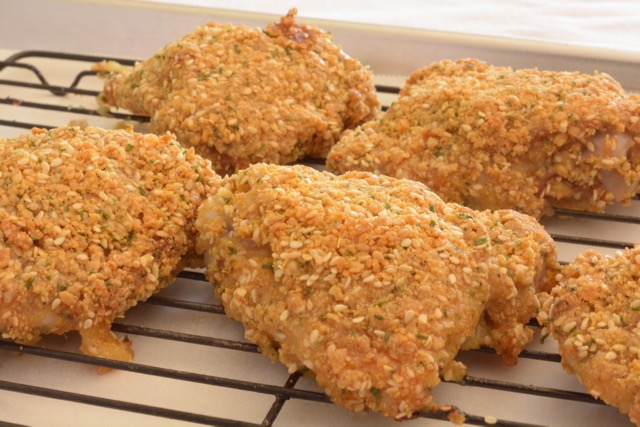 I made each of these breading recipes in a separate bowl then removed some to store for later. Once raw chicken goes into the breading I wouldn't save it so I always start with less breading than I need. I then add from the clean bowl being careful not to contaminate the unused breading.
Comparing the two was easy in this case since I could see the difference. When I compare something that looks quite similar I simply cook them on two different looking baking pans.
Get The Tools
Every home cook needs a few simple tools. I have four baking sheets; two I use for cookies and desserts. They've never had garlic on them and they still look new after years of use. The other two are for everything from roasting garlic to baking chicken and they always look well used. If you only have one pan use parchment paper or a reusable baking mat to avoid the transfer of flavours.
I'd love to hear in the comments below what you use for gluten free breading or if you liked this recipe.
---
__________________________________________________________________________________________
New here? Join our community and get your FREE resource, the tips I wish I knew when I started cooking gluten free.
Yes, I need 29 Tips For Cooking with Gluten Free Flour.
Still haven't mastered gluten free cooking? Check out our online Cooking Classes.
More Recipes with Breading
Click on the text on the image(s) to go to the recipe/blog post.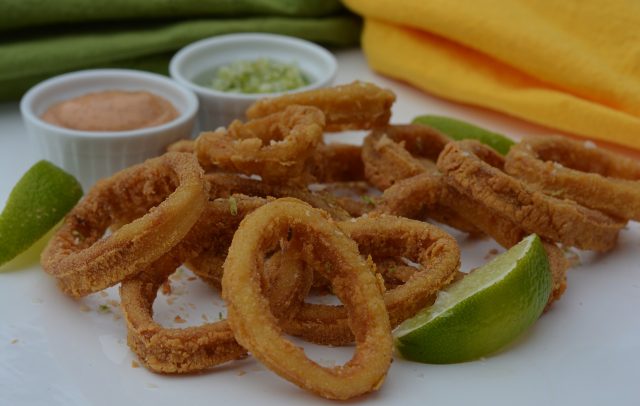 Sesame Baked Chicken
Sesame Baked Chicken is a long time summer favourite of mine. Made with a crispy cornflake breading it's delicious served hot or cold.
Ingredients
12

bone-in chicken thighs
MARINADE
¾

cup

vegetable oil

¼

cup

lemon juice

3

garlic cloves, finely chopped
BREADING
1¼

cups

gluten free cornflake breading*

(or breadcrumbs or cornmeal)

6

tablespoon

toasted sesame seeds

1

tablespoon

fresh parsley

(or 1 teaspoon dried)

½

teaspoon

salt

¼

teaspoon

pepper
Instructions
Combine marinade ingredients. Pour over chicken and marinate 3-4 hours or overnight.

Combine breading with sesame seeds, parsley, salt and pepper in a shallow bowl.

Preheat oven to 350°F. Line a baking sheet with foil and place metal rack on top.

Remove chicken from marinade allowing liquid to drip off.

Roll chicken pieces in crumb mixture to cover all sides.

Place on prepared baking sheet and bake in preheated over for 1 hour or until chicken is tender. Serve hot or cold.

Combine and use in breading recipe above.
Notes
*CORNFLAKE BREADING RECIPE - 3 cups GF cornflakes crushed, ⅓ cup cornstarch, ½ teaspoon salt, ½ teaspoon pepper.