This recipe for gluten free sugar cookies is one to add to your repertoire. Find those cookie cutters in the back of the cupboard, the ones you forgot you had, or borrow some from a friend. Cookie cutter shapes can be fun but if you have none you can simply make do with an empty tin can. I guarantee that round cookies taste the same.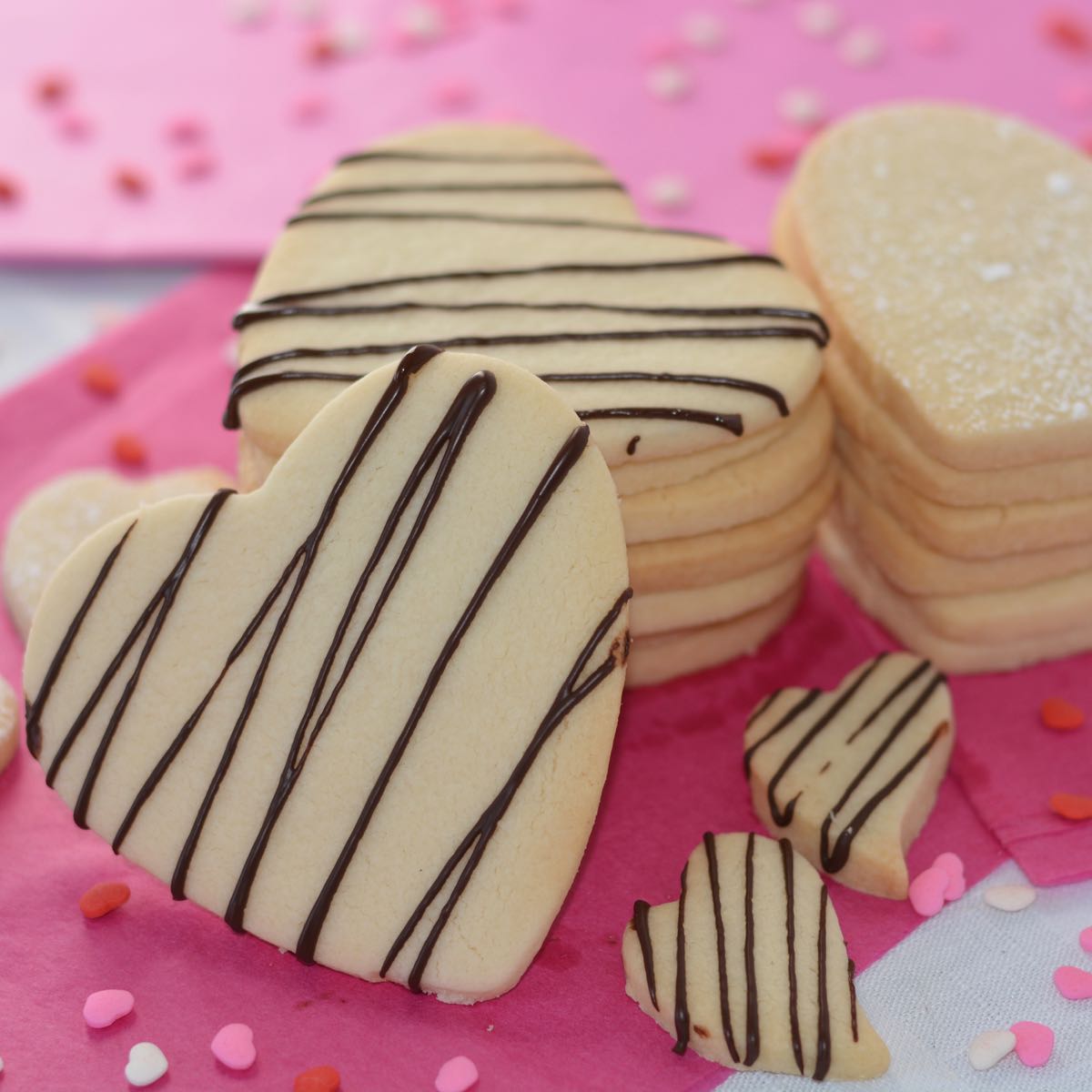 Keep your decorating simple or host a cookie decorating extravaganza making several colours of royal icing. Read all about the tips and tools for icing in this post on How To Make Royal Icing. It's all up to you.
Christmas Sugar Cookies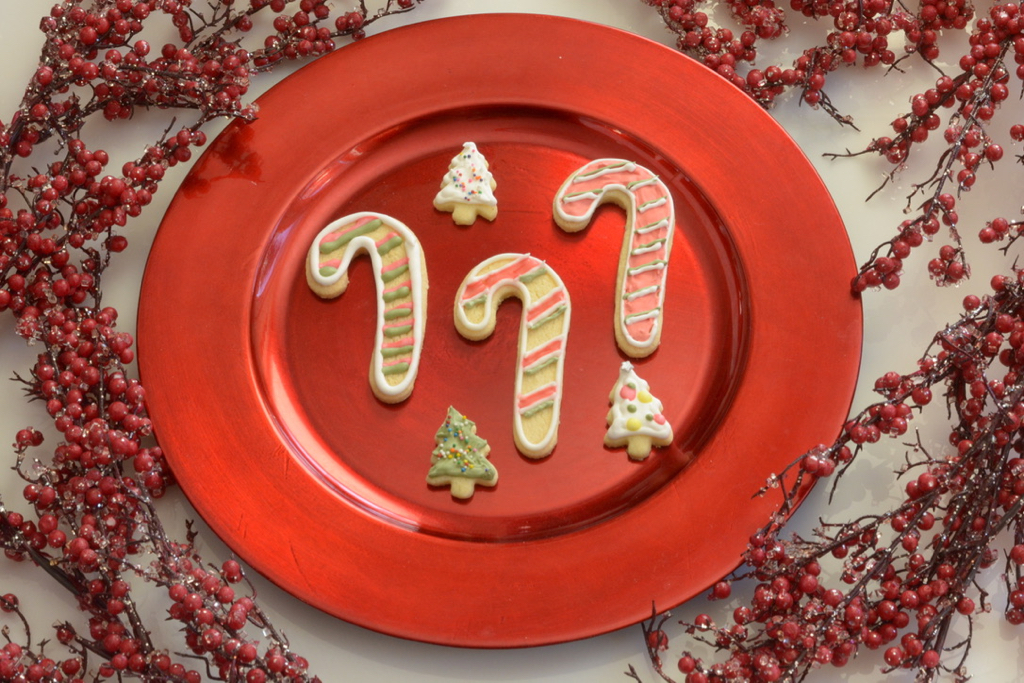 There are so many fun ways to make sugar cookies. If you collect cookie cutters be sure to try them all throughout the year!
Tips For Making Gluten Free Cookies
Once I decided I wanted to learn more about baking gluten free cookies I set out to do that. While baking and writing my year-long "How To Use" blog post series on all the different gluten free flours inspired me. I looked more closely at my favourite recipes, compared them to each other and paid attention to the many flour combinations. I baked and ate as I learned. In my post titled, Tips For Making Gluten Free Cookies you'll find all of my cookie baking tips.
PIN for later...
Rolled Cookies
Rolled cookies are a bit fussy, you can't just plop them on a cookie sheet and throw them in the oven. But rolling cookie dough is not difficult, even gluten free; so consider hosting a cookie baking session with a friend. Here are a few tips to ensure your efforts are successful.
Handling Gluten Free Cookie Dough
Sugar cookie dough is delicate and needs to be rolled out gently. Pat the dough into a ball and put it on a piece of waxed paper. Sprinkling the dough with a little flour prevents it from sticking to the rolling pin (I use sweet rice flour). Flatten it into a disk with your hands then wrap the waxed paper around it and put it in the fridge to chill.
Chill the Cookie Dough
Due to the amount of butter cookie dough is soft and chilling it makes it easier to handle and possible to roll thin. The timing isn't precise, just use the chilling times as a guide and notice when the dough is too soft to work with. Back in the fridge and it will be fine. I always divide the dough into two pieces at the beginning so I can have one in the fridge while I'm working on the other.
Tips for Rolling Cookie Dough
Yes, this is what that lesser used kitchen tool, the rolling pin, is designed for. To roll out dough always start at the center. Gently roll toward the edge being careful not to go right off the dough as this will make the edges too thin. When the dough is sticky sprinkle it with flour.
Flipping Cookie Dough
I leave the dough on the waxed paper and start to roll it out. As you stretch the dough it becomes sticky. This is when I sprinkle flour on the dough, place a flexible baking mat on top (or more wax paper) and flip it over. Gently peel off the wax paper and sprinkle a bit of flour on the other side of the dough. Finish rolling to the desired thickness flipping a few more times if needed. When it is the right thickness cut out the shapes and transfer them to the baking sheet.
Tips for Decorating Sugar Cookies
Sugar cookies are the perfect cookie for decorating. You can add candy sprinkles before baking or you can spread them with icing. The possibilities are endless if you are up for a serious decorating session. I love being inspired by kids but due to poor planning none were available at the time of my Valentine Sugar Cookie photo shoot.
I couldn't leave my Valentine cookies naked so I added a simple drizzle of chocolate and voila. Placed on some coloured tissue paper I created a Valentine masterpiece.
My other favourite method of serving or giving away cookies is putting them in clear cellophane bags tied with beautiful ribbon. I love to give a little bag with three or four cookies to anyone around me.
A Cookie Decorating Party
A gluten free Cookie Decorating Party is the perfect solution for celiac kids who are exclude from the food at so many events. I wrote this post, How To Host a Cookie Decorating Party, after I hosted one with kids from our local Calgary Chapter of the Canadian Celiac Association. We made a giant Canada 150 flag and had lots of fun.
Get The Tools
Many of my pans are more than ten and twenty years old. It takes time to collect good quality pans but it's worth the effort in the long run. Pay attention to the pans and sizes that you like and work well for you.
two cookie sheets, notice they have no edges
two jellyroll pans, also known as baking sheets, with ¼-inch sides all around (used more for cooking but helpful for a cookie baking spree when you need more pans)
metal scoops in various sizes for muffins, cookies, meatballs and more (I have three of them and I love the efficiency when portioning muffins and cookie dough)
Did you make sugar cookies? I'd love to hear about it in the comments below.
__________________________________________________________________________
New here? Join our community and get your FREE resource, the tips I wish I knew when I started cooking gluten free.
Yes, I need 29 Tips For Cooking with Gluten Free Flour.
Still haven't mastered gluten free cooking? Check out our online Cooking Classes.
_________________________________________________________________________
More Cookie Recipes
Sugar Cookies
These gluten free sugar cookies are a MUST ADD to your repertoire. Get out your cookie cutters and plan to have some fun making cookies.
Ingredients
DRY INGREDIENTS
1

cup

white rice flour

(120g)

1

cup

tapioca starch

(135g)

½

cup

potato starch

(80g)

2

teaspoon

xanthan gum

⅙

teaspoon

salt
WET INGREDIENTS
1

cup

butter, room temperature

⅔

cup

sugar

1

egg yolk

1

teaspoon

vanilla
ROLLING
sweet rice flour or tapioca starch
DECORATIONS
icing sugar, melted chocolate or candy sprinkles
Instructions
In a large bowl whisk together dry ingredients.

In an electric mixer beat the butter and sugar until light and fluffy, 2-3 minutes.

Add egg yolk and vanilla, mix until combined.

On low speed gradually add the dry mixture just until combined. Transfer the dough to a lightly floured surface and shape into a ball. Divide the dough in half onto 2 pieces of wax paper/parchment. Flatten each one into a disk. Cover with the waxed paper and refrigerate for 30 minutes or overnight.

Preheat oven to 350°F and prepare baking sheets.

Gently roll out dough to ¼-inch thickness, sprinkling with flour only when needed.*

Cut shapes and transfer cookies to baking sheets. Refrigerate 10-15 minutes before baking.

Gather remaining pieces of dough from cut cookies, gather into dough ball and repeat as before. Refrigerate dough 10-15 minutes before rolling out again.

Bake cookies in preheated oven for 12-14 minutes or until just turning golden on the edges.

Allow to cool on the baking sheet for 2-5 minutes before transferring to wire racks to cool completely.

Decorate as desired. Store cookies in an airtight container.
Notes
Tips for working with gluten free dough:
Chill the dough anytime it is too soft to work with.

Minimize the need for extra sprinkling flour by using wax paper or parchment on both sides of the dough and roll it like that. This also makes it easy to flip. Gently peel back the paper and sprinkle with a bit of flour, only if needed, before cutting out shapes. If the dough is sticking to the paper chill it again.