Here are two ideas to make four homemade Halloween treats in one hour. This is what gluten free kids need and every parent wants!
Halloween is a holiday where people love to express their creativity. We decorate pumpkins, create elaborate costumes and go all out with outdoor decorations that light up and make noise.
So by the time we get to making treats, everyone wants fun and easy ideas. In this post I'm sharing eight treats we made at two party-style kids cooking classes.
Easy Halloween Treats For Kids To Make
These eight treats were made on two separate nights. They're so easy you don't need instructions, just look at the picture and create your version of what you see.
| Virtual class #1 | Virtual class #2 |
| --- | --- |
| Oreo Mummies | Oreo Bats 3 ways |
| Rice Krispie Monsters | Pretzel Stick Ghosts |
| Witch's Broomsticks | Marshmallow Monsters |
| Cookie Spiders | Marshmallow Pops |
How To Buy Safe Gluten Free Halloween Candy
You need to start with safe gluten free candy so if this is news for you here's what you need to know.
The gluten free options change every year so you always need the newest list.
Manufacturers make special shapes and sizes for many occasions, some are gluten free and some aren't.
Ingredients in the treats sold in Canada and the US often differ.
Gluten free kids have lots of options and experienced parents have figured out how to navigate Halloween. Ask questions or look for ideas that others share around the holiday.
Celiac Canada publishes a new list each year. This is the 2023 Gluten-Free Halloween Candy List.
Allergic Living publishes a list, The 2023 Candy & Treats List. This website includes content for people with celiac disease and wheat allergy as well as all allergens. Bookmark it!
Our favourite celiac dietitian, Selena Devries RD, shares her Canada Gluten Free Halloween Candy list plus videos shopping for candy on her Instagram account at celiac_dietitian. Find her and follow her.
Virtual Meetups
Gluten free people have been reinventing every family get together and holiday for a long time. Look for new ways to create fun around food then go all in. Since the pandemic we all know how to have a virtual party so connect with friends, cousins or grandparents near or far.
For virtual meetups keep it short and simple. It takes extra time to show others what you're making and stop to talk about it too. Sometimes it feels like everyone is having their own party at their own house, and in the end it's still a lot of fun.
In our formal Kids cooking class we made the following four treats in one hour.
Virtual class #1: Mummies, Monsters, Brooms and Spiders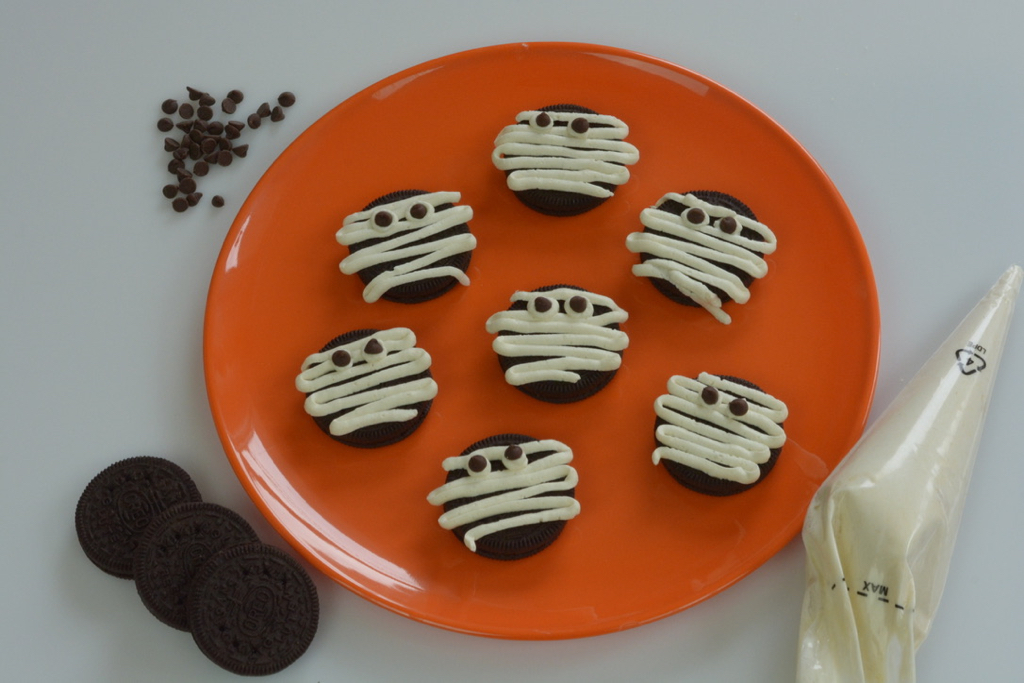 Oreo Mummies
Use brand name gluten free Oreos, Kinnickinick K-Toos or any dark coloured cookie. I made butter icing from the recipe on the bag of icing sugar and showed the kids how to use slight pressure to squeeze the bag while going back and forth across the cookie wrapping it like a mummy.
Some kitchens had colourful candy eyes in various sizes. I couldn't find them so I added icing eyeballs with a mini chocolate chip pupil. Reeses Pieces make big, colourful eyes too.
Rice Krispie Monsters
This requires making old fashioned Rice Krispie squares with a gluten free rice cereal. If there's no recipe inside the cereal box use this one from my Rice Krispie 'Smores. Omit the graham crumbs and you have the original recipe.
I used a 9-inch x 13-inch pan and made rectangles by cutting 3 rows one way and 7 the other for 21 potential monsters.
Tips for melting chocolate
Chocolate can easily burn in the microwave so follow these tips.
Place chocolate in a small bowl and fill it quite full.
Microwave on full power for one minute. Remove and stir continuously watching as the chocolate melts.
Microwave another 30 seconds only if needed.
We dipped the pieces into melted chocolate about a third of the way, laid them on parchment paper and quickly added eyes or decorations before the chocolate hardened. Volia!
Witch's Broomsticks
This one is for the youngest kids. Turn a mini peanut butter cup upside down. Use a pretzel to make the broom handle and twirl it as you gently push it into the peanut butter cup. A dab of melted chocolate will harden and hold the broom handle in place best. Icing or peanut butter also work for this.
Cookie Spiders
Our Cookie Spiders had an Oreo body with legs of Fruit To Go strips or pretzel sticks. Layken used gummy worms for her spider legs and they looked awesome!
I liked the colourful Reese's Pieces for eyes and fixed them to the body at a slight angle using icing. All the spiders looked a bit different and that's always part of the fun!
Virtual class #2: Bats, Ghosts, Monsters and Marshmallow Pops
At another virtual kids class we made four different treats; bats, ghosts, monsters and marshmallow pops. There were more variations than we had kids and the ideas just keep coming.
Oreo Bats 3 Ways
Split the cookie leaving all the filling on one side. Break one wafer piece in half and fashion the two pieces at a bit of an angle for wings. Add some eyes and you've got a bat.
Take a single cookie wafer and break it in half for wings. Using a peanut butter cup as a body dab melted chocolate on it to attach the wings to the body. I used extra peanut butter cups to hold my wings in place while the chocolate dried.
Make an Oreo Bat Pop by pushing a straw or popsicle stick between a whole Oreo. Break a single wafer in half and attach them under the cookie at an angle for wings. You can do this with some Oreo filling, peanut butter or melted chocolate. Add eyes for the finishing touch.
Pretzel Stick Ghosts
Dip pretzel sticks in any colour of melted chocolate. Lay them on a piece of parchment and add an eye before it hardens.
Marshmallow Pops and Monsters
I used short straws for the sticks in these marshmallows and lined them up to make four at a time. Before I melted the chocolate I had small dishes with different sprinkles and eye balls all ready to go.
Use one to four different colours depending on your crowd. I was demonstrating so I had four bowls of melted chocolate/candy melts; white, orange, green and purple. I had an idea in my head of what I was going to do and started dipping marshmallows one at a time.
Be ready to add candy sprinkles right away. If the eyes start to slip down the marshmallow either wait for the chocolate to harden slightly or come back and add them later using a dab of melted chocolate.
For me creating a display is just as much fun as making the treats. Stand up Marshmallow Pops in an array of glasses and vases and fill each one with candy. I laid some of the Marshmallow Monsters on a colourful plate and left some upside down the way I made them.
Organizing Tips For Decorating
The hardest part of so many kitchen projects is having the right supplies. Making sure they're safe for a gluten free diet is the extra work we're all used to.
My best tip is to create a bucket for decorating supplies. Think of all the holidays in a year and just go for it! Many Halloween supplies are out of stock but if you look you'll still find some.
I recommend buying a few kinds of colourful candy sprinkles, coloured candy melts and some googly eyes. At Halloween everything looks ghoulish when you add those eyes! Christmas is right around the corner so get red and green sprinkles too.
Candy eyes in different sizes and colours or even a set of three.
Candy melts are like white chocolate (it's not really chocolate). They melt like chocolate, they're fun and colourful. They also last from year to year.
These are my favourite homemade Halloween treats for kids! If you make any let me know how they turned out in the comments below.
Originally posted October 2021, updated October 2023.
__________________________________________________________________________
New here? Join our community and get your FREE resource, the tips I wish I knew when I started cooking gluten free.
Yes, I need 29 Tips For Cooking with Gluten Free Flour.
Still haven't mastered gluten free cooking? Check out our online Cooking Classes.
_________________________________________________________________________
More Homemade Halloween Treats