White Sauce is one of those basic recipes everyone needs. I learned to make this version in one of the first cooking classes I ever attended. If you were wondering is white sauce gluten free the answer is yes! Mine is made with cornstarch so it has always been gluten free. Many recipes for a classic bechamel sauce, as the French call it, are made with wheat flour so just switch to this recipe if that's how you've made it before.
If you're thinking you're not really crazy about a boring old white sauce, think again. Do you like Mac & Cheese? Have you tried the Eggs Florentine variation, Eggs Benedict made with cheese sauce instead of the usual hollandaise sauce?
What about an amazing lasagne or cannelloni that seemed a little bit creamy and special? Maybe Greek Moussaka or Pastitsio. Or even Croque Monsiuer, a fancy French grilled cheese sandwich.
All these dishes have some version of white sauce and I think that's what makes them so amazing.
Organizing Tip
When I took that first cooking class many years ago I decided opening the yellow box of cornstarch for one tablespoon was tedious. I also wanted that recipe for white sauce to be handy so here's what I did.
I bought a plastic container and put a label on it with this white sauce recipe. Now, decades later, the label is nearly illegible but the white sauce recipe is right there every time I grab it. That's what I mean when I say organize for success.
PIN for later...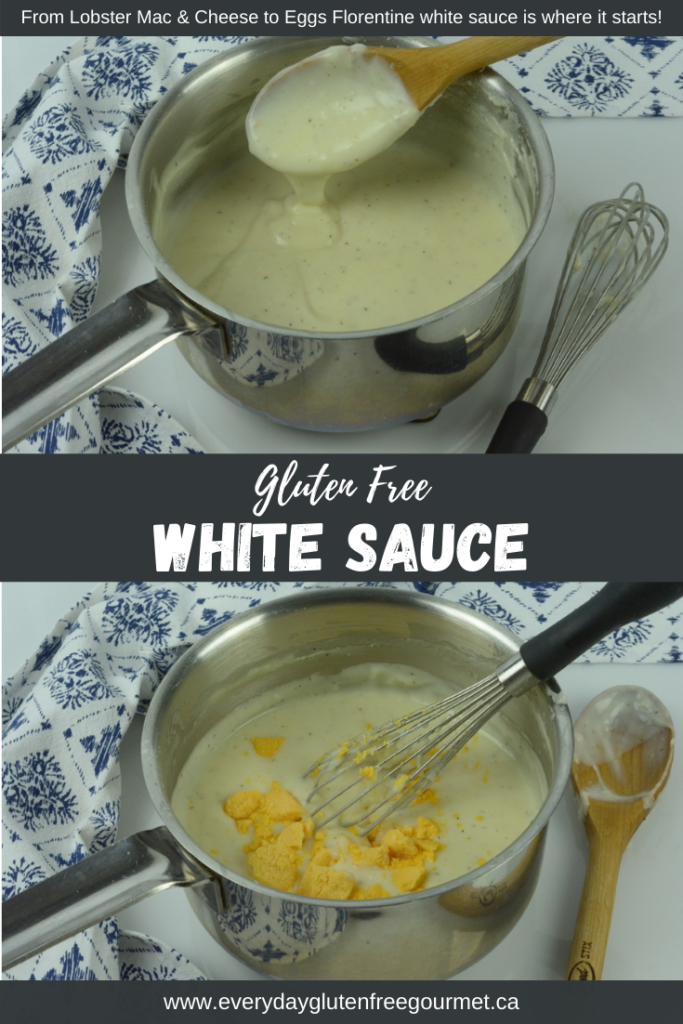 Tips for Thicker Sauce
I make this recipe with 1 tablespoon of cornstarch but my husband clearly does something different so he needs 1½ tablespoons to make the sauce thicken. If you're having trouble add your milk more slowly and don't stir it as much.
Don't over whisk, that can actually break a sauce with cornstarch.
This recipe works with skim milk but as you use milk with a higher fat content, including coffee cream or whipping cream, the sauce will become thicker. This is a great way to use up coffee cream or whipping cream and you'll see how decadent it is. It can get too thick so thin it with milk if needed and find your perfect version.
White Sauce Variations
Most of the variations I make include cheese but sometimes onion, garlic and white wine are involved too. Here are a few ideas:
Once you've made the cheese sauce at few times you can make homemade Mac and Cheese as fast as cooking the store bought package. This is a fun challenge for teenagers and cooking with real food, rather than little packages of coloured powder, is always a good thing in my books!
Beyond the basic Mac and Cheese recipe are variations limited only by your imagination. A decadent Lobster Mac and Cheese is real treat!
Steamed vegetables with cheese sauce is always a good way to get kids hooked on a few vegetables they might not otherwise eat.
White sauce and a few slices of ham transforms an everyday grilled cheese sandwich into a Croque Monsieur.
Get The Tools
Every kitchen needs tools and it's always a good thing when you have the right tool for the job. A decent quality set of pots and pans is a great investment and so are whisks and spatulas.
I'd love to hear in the comments below what you make with your white sauce. Happy cooking!
__________________________________________________________________________________________
New here? Join our community and get your FREE resource, the tips I wish I knew when I started cooking gluten free.
Yes, I need 29 Tips For Cooking with Gluten Free Flour.
Still haven't mastered gluten free cooking? Check out our online Cooking Classes.
More Recipes with White Sauce
Click on the text on the image(s) to go to the recipe/blog post.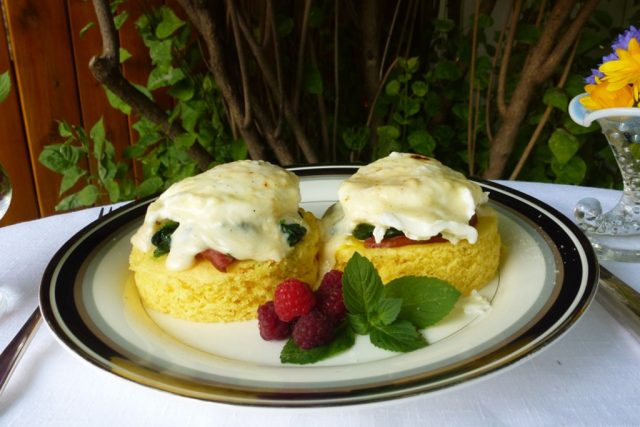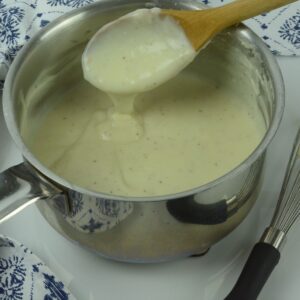 White Sauce
White Sauce is a basic recipe everyone needs and it's naturally gluten free. Then you can make Mac 'n Cheese, Moussaka and so much more!
Ingredients
2

tablespoon

butter

1

tablespoon

cornstarch

*see notes if you're having trouble with the thickness

¼

teaspoon

salt

⅛

teaspoon

pepper

1

cup

milk

(the higher the fat the richer the sauce)
Instructions
Melt butter in small saucepan.

Add cornstarch, salt and pepper, whisk until smooth and bubbly.

Slowly pour in a third of the milk. Stir off and on as it thickens.

Add the next third and allow sauce to thicken again.

Add the final third, stirring until sauce is thick and smooth.

For cheese sauce add cheese and stir until melted.
Notes
NOTE - You can over stir a sauce with cornstarch and break it. Just stir off and on letting it thicken but preventing it from sticking to the bottom. If you're having trouble getting it to thicken use an extra ½ tablespoon of cornstarch and don't stir it as much.