This Beef Rouladen recipe is a German specialty my friend introduced me to when I was a young cook. It's not difficult yet it's rolled up with toothpicks so that makes it special enough for company. Right?
Rouladen comes from the German word to roll referring to the long pieces of thinly sliced beef that are rolled up. Every butcher knows this cut of meat so just ask for it. In the fall I sometimes see it already packaged up right there in the meat section.
To prepare rouladen you simply spread mustard on the meat then sprinkle with chopped bacon and onions. I lay a piece of pickle across the meat, roll it up and secure it with toothpicks. After browning the rolls on the stove this recipe braises the meat in red wine and beef stock.
Of course there are many variations for rouladen but this is how my friends mom made it, this is how she makes it and now this how I make it.
Gluten Free Gravy with Cornstarch
Like so many of my recipes with sauce, I thicken it with cornstarch. This is the ideal starch for thickening sauces (unless you can't tolerate corn).
If you're more used to thickening sauces with wheat flour (because your mom did that) just make the switch to cornstarch. If you want a handy reminder right in your kitchen write this on a recipe card and post it inside a cupboard door near your stove.
2 tablespoon flour = 1 tablespoon cornstarch for thickening sauces
This switch from wheat flour to cornstarch is easy but there are differences.
Instead of sprinkling flour over a hot mixture, combine cornstarch with an equal amount of water to make a slurry.
Add the slurry to the warm sauce while still on the heat. Stir constantly and watch it thicken before your eyes.
If you haven't done this before start by adding half of the cornstarch slurry. See how it thickens then add more to find the consistency you like.
You can learn more about using starch and making gravy in these two posts:
Tips for Easy Gluten Free Entertaining
No one wants to cook 24/7 yet gluten free cooks know when they host the meal it will be safe to eat. That means it should be relaxing but entertaining is always a little stressful.
Here are three tips to make entertaining less stressful.
Pick a theme or idea to help you quickly plan a menu. This German recipe reminds me of Oktoberfest or fall. Check out 45 Fall Recipes; A Recipe Roundup for more ideas to finish your menu.
Make tried-and-true recipes (like this rouladen).
Lower your standards. As much as you wish it could be true, no one cares if your entire house is spotless. They only care that they were on the invite list.
Oktoberfest Dinner Party Idea
Oktoberfest is a folk festival that was started in Munich, Germany over 200 years ago. It runs from mid to late September and ends on the first Sunday in October.
With a name like Oktoberfest it's easy to assume it should be in October. Celebrate Oktoberfest anytime you want and add a fun element like a gluten free beer tasting. Since I don't drink beer I'd ask my beer-loving friends to organize and purchase a few gluten free beers for a tasting.
Whether you're planning a Gourmet Dinner Club night or just having friends for a casual meal I hope you'll try my Beef Rouladen. I'd love to hear in the comments below what you did.
Originally posted October 2016, updated October 2022.
---
More Gluten Free Gravy Recipes
Click on the text on the image(s) to go to the recipe/blog post.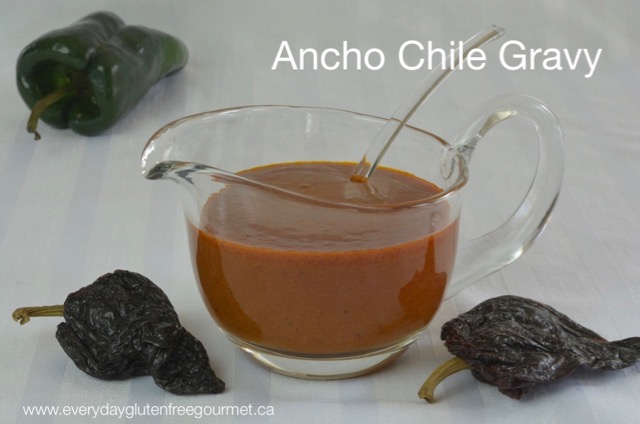 ---
If you're new here and want more help with cooking all the gluten free recipes you miss, subscribe and check out our new resource, 29 Tips for Cooking with Gluten Free Flour.
Beef Rouladen
Beef Rouladen with a rich, red wine gravy is a German specialty ideal for an Oktoberfest celebration or any fall menu.
Ingredients
8

pieces of beef rouladen

(ask the butcher for this cut)

2

tablespoon

grainy mustard or Dijon mustard

4

slices bacon, finely chopped

1

small onion, finely chopped

¼

cup

finely chopped fresh parsley

(or 1 generous tablespoon of dried)

2

dill pickles, quartered lengthwise
COOKING AND GRAVY
2

tablespoon

oil

2

tablespoon

butter

2

cups

gluten free beef stock

2

cups

red wine

½

teaspoon

salt

¼

teaspoon

pepper

2

tablespoon

cornstarch mixed with 2 tablespoon water

GARNISH – chopped parsley
Instructions
MAKE BEEF ROLLS
Lay beef slices on a work surface. Drop a teaspoon of mustard on each piece of meat and spread to cover the whole piece.

Sprinkle bacon, onion and parsley evenly over all the meat pieces.

Lay a quarter pickle on the smallest end of each piece of meat. Roll meat around the pickle and secure with toothpicks making sure to poke them all the way through the meat. Can be prepared several hours in advance.

Heat butter and oil in a sauté pan on medium-high heat. Add beef rolls and cook, turning once, until brown, 2-3 minutes per side.
STOVE TOP METHOD
Pour stock, wine, salt and pepper over beef rolls. Bring sauce to a boil. Decrease heat, cover and simmer for 1 hour. Turn once, half way through the cooking time.
OVEN METHOD
Pour stock, wine, salt and pepper over beef rolls. Bring sauce to a boil. Cover and bake in preheated oven for 1 hour. Turn once, half way through the cooking time.
GRAVY
Remove beef rolls to a serving platter.

Whisk together cornstarch and water. Pour mixture into the hot liquid and whisk until thickened, 1-2 minutes.

Pour gravy over beef rolls, sprinkle with parsley and serve.
Notes
Make this the star of an Oktoberfest celebration with warm German potato salad, sautéed purple cabbage and roasted carrots. Include a gluten free beer tasting and you're guaranteed to have a good time!