How To Make Gluten Free Gravy, this is something you need to figure out if you're new to gluten free. Everyone needs a little gravy once in awhile so here are the two ways I make the kind of thick, rich gravy that everyone loves.
Wheat flour is a multi-purpose ingredient and one of those purposes is to thicken sauces. But not to worry, the whole world doesn't make gravy with wheat flour so there are gluten free options.
Thickening with Cornstarch and Masa Harina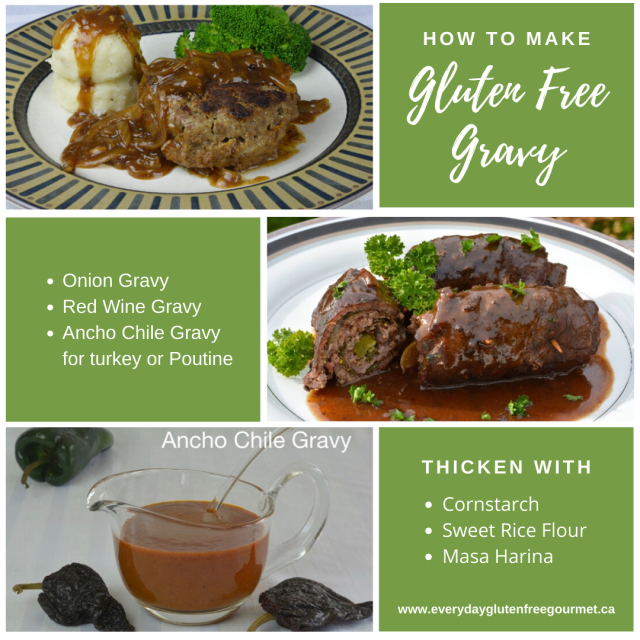 I've been thickening soups and stews with cornstarch for years. It's a common method in Asian cuisine and I do a lot of Asian cooking. Then I fell in love with the flavours of the American south-west and was introduced to masa harina. It is a special corn flour treated with lime that is used to make tamales, tortillas and many Mexican specialties.
My recipe for ancho chile gravy, thickened with masa harina, is part of my repertoire and appears in my Turkey Feast every Thanksgiving and Christmas.
Sweet Rice Flour and a Gluten Free Flour Blend
When I started to cook gluten free I learned that sweet rice flour had properties that made it a good option for thickening sauces and gravy. I use it to thicken Vanilla Cream for dessert but I don't have a gravy recipe using sweet rice flour. But there are more possibilities including tapioca starch and potato starch.
Other cooks replace wheat flour with a gluten free flour blend and thicken sauces using the same methods. This is a tricky option because there are so many different gluten free flour blends. The percentage of starch and the different properties of each flour in a blend all affect the final results. So every flour mix will not work but some will.
Below is a table I made to demonstrate the variety of combinations of flours and starches that people are using to cook gluten free.
To me that sounds like a lot of choice for gluten free cooks and there are many more options to explore.
A Roux vs A Slurry
Rich thick gravy, soups and stews can all be thicken with a roux or a slurry. I have recipes that use both of these methods.
A roux is a mix of flour (or cornstarch) and fat added at the start of cooking. Melt butter, or oil, then sprinkle flour on top and cook until the raw taste disappears. The liquid is added after the roux is made. This is how I make cheese sauce for macaroni and cheese using cornstarch.
A slurry is made by mixing equal parts of cornstarch and water. The slurry is then added to the dish near the end of the cooking time. I use this method most often and I add half of the slurry, assess the thickness of the gravy, then add more if needed to get the desired thickness.
This post may contain affiliate links. When you purchase using these links your cost is the same, but I receive a few cents for every dollar spent. I appreciate your support for this website.
Get The Tools
I have a gravy separator but I only use it when I'm making turkey dinner and a large amount of gravy. Regardless, it makes the job easier and I store it inside my turkey roaster above the fridge so it's easy to grab if I want it.
Whether you use a roux or a slurry, you have lots of options to accommodate any food restrictions and preferences to make lots of delicious gravy. Let me know in the comments below if you have any gravy making tips to share.
---
The Best Gluten Free Gravy Recipes