Bocconcini Cherry Tomato Skewers can be made year round but my favourite time to make these is in late summer. Tomatoes are falling off the vines in gardens, on patios and at farmers markets and are at their peak. I usually have a cherry tomato plant right beside my patio door and love catching a waft of that 'tomato-on-the-vine smell' as I come in and out. To me nothing says summer like that smell.
Bocconcini Cheese
Bocconcini is a ripe, fairly bland mozzarella cheese. It complements the juiciness of tomatoes and comes alive in this recipe with a sprinkling of salt. This is the time to use a specialty sea salt, Maldon sea salt is one of my favourites.
I see bocconcini at the grocery store in three sizes; large, cocktail and mini. The large balls are perfect for slicing to put on pizza or for making a composed salad. I use the cocktail size bocconcini balls for skewers or toothpicks. The minis are tiny and can be tossed in any salad.
PIN for later...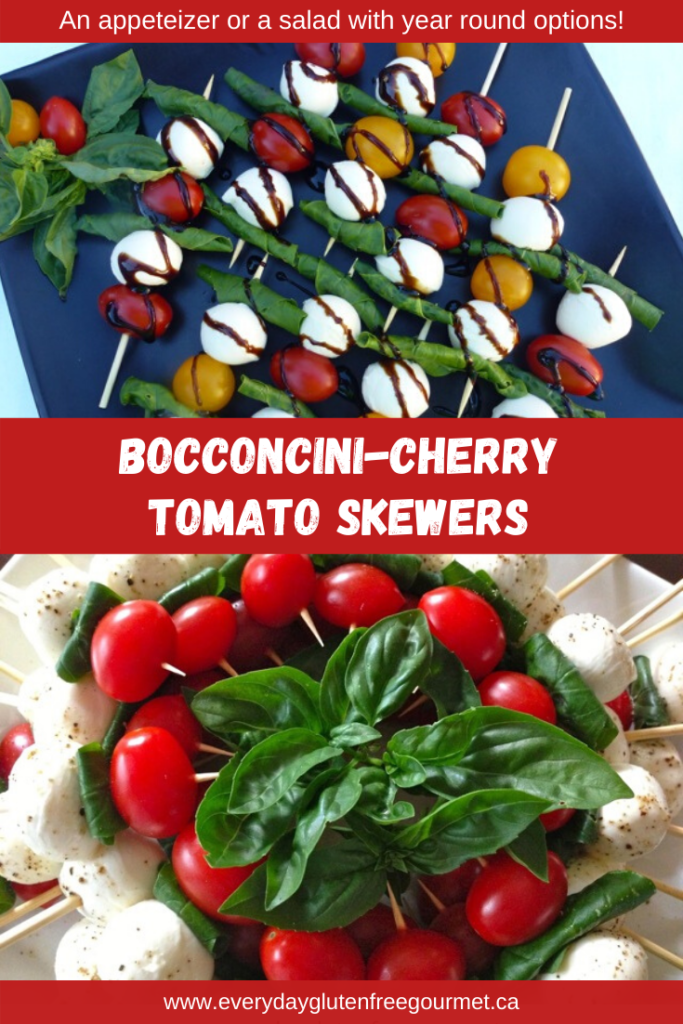 Variations for Bocconcini Cherry Tomato Skewers
Your imagination is the only limitation of how you can serve this delicious combination of flavours. Be sure to finish with the salt and the balsamic glaze but the assembly is entirely open for interpretation. Here are a few of my favourite ways.
Hors d'oeuvres - A pop-in-your-mouth presentation is perfect for large groups. Drizzle balsamic glaze on the bottom of a large platter. Assemble toothpicks starting with a small basil leaf, a cherry tomato and end with half a cocktail bocconcini. The cut side of the bocconcini will easily stand on the platter and guests can slide it through the balsamic glaze before popping it into their mouth.
Potluck Salad – Place sliced tomatoes around the outside edge of a round platter the fill the center with bocconcini balls. Garnish with fresh basil and drizzle with balsamic glaze or a

simple vinaigrette dressing

.
DIY – Sometimes DIY is what you need so just arrange the ingredients on a plate with a shot glass full of toothpicks and voila.
A meaty version – Wrap prosciutto around each cherry tomato then assemble as usual.
Tomato Bocconcini wreath with fresh basil - Over the Christmas season I like to make a nice presentation with every red and green food I can think of.
Is Balsamic Glaze Gluten Free?
Balsamic glaze has become popular in recent years and is a product that should be gluten free. However, there is an ingredient list on the bottle so it should be checked every time. To date all the brands I have checked are gluten free.
A good rule of thumb is to pay for the good stuff. To make less expensive products food companies add substitutes and this is when gluten-containing ingredients magically appear on labels where it makes no sense at all.
If you want to learn more check out this post on balsamic glaze vs balsamic vinegar.
Food Rules
In Michael Pollan's book Food Rules, rule #44 says 'Pay More, Eat Less'. That might be hard to do but buying good quality balsamic and olive oil is a great place to start. Be sure to savour every bite!
If you can't find balsamic glaze then make it from scratch by boiling balsamic vinegar until it is reduced to a glaze. Store it in a squeeze bottle and enjoy it drizzled on anywhere you like such as a Grilled Vegetable Pizza.
Let me know in the comments below how you like to serve your Bocconcini Cherry Tomato Skewers.
---
More Balsamic Recipes
Balsamic glaze adds to the impressive presentation for these Roasted Vegetable Stacks
These Balsamic Marinated Vegetables are a summer favourite.
Bocconcini Cherry Tomato Skewers
Bocconcini Cherry Tomato Skewers can be served on long skewers as a salad or on a toothpick for a pop-in-your-mouth hors' d'oeuvre. For a festive presentation I love making them into a wreath.
Ingredients
cocktail size bocconcini

red or yellow cherry or grape tomatoes (or a combination)

salt and freshly ground pepper to taste

balsamic glaze
Instructions
Thread a tomato, a bocconcini ball and a rolled-up basil leaf onto a skewer. Depending on the desired look you can repeat this for an appetizer size/salad. Alternatively you could make a smaller, pop-in-your-mouth size with a single combination of the three on a toothpick.

Arrange skewers on a tray.

Just before serving sprinkle with salt and freshly ground pepper, drizzle with balsamic glaze.