It isn't really balsamic glaze vs balsamic vinegar, I use them each in a slightly different way so I think you need both in your pantry. Once you know if you've got the real thing and where gluten may be hidden, then you're cooking!
No longer a specialty item, both the vinegar and the glaze are readily available. Yet cheap imitations exist and this is often where gluten sneaks in. We all know the fine print on packaging can be unclear, and even feel deceiving, so use your label reading skills to ensure you're buying what you want.
The glaze is made from the vinegar so we'll start with vinegar. Here's what you need to know to find authentic balsamic vinegar.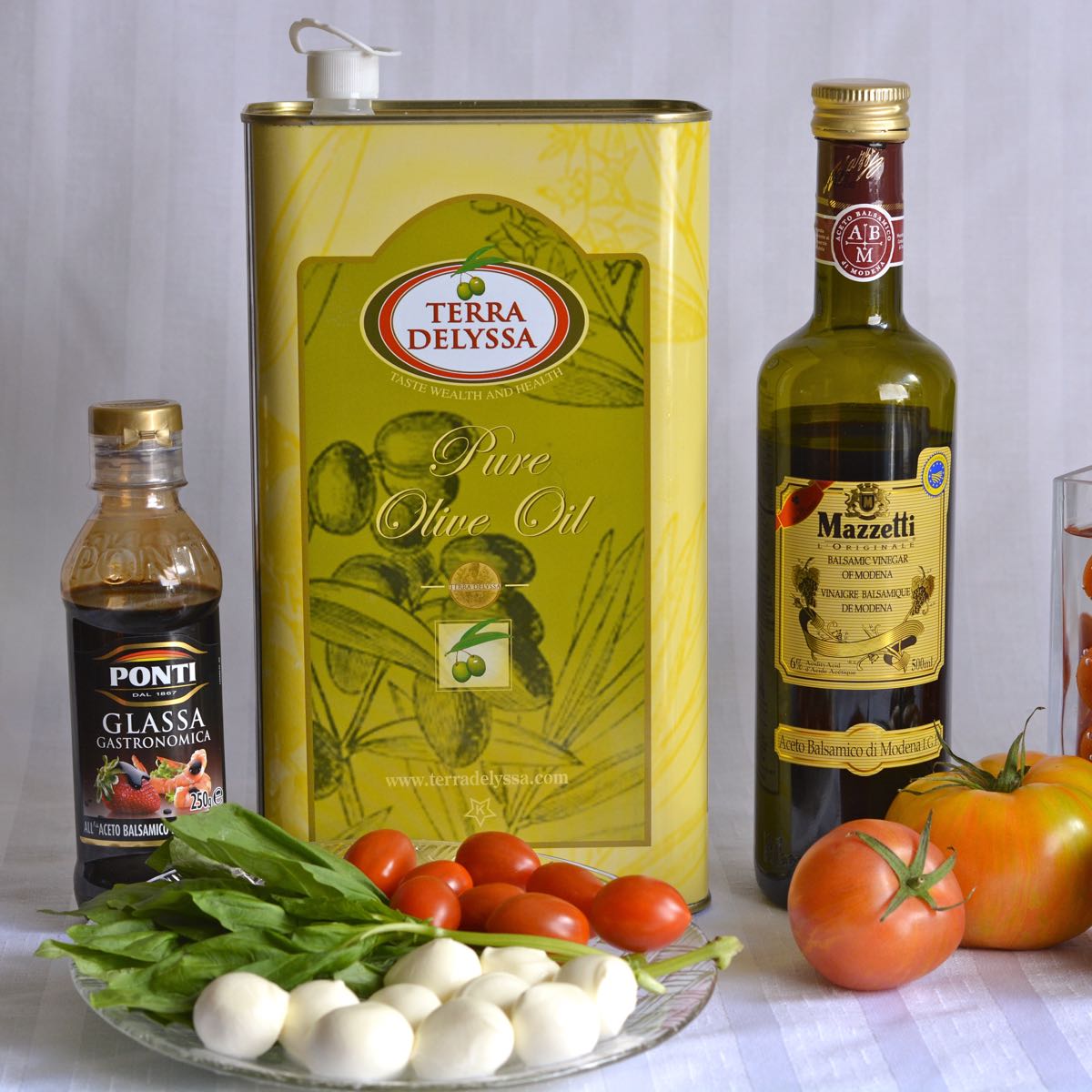 What is Balsamic Vinegar?
Traditional balsamic vinegar from Modena, Italy is labelled Aceto Balsamico Tradizionale with the D.O.P. stamp (Denominazione di Origine Protetta). Like real champagne there is a strict certification process that must be followed to carry this stamp.
Premium balsamic vinegar is made from whole pressed grapes and aged in wooden barrels for 12 to 25 years. It gets thicker and more concentrated as it ages so is classed by age. The grading system is as follows:
Affinato (fine), aged 12 years
Vecchio (old), aged 15-20 years
Extra vecchio (extra old), aged 20-25 years
You can tell Italians are serious about their balsamic vinegar and it's priced accordingly. There's always a range of prices but to some degree quality always matters.
For everyday use you probably want something more affordable and that's IGP balsamic vinegar. The I.G.P. stamp stands for Protected Geographical Indication ensuring this vinegar is from Modena. I buy mine at an Italian specialty store and there is a wide range of prices.
Label Reading Tips
Once you've been reading labels for awhile you aren't surprised to find a list of ingredients in the most straight forward product, including vinegar.
My best gluten free shopping tip is to buy the plain version of any product. Flavouring is often where wheat and artificial ingredients are introduced. If you want flavoured just scan the names on the bottles to get some ideas. Then do your own flavouring at home using real food.
If you want raspberry balsamic vinegar just pour balsamic over some fresh raspberries, let it sit for ten days and enjoy.
Beware of Artificial Balsamic Vinegar
Grocery store balsamic vinegar is often artificial. These commercial grade vinegars are wine vinegar with added sugar and artificial ingredients. I try to avoid them, especially anything labeled imitation or artificial.
I don't have an unlimited grocery budget but I want to cook with real food. The best way I can do that is to choose ingredients with the cleanest label possible.
How To Use Balsamic Vinegar
Now let's use that balsamic vinegar you've got!
Two of my absolute favourite uses are in the drizzle recipe that I put on pizza and in a marinade for grilled vegetables.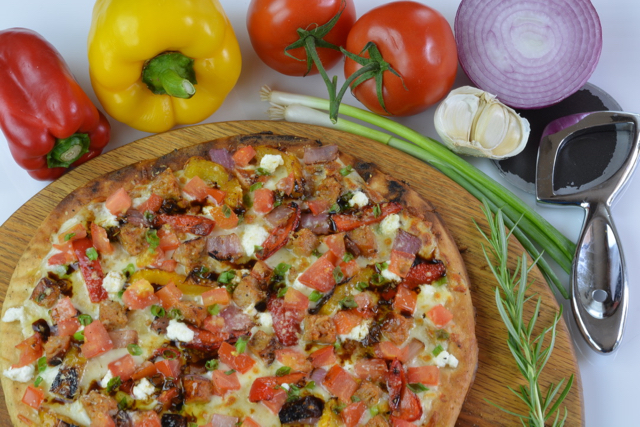 Oil and Vinegar Tasting Party
If this idea excites you then host a fun Tasting Night. Get the high end olive oil and balsamic, make focaccia bread from scratch or go all out with a fully loaded charcuterie board. If you plan your party right you just might end up with some of those fancy ingredients people bring.
I have an excellent selection at my local Italian specialty store but here are some products I found online.
PIN for later...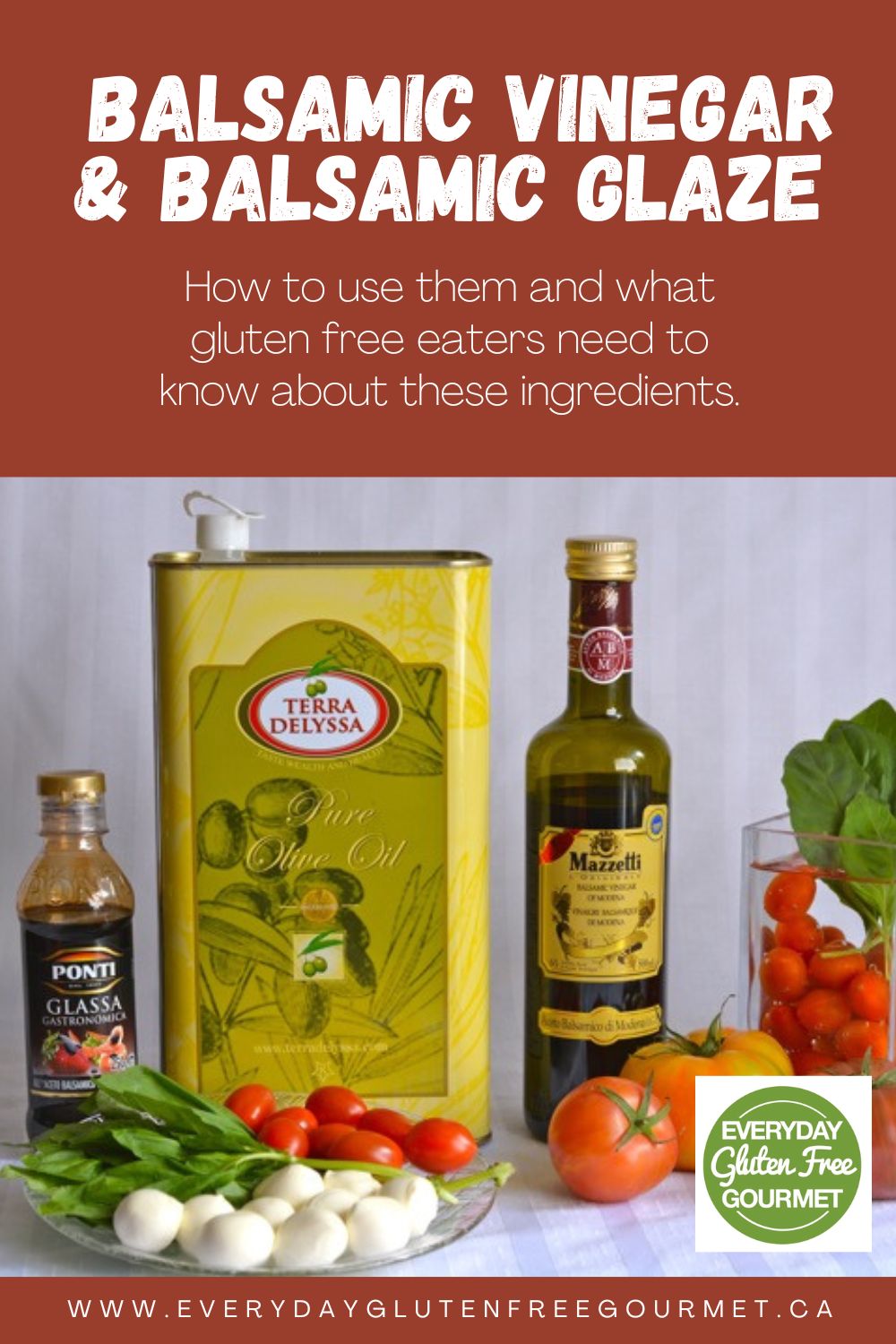 This post contains affiliate links. When you purchase using these links your cost is the same, but I receive a few cents for every dollar spent. I appreciate your support for this website.
What Is Balsamic Glaze
Balsamic glaze is an Italian condiment sometimes labelled glassa or crema. It's simply the vinegar reduced to a glaze but commercial brands do have an ingredient list.
The label on my bottle says gomma di xantano (you may have guessed that the English translation of this is xanthan gum).
Homemade Balsamic Glaze Recipe
I know someone is wondering, can I make balsamic glaze? The answer is yes!
Back in the day when I had to drive to six different stores looking for balsamic glaze, the default was always to make it. This is still a single ingredient solution because it is simply the vinegar reduced to a glaze. Here's the recipe.
Bring 1 cup of balsamic vinegar to a boil then simmer until reduced to ¼ cup. Cool. Store in a squeeze bottle.
How To Use Balsamic Glaze
There's nothing more to know about the glaze. You either buy it or make it, then dream up new ways to use it. Here are some of my favourites.
Drizzled over Bocconcini Cherry Tomato Skewers as an hors d'oeuvre, an appetizer, salad or right on the plate as a side dish.
Zig zagged across a quesadilla, pizza, maybe even a grilled cheese sandwich.
To garnish a plate like you see in the picture of vegetable stacks.
Squeezed over salad ingredients like tomato and avocado, with or without lettuce. I sometimes do this right into my plastic container for lunch. If I really wanted a salad dressing I'd splash some olive oil on too.
Dotted over a plate of pasta or any dish that could use a little pick-me-up, the same way you would use soy sauce on Asian food.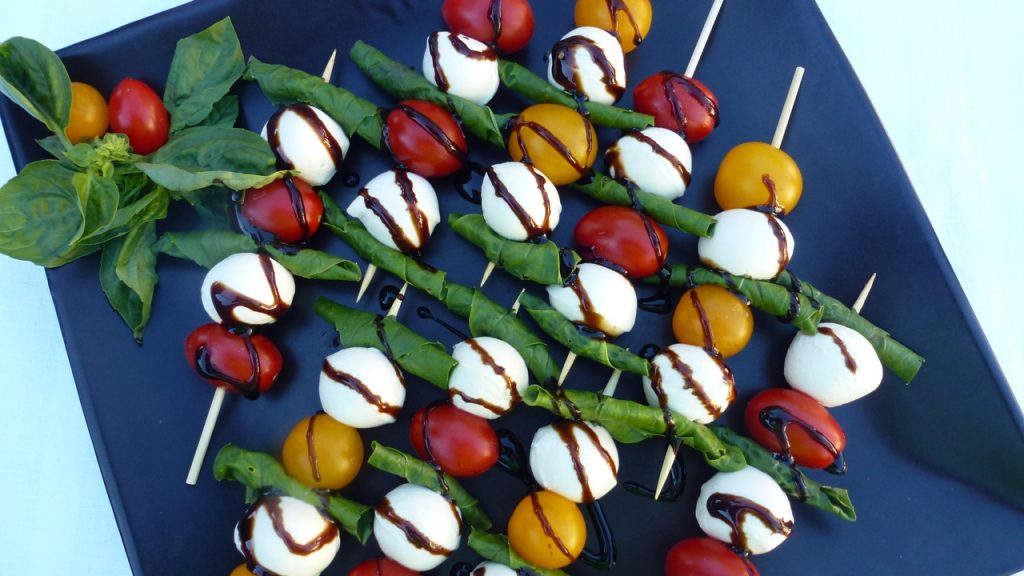 It isn't really balsamic glaze vs balsamic vinegar, it's more like "is this authentic balsamic?"
I hope you'll seek out a new bottle of vinegar and enjoy the real taste of balsamic. Once you have it in your kitchen you'll learn more ways to use it. I can't wait to hear your favourites.
Originally posted in 2016, updated April 2023.
---
__________________________________________________________________________
New here? Join our community and get your FREE resource, the tips I wish I knew when I started cooking gluten free.
Yes, I need 29 Tips For Cooking with Gluten Free Flour.
Still haven't mastered gluten free cooking? Check out our online Cooking Classes.
_________________________________________________________________________
More Gluten Free Ingredients
Check out these posts from the category INGREDIENTS to expand your pantry with the food you need to cook amazing dishes from around the world.