Balsamic Glaze vs Balsamic Vinegar, does your pantry include both? I think it should.
Balsamic is no longer considered a specialty item. Both balsamic vinegar and balsamic glaze are readily available to me. But the sad fact is that you may not actually be using balsamic vinegar at all.
PIN for later…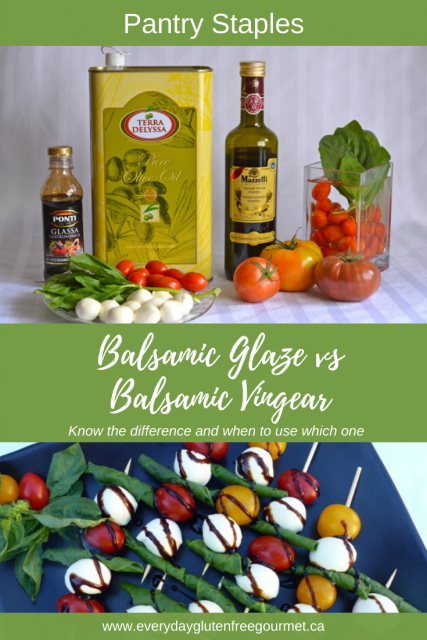 This post contains affiliate links. When you purchase using these links your cost is the same, but I receive a few cents for every dollar spent. I appreciate your support for this website.
What is Balsamic Vinegar?
Traditional balsamic vinegar from Modena, Italy is labelled Aceto Balsamico Tradizionale with the D.O.P. stamp ("Denominazione di Origine Protetta"). Like real champagne there is a strict certification process that must be followed to carry this stamp.
The real balsamic vinegar is made of whole pressed grapes and aged in wooden barrels for 12 – 25 years. It gets thicker and more concentrated as it ages so is classed by age. The grading is affinato (fine), aged 12 years, vecchio (old), aged 15-20 years; or extra vecchio (extra old), aged 20-25 years. Italians are serious about their balsamic vinegar.
So, does quality matter? Well, I think the answer is usually yes. Of course there is a range of prices so just decide how much you want to pay and enjoy what you purchase.
Affordable Balsamic Vinegar and Label Reading Tips
A more affordable choice is balsamic vinegar of Modena with the I.G.P. stamp (Protected Geographical Indication). That's what you see on the bottles in the main picture here. I bought it at an Italian specialty store.
Once you become a label-reader (as every gluten free shopper must be) you're not surprised to find ingredients in any seemingly straight forward product, even vinegar. The two bottles in this photo each have an ingredient list but they are both gluten free. 
I recommend buying anything from Italy and choosing plain balsamic vinegar. When gluten free products are flavoured it is common to see wheat become one of the ingredients. 
If you want to treat yourself try a high qualify brand of olive oil and balsamic vinegar for a Friday night tasting.
Artificial Balsamic Vinegar
Grocery store balsamic vinegar is most likely artificial. I avoid the ones labeled imitation or artificial. These commercial grade vinegars are often wine vinegar with added sugar and artificial ingredients.
How To Use Balsamic Vinegar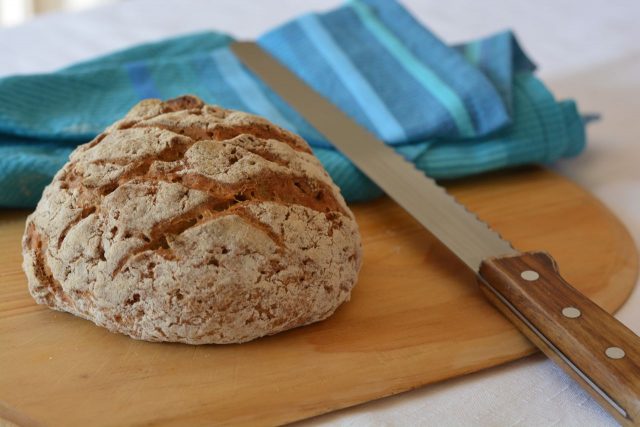 What Is Balsamic Glaze
Balsamic glaze is an Italian condiment sometimes labelled glassa or crema. 
Commercial brands are most often gluten free but they do have an ingredient list. The label on my bottle says gomma di xantano (you may have guessed that the English translation of this is xanthan gum). 
Homemade Balsamic Glaze Recipe
Years ago I'd drive to six different stores to find balsamic glaze rather than make it myself. Now it's much easier to find but I know some of my readers prefer to buy single ingredients and make everything from them.
Homemade balsamic glaze is easy enough to make and here is the recipe.
Bring 1 cup of balsamic vinegar to a boil then simmer it until it is reduced to ¼ cup. 
How To Use Balsamic Glaze
Here are some of my favourite ways to use balsamic glaze: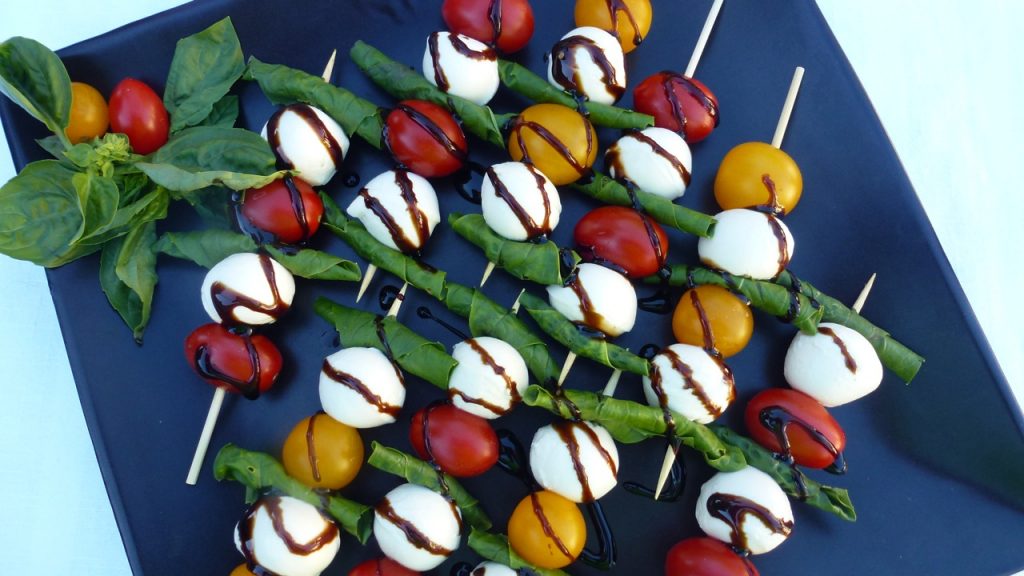 It isn't really balsamic glaze vs balsamic vinegar, I enjoy both in different ways.
To really appreciate these ingredients I suggest you pay a little more for something from Italy. Enjoy the unique taste of balsamic on fresh tomatoes in summer and pizza or pasta dishes in winter.
Once you have it in your kitchen you'll learn more ways to use it the rest of the year.
Let me know how your favourite ways to use it in the comments below.
---
More Ingredients for a Gluten Free Lifestyle
Check out these blog posts and expand your pantry with all the ingredients you want to cook amazing dishes from around the world.