Chorizo Stuffed Bacon-Wrapped Dates are always a winning appetizer. They fall into the popular and much loved category of bacon wrapped anything. Pile these little morsels on a plate and they will be devoured with pleasure.
Stuffing dates with a bit of chorizo sausage and then wrapping each one with bacon can't really be called easy. The process is simple enough but it's a bit tedious. Still some occasions call for appetizers and these are hands down better than any appetizer out of a box.
Smart cooks make several dozen at a time and tuck them in the freezer for a last minutes appetizer. They might even do it with a friend over a glass of wine.
Depending on the crowd you might even have a DIY Tapas Night. Start the party off by having everyone help assemble the tapas.
Best Tapas
Tapas, sometimes referred to as the little dishes of Spain, come in a variety of types from simple to complex. These are the best tapas dishes in my kitchen.
Gluten Free Chorizo Sausage
Chorizo is a spicy Spanish sausage that can be purchased fresh or cured. This recipe uses bits of fresh, raw sausage stuffed inside a date. In western Canada we are fortunate to have a wide variety of gluten free sausage from Spolumbo's, and that includes chorizo. I suspect you can find gluten free chorizo in your area if you look hard enough and I'd say it's definitely worth the effort.
Whole Pitted Dates vs Baking Dates
I like the whole pitted dates found in plastic tubs in the baking section. They seem to hold their shape better than the dates sold in resealable bags. Get ready for the holiday season by putting a package of dates in your pantry, just seeing them there might inspire you to follow through and make this recipe.
Food Safety Tip
Work smart by taking out all the dates and toothpicks you will need to make 48 of these appetizers. Have a plate with all the chorizo pieces on it so once you start handling the raw sausage and bacon you don't have to touch anything else.
Let me know in the comments below if tapas are new for you or if you have a favourite.
Originally posted in 2016, updated December 2022.
---
__________________________________________________________________________
New here? Join our community and get your FREE resource, the tips I wish I knew when I started cooking gluten free.
Yes, I need 29 Tips For Cooking with Gluten Free Flour.
Still haven't mastered gluten free cooking? Check out our online Cooking Classes.
_________________________________________________________________________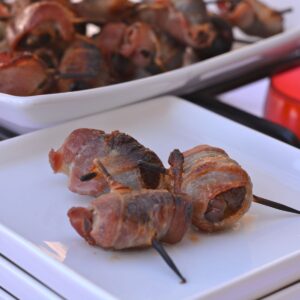 Chorizo Stuffed Bacon-Wrapped Dates
Chorizo Stuffed Bacon Wrapped Dates are a Spanish tapa and they fall into the popular and much loved category of bacon wrapped anything.
Ingredients
48

whole, pitted dates

1

raw chorizo sausage

(about 5 oz)

16

bacon slices
Instructions
Choose dates that have held their shape. Pull each whole date open along the line where it was cut and set it on a cutting board. Some will be whole and some will be in 2 pieces.

Remove the casing from the sausage. Pinch off tiny pieces of chorizo small enough to fill a date.

Working with at least 12 dates at a time, fill each date with chorizo and push the date together. Set aside on a plate. Continue the process until all the dates are filled.

Before cutting ALL the bacon strips into thirds check the length by cutting once piece. Make sure it wraps around the date with enough overlap to secure a toothpick. Cut remaining bacon.

Set out about 50 toothpicks.

Wrap bacon around each date and secure with a toothpick. Makes about 48.

Can be prepared a day in advance or frozen.
COOKING
Turn on broiler. Line a large baking pan with foil and put a baking rack on it. (Parchment tends to burn so I prefer foil.)

Place bacon wrapped dates on rack and cook under broiler for 4-5 minutes. Turn when browned and continue cooking for another 3-5 minutes. Remove the first ones to brown if needed letting the others finish cooking.

Serve hot. If cooked ahead of time reheat in 350°F oven for 5 minutes.