Shrimp in Garlic Sauce is an easy tapa recipe that we've been making since our trip to Spain decades ago. So when my husband got yet another text from a friend looking for this specific recipe we knew it was time to get it posted. It's his signature dish for The Guys Weekend away and it's a winner so people are always looking for the recipe.
You can enjoy our version of Shrimp in Garlic sauce as a tapa, an appetizer or a main course. We do all three.
What Are Tapas?
Tapas are bar food. Sometimes called "the little dishes of Spain" they are part of Spanish culture and must be experienced to be understood.
A tapa can be as simple as an Almond Stuffed Olive, elaborate like deep-fried Ssuffed mussels or saucy like these Shrimp in Garlic Sauce. They can be quick to prepare or cooked long and slow like a stew but they're all delicious.
Are Spanish Tapas Gluten Free?
Many tapas dishes are naturally gluten free and if they're not, we can make them gluten free. Whether you need flaky pastry, a white sauce or breadcrumbs, all those gluten filled recipes from your past can be made at home gluten free.
Memories of Tapas in Spain
We toured around Spain and ate tapas everywhere but it was in San Sebastian where we walked the streets in the old town and truly felt the tapas culture.
At the end of that trip we had our luggage stolen with all our film (back in the day!) so our memories are fuzzy. Here are a few of those memories and the reason we wrote the name of our dish on the table for this photo.
Walking into bar with a thick layer of tickets (bus tickets or lottery tickets, I'm not sure) on the floor under the counter.
Baby carriages parked outside on the street and families with young children running around inside. (Not allowed in Canada.)
Olives! We tasted olives every day and if you think you don't like olives a few weeks in Spain is the cure.
Banderillas! Some bars served all their tapas on toothpicks and would add up your bar tab by counting the number of used toothpicks on your table.
The bill in chalk. Some bars wrote the name of each tapa on the bar counter as they served it. When we were done eating they added up the bill right on the bar. Now that's a green idea!
This last memory of writing on the bar inspired my husband to do our version of this. Using a wine writer I wrote the name of our tapa right on the glass tabletop. There was no total for the night but it brought back memories of our time in Spain.
PIN for later...
This post contains affiliate links. When you purchase using these links your cost is the same, but I receive a few cents for every dollar spent. I appreciate your support for this website.
Best Gluten Free Tapas Recipes
These are my favourite tapas and they're all naturally gluten free.
Get The Tools
You need nothing more than a sauté pan to make Shrimp in Garlic Sauce. I have a decades old cooper pan that I automatically pull out to make this dish.
Cooper frying pan, also called a sauté pan this is the real deal. They heat evenly and are a long term investment.
Wine glass writers are fun for writing on wine glasses, mirrors and glass tabletops.
Well, are you inspired to plan a tapa night? It can be a fun evening with friends, especially if you make the assembly part of the party. That's how you entertain like a celiac!
Let me know if you've ever had a Tapas Party or were inspired to plan one.
---
__________________________________________________________________________________________
New here? Join our community and get your FREE resource, the tips I wish I knew when I started cooking gluten free.
Yes, I need 29 Tips For Cooking with Gluten Free Flour.
Still haven't mastered gluten free cooking? Check out our online Cooking Classes.
More Recipes for Tapas Night!
Click on the text on the image(s) to go to the recipe/blog post.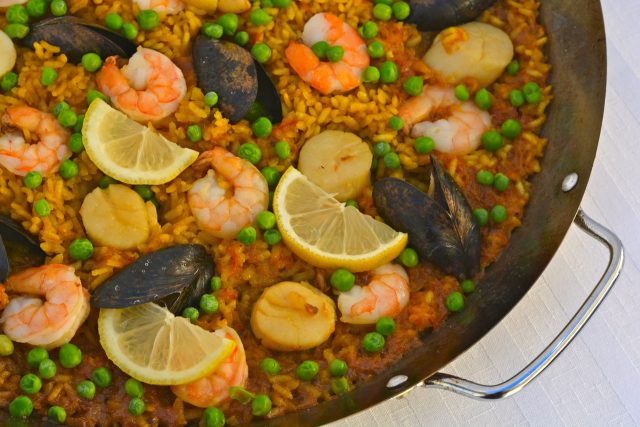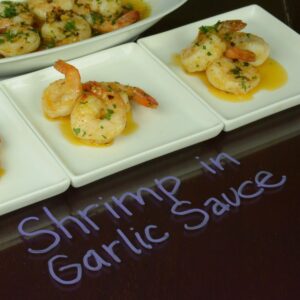 Shrimp in Garlic Sauce
This is an easy tapa recipe, one of those little dishes from Spain, that can also be served as a main course.
Ingredients
½

lb

raw shrimp, peeled

(not too big, 26-30 or 31-40 count)

coarse salt

8

tablespoon

olive oil

3

large garlic cloves, coarsely chopped

1

dried red chili pepper, stem and seeds removed

(or ½ teaspoon dried chili flakes)

½

teaspoon

paprika

(Spanish if you have it)

1

tablespoon

fresh parsley, minced
Instructions
Line a plate with paper towel and lay shrimp on it. Pat dry then turn over. Lightly sprinkle both sides of shrimp with salt and let sit at room temperature for 10 minutes.

Heat oil in a sauté pan on medium-high.

Add garlic and chili pepper, sauté just until the garlic starts to turn golden.

Add the shrimp and cook for 1 minute. Stir to turn the shrimp and cook 1 more minute or just until the shrimp are done.

Sprinkle paprika and parsley on top.

Stir and immediately pour into a serving dish or individual dishes.

Serve with gluten free bread for dipping if desired.
Notes
Pantry Tip - I keep raw, unpeeled shrimp in my freezer all the time so I can make dishes like this one whenever I want.