Who knew dairy free Coconut Ice Cream could taste this amazing! Add juicy mango pieces and salted peanuts and you will be transported to Thailand with the first bite.
If you're new to gluten free, or have no problem with dairy, then you might not have a collection of dairy free recipes.
Problems digesting dairy is a topic on it's own but it is important in the gluten free community. Some people need to avoid dairy completely, some can eat small amounts and others have no problem.
No matter what group you fit into you can create a list of delicious dairy free recipes and this is one dessert to put on that list.
Young Coconuts and Coconut Water
Young green coconuts are not fully ripened like a mature, hairy brown skinned coconut. They have less meat inside but are loved for their refreshing coconut water that's high in nutritional value.
The ones I buy usually contain one to two cups of coconut water. Even when I demonstrate opening a young coconut in a cooking class I have a can of coconut water as a back up.
In places where coconuts grow you often see green coconuts served with the top removed and a straw sticking out of them. Young coconuts shipped around the world are shaved down so they are white instead of green. This apparently makes them easier to open but there's definitely a trick to it.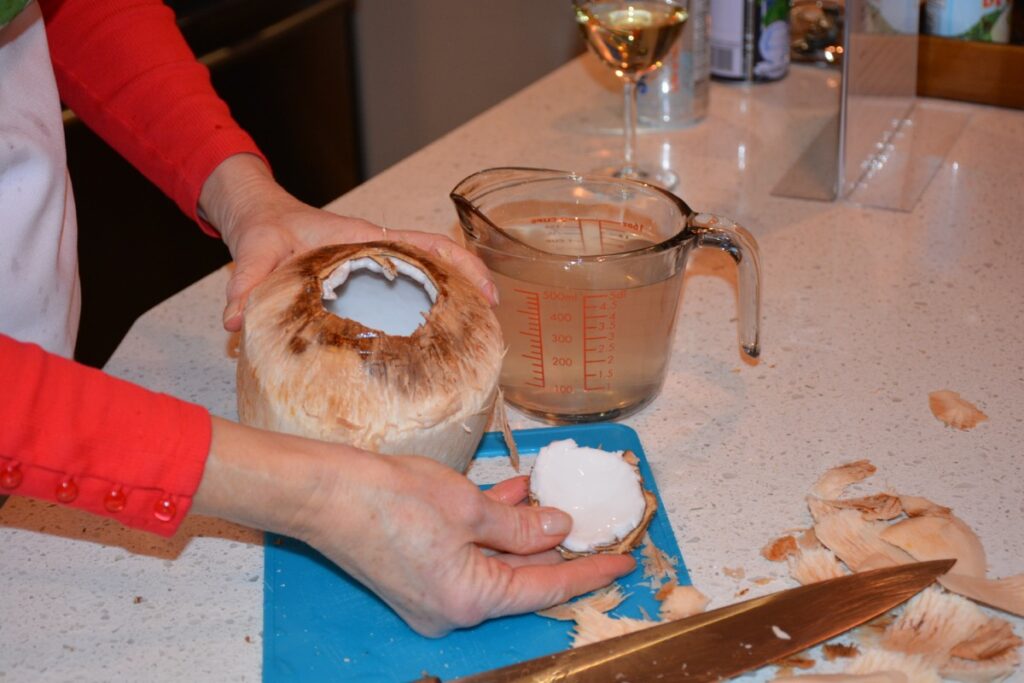 If you're comfortable using a chef's knife consider opening a young coconut a fun challenge plus you'll get to taste the coconut meat. If you're not ready for that you can definitely make this recipe with canned coconut water.
Ingredients for Dairy Free Coconut Ice Cream
I'm talking about canned coconut water and canned coconut milk used for cooking and baking. There are all kinds of coconut beverages on the market but gluten free eaters are good label readers, right? Don't mistakenly buy a sweetened or flavoured drink.
Canned Coconut Milk
Coconut milk comes from mature brown coconuts and lucky for everyday cooks like me it's easy to buy in cans. It is made by pressing the pulp of these coconuts to extract the thick milk.
Much like cow's milk, coconut milk is labelled with the fat content. The higher the fat the more thick and creamy the milk will be.
I wrote this blog post, Gluten Free Coconut Milk, where I go into detail about the percentages of fat and reading labels. It includes recipe links for soups and curries, plus tips on how to use coconut milk as a dairy alternative to whipping cream.
How To Buy and Use Palm Sugar
Palm Sugar comes from the sap of a few different varieties of palm tree including a date palm. It's not exactly the same as coconut sugar (also called coconut palm sugar) which is made from a coconut palm.
Palm sugar has a light molasses taste and is sold as light brown coloured, rock-like disks in clear packages. It's available at Asian supermarkets and will keep in your cupboard indefinitely.
I've only made this recipe using palm sugar but it makes sense to me that you could substitute it with coconut sugar or brown sugar. If you do let me know how you like it.
Palm sugar easily melts on the stove as the coconut milk heats up so there's no need to try and break or pound the disks into smaller pieces.
For other uses palm sugar disks can be soaked in cold water for 10-15 minutes, then stirred and use in recipes calling for palm sugar. I can't remember the last time I did this but it's always smart to have more than one recipe for every ingredient in your pantry.
PIN for later...
Do I Need an Ice Cream Maker
No, you don't really need an ice cream maker to make ice cream at home but it's the easiest way to get that creamy, smooth texture.
My Donvier ice cream maker is more than twenty-five years old. My sister and I each bought one at the same time so when I have a crowd I can borrow her machine and double the recipe.
Making ice cream is a fun, year round dinner activity. A simple machine with no moving parts should last for decades. If you've got ice cream lovers in your family I'd say it's a great investment.
Best Ice Cream Tip Ever
The freezer insert lives in my freezer. It's wrapped in a clear plastic bag and is ready to use whenever I want to make ice cream. The morning after a party I wash it and put it right back in it's place.
How To Serve Coconut Ice Cream & Dinner Club Ideas
Coconut is tropical so this ice cream would be perfect to end any dinner with hints of the tropics. I love planning menus around past and future vacation destinations. Buy some little paper umbrellas, find young and mature coconuts and turn up the music to match the occasion.
My gourmet Dinner Club has been meeting for so long we've tried every theme and format for dinner you could imagine. This recipe goes with a Thai dinner and you won't believe it until you taste it. The combination of this ice cream with juicy mango and salted peanuts is magical!
If you're excited about getting together with friends here's a Thai Dinner Club menu to get you started. I think searching for and trying new ingredients is all part of the fun. You get to learn and share with friends and are always rewarded with delicious food.
Let me know in the comments below if you tried this ice cream and how it worked.
Originally published 2015, updated February 2023.
---
__________________________________________________________________________________________
New here? Join our community and get your FREE resource, the tips I wish I knew when I started cooking gluten free.
Yes, I need 29 Tips For Cooking with Gluten Free Flour.
Still haven't mastered gluten free cooking? Check out our online Cooking Classes.
More Ice Cream Recipes & A Travel Tale from Thailand
Coconut Ice Cream (Dairy Free)
Perfect to end any meal with a tropical flare, this dessert is creamy and refreshing. Serve with any tropical fruit on top but for a Thai experience you must top with juicy mango and salted peanuts. You will be transported to Thailand in the first bite.
Ingredients
1½

cups

canned coconut milk

100

grams

palm sugar*

(2 disks)

3½

tablespoon

white sugar

⅛

teaspoon

salt

1

cup

coconut water

canned or fresh from a young coconut**
OPTIONAL
¼

cup

finely chopped coconut meat from young coconut**

1

tablespoon

vodka***
GARNISH
½

cup

roasted, salted peanuts

1

mango, diced
Instructions
In a medium saucepan combine coconut milk, palm sugar, white sugar and salt. Heat over medium heat stirring until sugar is dissolved.

Remove from heat and add coconut water and vodka (if using). Chill several hours or overnight in the fridge.

Add chopped coconut meat (if using). Pour into ice cream maker and turn according to directions. Transfer soft ice cream to air tight container and store in freezer until ready to serve.

Scoop ice cream into individual dishes. Sprinkle with mango and peanuts. Enjoy!
Notes
Beware of coconut beverages with added sweeteners and flavouring. Read your labels and buy plain coconut water and coconut milk for cooking.
*Palm sugar can be found in Asian stores sold in packages with several hard, brownish coloured disks. 
**Young coconuts yield 1 to 2 cups of coconut water. Even if I'm using water from the coconut I buy a can of coconut water in case an accident results in not having enough for the recipe. Canned coconut water is fine but when you're up for a culinary adventure buy a young coconut, watch some YouTube videos and crack it open.
***Vodka doesn't affect the taste but helps prevent the ice cream from freezing so hard you can't scoop it.