Do you have gluten free coconut milk in your pantry? It's a must for anyone who wants to be more adventurous in the kitchen and those who must avoid or minimize dairy in their diet.
Traditionally thick coconut milk and coconut cream are used for desserts and rich sauces while thin coconut milk is preferred for soups and general cooking. I found so much variation on the labels of the brands I checked that my only recommendation is read the label.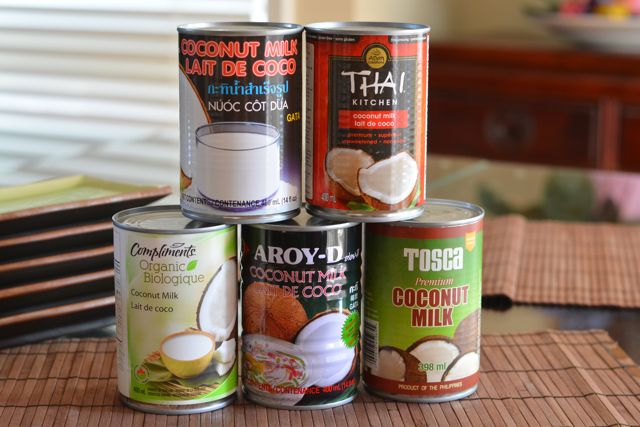 Understanding Canned Coconut Milk Labels
Coconut milk is naturally gluten free but tThe first rule of a strict gluten free diet is read the label every time. We all get caught up buying things that are labeled certified gluten free but the world of food manufacturing is full of surprises.
The cans I'm used to buying list water and a percentage of coconut extract on the ingredient label, with the percentage varying from 24% to 70%. All food products must have an ingredient list so take a look and see what you learn. Some of the brands I looked at listed coconut milk (with no percentage of coconut extract) while others contained added emulsifiers and stabilizers.
Manufacturers also add information on the packaging like 'lite' or 'for dessert' that can be helpful or confusing. Some brands have the exact same ingredient label with different wording on the rest of the can. One brand even changed the name from coconut milk to coconut cream and printed 'for dessert' on the can. This is another reminder to read the ingredient label and not only the packaging of everything you buy so you know what you're getting.
PIN for later...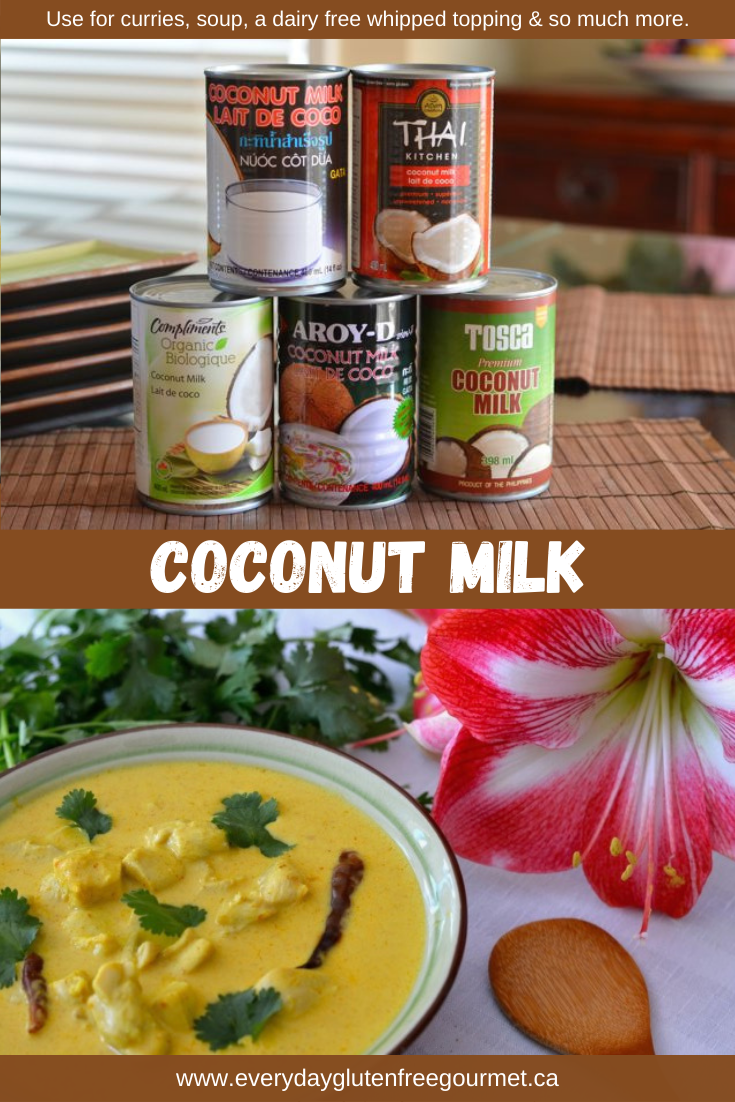 This post contains affiliate links. When you purchase using these links your cost is the same, but I receive a few cents for every dollar spent. I appreciate your support for this website.
Gluten Free Coconut Milk vs Coconut Water
Coconut milk comes from a mature, brown coconut and is made from grated and squeezed coconut meat. For thin coconut milk the grated coconut is then soaked in water and squeezed a second time.
When you open a can of coconut it is separated, liquid on the bottom and solid on the top. Shake the can vigorously before opening to avoid the mess you'll have if you need to push a whisk through the solid into the liquid.
Coconut water can be bought in cans or buy a young Thai coconut. Cracking it open can be a fun kitchen activity but watch a few videos before you start. You'll get fresh coconut water plus coconut meat. I do this at a cooking class to make dairy free Coconut Ice Cream. If you like drama in the kitchen give it a try!
Whipping Cream Substitute
If you need to avoid or minimize dairy, or if you have a vegan friend, this is for you. Don't worry about the coconut taste, it whips up like whipping cream and doesn't taste like coconut. Try it and you'll see.
To whip coconut milk it must have a fat content of 60% or higher and it need to be cold. Store cans in the fridge to be ready for this.
The process is simple but don't make the mistake of shaking the can! You want the solid part that has separated and is at the top of the can. Open the cold can of coconut milk and scoop the thick coconut cream into a bowl. Beat it in an electric mixer on high speed for a few minutes just like you would beat whipping cream. Sweeten if desired.
Drink the leftover coconut water in the bottom of the can or use it to make a smoothie.
Storing Coconut Milk
Coconut milk only keeps for a few days so you've got to decide; use it or freeze it. I like to use it up making coconut rice or soup. Simply replace some of the water or stock in your recipe with the amount of coconut milk you have. It also freezes well in a container or in ice cube trays to be used in tropical drinks. Whatever you do use it up fast.
Stocking a Gluten Free Pantry
The cans of coconut milk I buy show a date produced and an expiry date. It is generally good for three years so there's no reason not to keep several cans in your pantry. No one wants to run to the store when you suddenly get the idea to make curry. Plus you'll look like a genius when you pull off an amazing Thai curry with no advance planning.
Asian grocery stores often sell the same coconut milk for less than you'd pay at a regular grocery store. I've got a favourite Asian store near me where I buy coconut milk but here are some brands I found online.
Below are some of my favourite recipes using coconut milk. Let me know in the comments below what you made.
Originally posted June 2016, revised February 2021.
---
Recipes Using Coconut Milk
Click on the text on the image(s) to go to the recipe/blog post.