This Dinner Club idea is a gluten free Thai menu featuring the amazing flavours this cuisine has to offer. Whether you've just learning how to make Thai food or you want to entertain, this post is full of Thai dishes to keep you busy for a whole year.
If you've ever wondered, is Thai food gluten free, the answer is yes. Lots of it! With so many naturally gluten free and dairy free recipes, I often say Thai food is a gift to the gluten free community.
I've put together two menus featuring Thai specialties that may or may not be familiar to you. Sometimes you see a full menu you immediately like so you get to skip the research step. When you're more familiar with cooking Thai food you might want to switch a few dishes to create the exact dinner you're excited to make.
To make the mix and match step easier I've included a list of more recipes to choose from.
Essential Thai Ingredients
Thai food is a delicate balance of sweet and sour with the hot and the salty. Dishes are typically all served together and complement each other in a harmonious layering of flavour upon flavour. Each person can test their palate by combining the dishes and condiments to suit their own taste buds...in every bite.
Pungent fish sauce, used in almost every dish, is essential so I've got a vegan fish sauce substitute for anyone who needs it. I guarantee you can make all the gluten free Thai food you want and no one will know the difference.
Tantalizing Thai curries showcase the subtle blends of cilantro, chiles, lemongrass, galangal, ginger and lime. Coconut milk is common in curries but also used in every type of recipe you can think of. Thai basil and tamarind also create unique and interesting dishes.
You don't need all of these ingredients to get started but if you want to know more check out these two posts:
Two Gluten Free Thai Menu Ideas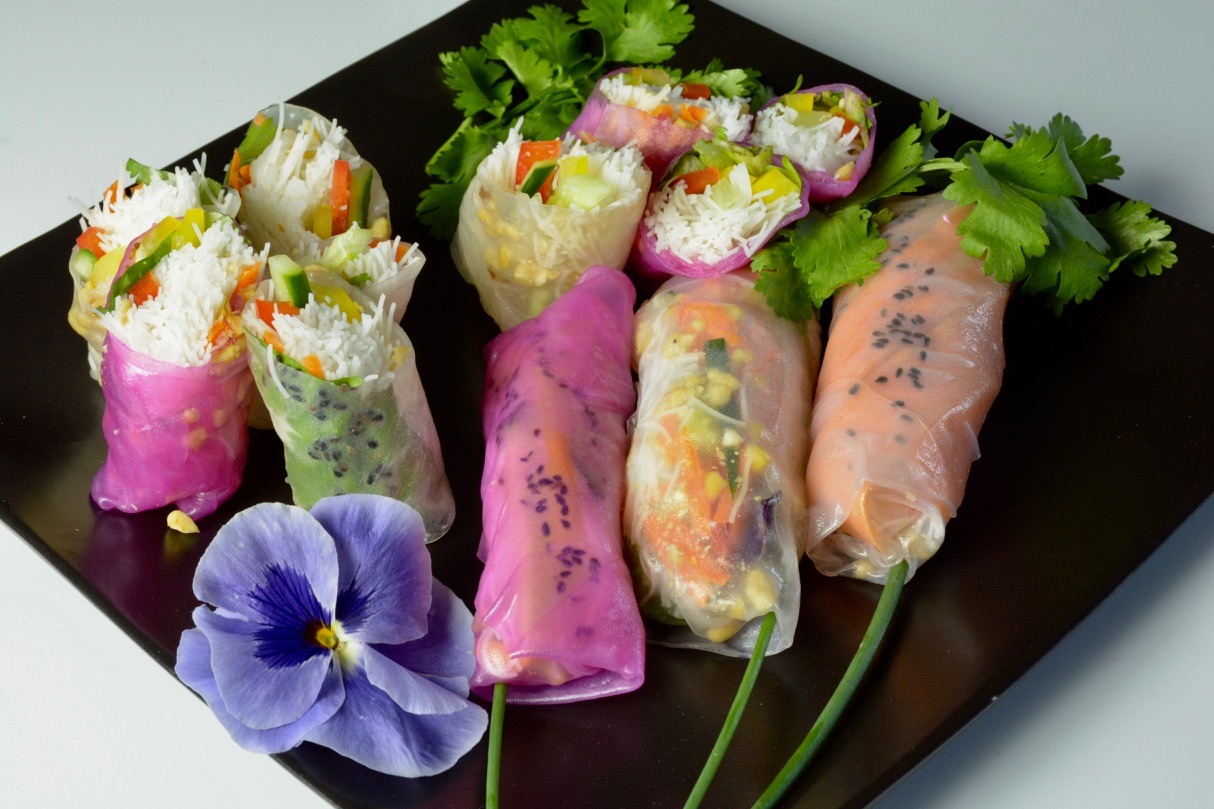 Make one of these menus or mix and match to create your next culinary adventure into Thai cooking.
Gan gin gan yu – as you eat, so you are.

Thai saying
This post contains affiliate links. When you purchase using these links your cost is the same, but I receive a few cents for every dollar spent. I appreciate your support for this website.
Dinner with Friends vs Dinner Club
These menus don't require a Dinner Club, I'm simply suggesting that you make up your mind to start one. It's such a fun way to try new cuisines, enjoy safe gluten free dinners, spend time with friends and challenge your culinary skills.
If you're not ready to start a Dinner Club yet just plan a nice dinner. When you find the right combination of people sitting around the table that's when you throw out the Dinner Club idea.
Someone might be excited to pair the wines and another may be curious about finding new ingredients. Perhaps one person can imagine the decor and the music. As long as everyone is up for a culinary adventure you can create a lifetime of memorable experiences, one dinner at a time.
Like buying seasons tickets or hosting an annual event, saying you'll start a Dinner Club is the first step. Check out this post for more ideas on different formats; How To Start a Gluten Free Dinner Club.
More Recipes to Create Your Own Thai Menu
Rather than cooking large quantities for a big crowd Thai cooks simply add more dishes to their menu. Here are more to choose from.
I'd love to hear in the comments below anything about your Thai cooking adventures or your favourite gluten free Thai food.
Originally posted in 2016, updated in April 2023.
---
__________________________________________________________________________
New here? Join our community and get your FREE resource, the tips I wish I knew when I started cooking gluten free.
Yes, I need 29 Tips For Cooking with Gluten Free Flour.
Still haven't mastered gluten free cooking? Check out our online Cooking Classes.
_________________________________________________________________________
A Travel Tale - Thailand
From time to time I write a travel post for my friend Sue over at Travel Tales of Life. This post titled Thai Red Shrimp Curry is about our trip to Thailand many years ago. Sue and I would love to hear your travel tale from Thailand if you have one to share.
---
More Dinner Club Menus