Tamarind concentrate vs tamarind paste, is one better than the other? Here's what I think.
What Is Tamarind?
Tamarind is the pod of the tamarind tree and it contains seeds that are covered by a fleshy pulp. It adds a unique fruity sourness to many dishes and can be found in Asian and Indian specialty shops. Tamarind concentrate is a thick dark paste sold in small plastic tubs. Tamarind paste, sometimes called pulp, is sold as a pliable block wrapped in plastic. Both will keep at room temperature for more than a year.
How to Use Tamarind Concentrate
Tamarind concentrate is definitely easier to use. Simply reconstitute the thick paste with water. Add 2 parts water to 1 part concentrate and stir until combined. Measure and use in any recipe calling for tamarind paste. If your recipe calls for 3 tablespoons of tamarind paste, mix 1 tablespoon of tamarind concentrate and 2 tablespoons of water.
How to Use Tamarind Paste
Make tamarind paste using equal amounts of boiling water and tamarind pulp from the pliable block. Soak in water for 10-15 minutes then stir with a fork until it is a uniform consistency. Pour the mixture into a strainer pressing on the solids to extract the juice and pulp. Discard the seeds and fibre. This is the paste you will measure to use in any recipe calling for tamarind.
This process can be done with each use or you can prepare the entire package using this method and freeze it in small, usable amounts. Some people use ice cube trays to do this.
If that sounds tedious then go for the tamarind concentrate. I'm completely happy with the results I get using tamarind concentrate for everyday cooking and even when I'm preparing a fancy dinner for friends.
PIN for later...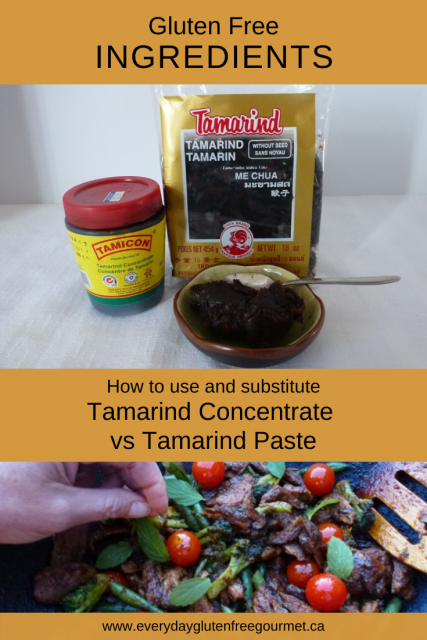 This post contains affiliate links. When you purchase using these links your cost is the same, but I receive a few cents for every dollar spent. I appreciate your support for this website.
Tamarind Concentrate vs Tamarind Paste on YouTube
In this video I show you how I prepare, use and substitute both forms of tamarind for everyday cooking.
Should Worcestershire Sauce Have Tamarind
In my recipe for homemade gluten free Worcestershire sauce I explain that I've known for a very long time tamarind is one of the ingredients in brand name Worcestershire Sauce. However, when I first needed a gluten free version of Worcestershire I did some research and came up with a recipe that doesn't use tamarind.
At the time I thought readers who don't keep tamarind in their kitchen would be happy with that recipe so I left the recipe as is and added it as an optional ingredient.
If you are (or want to be) a Worcestershire Sauce snob, then you can experiment and perfect this recipe to your taste. I'm not a super taster, I'm just an everyday cook who loves food from around the world. All of it!
It's possible that I could detect the subtle difference in a side-by-side tasting but I'm not overly confident about that. More importantly, I'd rather be doing a side-by-side tasting of gluten free baked goods or maybe two different versions of peanut sauce. (I love peanut sauce, this is my all time favourite recipe for peanut sauce with kecap manis.)
If you want to do a side-by-side tasting of this recipe with and without tamarind I'd love to hear what you think.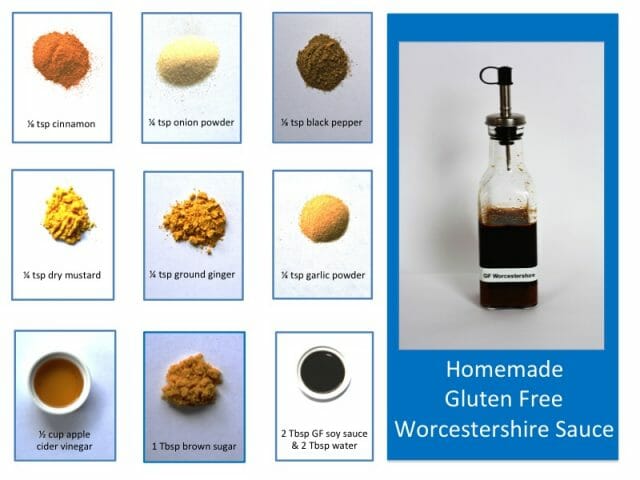 Whether you buy tamarind concentrate or tamarind paste make it part of your Asian pantry. To see what else I keep in my pantry check out this post, Gluten Free Asian Pantry.
I'd love to hear in the comments below what you make with tamarind and if you made this recipe or tweaked it to your satisfaction.
---
__________________________________________________________________________________________
New here? Join our community and get your FREE resource, the tips I wish I knew when I started cooking gluten free.
Yes, I need 29 Tips For Cooking with Gluten Free Flour.
Still haven't mastered gluten free cooking? Check out our online Cooking Classes.
Recipes Using Tamarind
Click on the text on the image(s) to go to the recipe/blog post.