This easy Crab Apple Jelly Glazed Chicken is a perfect summer or fall dish. My mom has been supplying me with crab apple jelly for as long as I can remember.
If you can't get your hands on someone's homemade crab apple jelly you can buy apple jelly at the grocery store. If you've never seen it just go to the jam section, it's hiding in there somewhere.
PIN for later...
Picking Crab Apples
Every fall my mom used to make crab apple jelly with the apples from her tree. Picking apples is fun for kids since it often involves climbing a tree. I remember the first time my son was asked to pick crab apples.
He was only ten years old and was thrilled to be allowed to climb up onto the garage roof. As soon as he saw the street below he asked, "Can I throw apples at those people down there?" Of course the answer was no but I'll never know if all the apples he picked went into his bucket.
My son is not as enthusiastic about picking apples as he once was but he still loves crab apple jelly. He says this easy recipe is on his list of favourites to make when he moves out.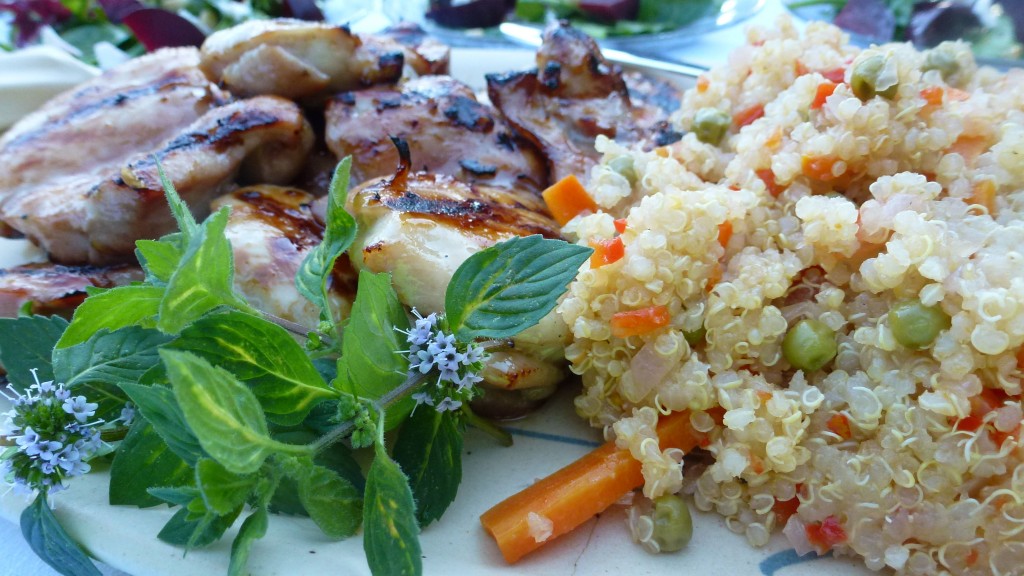 Get The Tools - From Everyday to Gourmet
I have a year round supply of crab apple jelly yet I only make this recipe during grilling season. To step up the presentation for company I simply thread the meat onto metal skewers which always look gourmet. I also make sure to marinate the meat over night for maximum flavour and garnish the platter with fresh mint or edible flowers from my garden. There's no mint in the recipe, I just like how it looks.
In the comments below let me know if you pick crab apples, make jelly or gave this recipe a try.
---
More Great Gluten Free Grilling Recipes
Click on the text below the image to go to the recipe/blog post.
Crab Apple Jelly Glazed Chicken
Crab Apple Jelly Glazed Chicken is an easy recipe that's perfect for summer or fall entertaining.
If you can't get crab apple jelly you can substitute apple jelly which is easily found in the jam section at the grocery store.
Ingredients
4

skinless, boneless chicken breast halves

(8-10 skinless, boneless chicken thighs)

salt and pepper
MARINADE/GLAZE
6

oz

crab apple jelly*

(170 grams)

2½

tablespoon

extra virgin olive oil

2½

tablespoon

vegetable oil

1

tablespoon

finely chopped garlic
Instructions
In a small saucepan over medium-low heat combine crab apple jelly, oil and garlic. Stir until melted. Reserve 2 tablespoons of marinade for final glaze. Cool.
MARINATE CHICKEN
Sprinkle chicken with salt and pepper. Pour marinade over the chicken and let marinate for at least 2 hours or overnight.
COOKING
Preheat barbecue to medium-high heat. Grill chicken basting with marinade for the first half of the cooking time.

Discard marinade and turn chicken.

Cooking time will vary based on the size of pieces. Approximately 6 minutes per side for chicken breasts, 4 minutes per side for skewers.

Brush with reserved marinade for last half of the cooking time. Transfer to a platter and serve.
Notes
*Substitute apple jelly if you do not have crab apple jelly.
Oil doesn't actually tenderize meat but it helps keep it moist. Feel free to experiment if you think it's too much. You can even skip the marinating step and simply use it as a glaze.